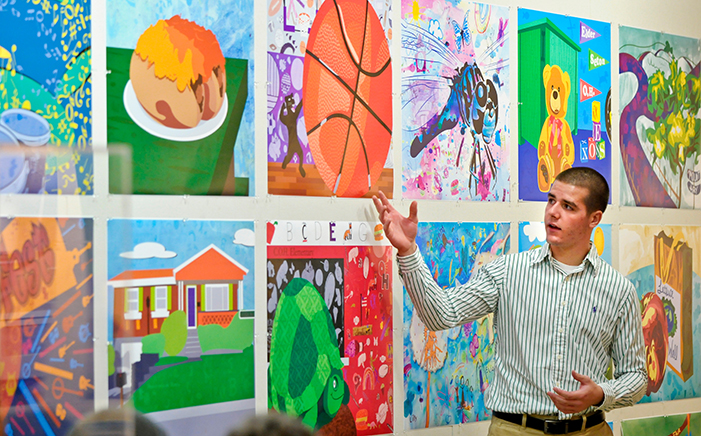 This career-oriented program will launch students into the creative world of visual communication.
Graphic Design Majors at Mount St. Joseph University discover a wealth of opportunities to explore and develop their creative spirit. There is an emphasis on new technologies without compromising foundations. Graphic Design students develop skills and proficiencies in problem solving, multi-page design, information graphics, and brand strategies along with a proficiency in industry standard software. Students also move through rigorous studio fundamentals such as design concepts, typography, and drawing.
 Learn more about Art and Design in our Climb Higher Series | Graphic Design, Fine Art, and Art Education!
Featured Courses:
Brand Identity Design: The importance of research reveals itself through insight, strategy, and design choices resulting in an integrated experience.
Digital Literacy Series I, II and III: These one credit-hour courses meet once a week for 50 minutes to support students' tutorial study outside of class in learning industry software.
Hand to Pixel: This hands-on workshop explores the integration of traditional hand media with digital techniques to look at how varying materials can both shape and expand visual communications. Along with the digital creation of elaborate imagery, students will investigate a variety of hand methods to explore the dynamic interaction between hand and pixel.
Information Graphics: Students explore and discover the interaction of ideas, form, and typography through simplification of data into visual form.
Program Outcomes:
Students who successfully complete the requirements for our major will:
Be ready for a professional career in the creative field
Have the conceptual and technological skills needed in the industry
Gain professional knowledge of industry standard software like Adobe Illustrator, Photoshop, and InDesign.
Be an articulate problem solver
Have a hand in community engagement to cultivate lifelong learning
Engage in the creative problem solving process that is so vital in the industry
Have mastery of typography, design principles, color theory, brand identity, symbol systems, and information graphics
Identify the formal, technical, and expressive aspects in visual communication
Understand design principles for web, print and motion.
Program Benefits:
Our program develops communication concepts for identity, print and the web. We emphasize research, typography, design elements and visual placement to create an overall visual impact for fundamental to specialized methods of visual communications and adapt them to a variety of formats such as brochures, posters, exhibits, information graphics and brand identity. Projects include presentations, web-based information, collateral material and other communication media suitable for internal human relations, marketing and the betterment of society.
We offer art scholarships to freshmen based on artistic potential demonstrated in their portfolios.
Service Focused:
One of our hallmarks is working with charitable clients within the classroom, most notably non-profit organizations in the greater Cincinnati community and beyond, whose missions align with those of the Mount. Through research and visual translation in these projects, we gain an appreciation for diversity of cultures and beliefs, and respect and concern for all persons.
Faculty Highlight:
Professor Kurt Grannan has built relationships between non-profit charitable agencies and Mount students to employ strategy and design in promoting the greater good. Collaborative classroom projects include:
Client: Green Umbrella
Mission: Collaborative solutions that enable greater positive impact on the environment.
Project: Brand Charter
Client: Northern Kentucky Heroin Impact Response; PAR (People Advocating Recovery); and MHA (Mental Health America of Northern Kentucky & Southwest Ohio).
Mission: Shift the culture in the community of disease and drug gratification to health and recovery.
Project: Brand identity and collateral campaign
Client: WordPlay Cincy
Mission: Transforming communities through innovation and education.
Project: Ongoing collateral work
Client: RISE, Reenter into Society Empowered.
Mission: Removing barriers and empowering opportunities for at-risk youth.
Project: RISE Youth brand development.
Client: Healthy Moms & Babes.
Mission: Increase infant survival and foster the health of women and children.
Project: Ongoing collateral work.
News and Updates
Stay up to date with the most recent graphic design program news and events; visit the Department of Art and Design page. 
Degrees Offered
Picture yourself here! Schedule a visit for a tour of campus, opportunities to meet with faculty, and the chance to imagine yourself at MSJ.
Scholarships, loans, grants? What's the difference? How do I apply? By visiting our Scholarships, Grants, and Loans webpage, you'll find out.