Known affectionately as The Queen City, Cincinnati winds along the Ohio River in the state's southwest corner.


Mount St. Joseph University is nestled atop one of Cincinnati's iconic seven hills, just 15 minutes from downtown. The University is located within the Greater Cincinnati region, which spreads into northern Kentucky and southeastern Indiana.
MSJ is 513!
Joe Lion checks out Cincinnati highlights in the 513 area code on 5/13.
Cincinnati Offers Opportunity

Forbes.com names Cincinnati one of the best locations to launch a start-up
Explore CincinnatiUSA.com


Learn more about the city's special destinations.


Downtown Cincinnati
Downtown Cincinnati is a buzzing, urban destination where people come to work, live and have fun. It's home to large annual festivals, great food, cultural art venues, parades and sporting events. Downtown Cincinnati touches the riverfront's professional baseball and football stadiums and encompass community gathering spot Fountain Square. Venture a little deeper into the City, and you'll find Over-the-Rhine, a historic neighborhood in transition where you'll see funky shops, locally owned restaurants, Washington Park and Findlay Market, the state's oldest continuously operated public market.


Paul Brown Stadium
Named after the Bengals' founder, Paul Brown Stadium is the home of the Cincinnati Bengals. It's located on the Ohio River, not far from Great American Ballpark. Nicknamed "The Jungle," the modern 65,000-seats stadium offers great views of the river as well as the NFL action.


Great American Ballpark
Great American Ballpark is the home of the Cincinnati Reds. On the banks of the Ohio River, near Paul Brown Stadium in downtown Cincinnati, the stadium is an excellent place to take in a professional baseball game. The cozy configuration offers great views from every one of its 42,000 seats, and opening toward the river just beyond the right field bleachers. The open design makes it one of only a few ball parks that allow out-of-the-park home runs. The stadium also serves up some excellent food, including great brats and kielbasa as well as Cincinnati's trademark Skyline Chili.


Tyler Davidson Fountain
Erected in 1871, the 43-foot Tyler Davidson Fountain is the oldest downtown sculpture, and has become a defining part of the city's landscape. Local businessman Henry Probasco selected the fountain design from von Kreling's Munich studio and had it cast and erected as a memorial to Davidson, his deceased brother-in-law and business partner. It is the central feature of Fountain Square Plaza, the city's public gathering place on east Fifth Street, just seven miles from the university.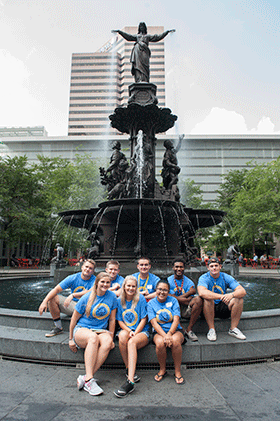 The Banks
The Banks is downtown Cincinnati's newest nightlife and entertainment destination. Located on the Riverfront between Great American Ballpark and Paul Brown stadium, it's the perfect place to catch a meal before or after a game. The Banks is still under development, and is a mixed-use space that includes apartments, office space and an expansive park with water features and a carousel. Current destinations include Holy Grail Tavern & Grille and Yard House.


Freedom Center
The National Underground Railroad Freedom Center is a living monument to Cincinnati's history as a major stop along the Underground Railroad. This route moved an estimated 100,000 slaves from the South into freedom in the North. A $110-million facility, the Freedom Center features three pavilions celebrating courage, cooperation and perseverance. The story of freedom is woven through the heroic legacy of the Underground Railroad, and the American struggle to abolish human enslavement while securing freedom for all people.


Oktoberfest-Zinzinnati
A nod to Cincinnati's German heritage, Oktoberfest-Zinzinnati is North America's largest Oktoberfest celebration. A tradition since 1976, the three-day festival attracts nearly half-a-million people each September. Traditional (and not-so-traditional) German food and drink are on tap, as well as music, games and other entertainment. And no Oktoberfest-Zinzinnati would be complete without the annual, crowd-pleasing Chicken Dance, led each year by a local celebrity.


Music Hall
Located within seven miles of campus, Music Hall is a masterpiece of High Victorian Gothic Revival architecture with an appropriately Germanic flavor. Music Hall is home to the Cincinnati Symphony Orchestra. It is located in Over-the-Rhine, a remarkable National Register and local historic-preservation district. Built in the 1870s, the glamorous venue has hosted expos, festivals, and conventions, as well as national and international presenters.
Elsewhere around Cincinnati
The heart of Cincinnati may be downtown, but the city's soul spreads across 52 distinct neighborhoods, reaching into the suburbs and beyond. Nearby neighborhoods including Hyde Park, Mount Adams, Oakley, Spring Grove Village, Northside and Pleasant Ridge have a unique welcoming character. It's in these areas and others, that you'll find the Cincinnati Zoo, Kings Island amusement park, upscale shopping and dining, local and world art, an annual professional tennis series and more.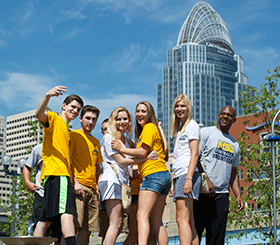 Cincinnati Art Museum
Located in urban Eden Park, the Cincinnati Art Museum is one of the country's oldest visual arts institutions, showcasing more than 60,000 pieces of art spanning 6,000 years of world history. The Cincinnati Art Museum rotates new exhibits throughout the year. Past exhibits include Art Deco: Fashion and Design in the Jazz Age, Conserving Van Gogh and Designed to Dazzle: Cincinnati Collects Tiffany Jewelry. You can grab lunch at the museum's Terrace Café or delve into art history at Mary R. Schiff Library and Archives. The museum is eight miles from campus, and general admission is free.


Cincinnati Zoo
The Cincinnati Zoo & Botanical Garden is a top-ranked institution and a national historic landmark. As the country's second-oldest zoo, it features 500 animal and 3,000 plant species. The Zoo engages in research and conservation projects around the world. Annual zoo events are part of Cincinnati culture, including the winter's Festival of Lights, Zoo Blooms in the spring and the adorable Zoo Babies event in May. The Zoo is less than 10 miles from campus and easily accessible by car or public transportation.


Tennis Masters Series
The premier Lindner Family Tennis Center is a stop in the international Tennis Masters Series. Located 30 miles north of Cincinnati in the suburb of Mason, the tennis center has four permanent stadiums and a total of 16 courts. The Cincinnati series hosts the world's top professional tennis players, and is just one of five places in the world – besides the grand slams – where men and women play at the same venue at the same time.


Kings Island
Kings Island, located 24 miles north of Cincinnati off of I-71, is the 364-acre amusement park famous for its Eiffel Tower landmark, which is one-third the size of the original in Paris. Kings Island features more than 80 world-class thrill attractions, live shows, a massive water park with two giant wave pools, two children's areas, games, and many dining facilities and shops. More than three million guests visit the park each year.


Kenwood Towne Centre
The chic Kenwood Towne Centre is located in the Cincinnati suburb of Kenwood. With a mix of shopping, dining and entertainment, the two-level mall features nearly 170 shops, restaurants, and service-oriented businesses. The Kenwood mall houses the region's only Apple store, in addition to high-end retailers like Macy's and Nordstrom. There's also a movie theater, a Gap, Express, Bath and Body Works, Abercrombie & Fitch, Aéropostale, Banana Republic, Lids, and Sephora. If you're looking for something to eat other than regular food court fare, you'll find the Cheesecake Factory, Maggiano's Little Italy and Aroma Sushi among others. The mall is a 20-minute drive from campus.
Northern Kentucky and Indiana
Cincinnati is a quick drive away from Northern Kentucky and Indiana. Our Southern and Southwest neighbors add their own particular fun and charm to the Greater Cincinnati region.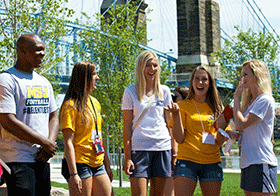 Newport-on-the-Levee
Located just across the Ohio River, in Newport, Ky., Newport-on-the-Levee is a bustling entertainment center on the riverfront. Named after the levee it sits on, it's home to upscale and casual restaurants, a movie theater, boutique bowling alley, comedy club and gaming. There's also shopping, a Barnes & Noble Bookstore, the top-ranked Newport Aquarium, and Jefferson Hall, a live music venue open six days a week. Newport-on-the-Levee is located about 20 minutes from the Mount.


The Kentucky Speedway
Located in Sparta, Ky., and within an hour's drive from the Mount, is the Tri-State's NASCAR racing track, The Kentucky Speedway. Sitting on 1,000 acres of land, the track is tri-oval in shape and has a distance of 1.5 miles. From the 66,000 plus seats available in the grandstand to its private clubs and luxury suites, there is room for every NASCAR enthusiast.

Perfect North Slopes
Perfect North Slopes is where Greater Cincinnati goes to ski and snow tube. Located in Lawrenceburg, Ind., approximately 20 miles from the Mount off I-275, it features 17 trails, a 400-foot vertical drop, and slopes lit for plenty of night skiing. Perfect North Slopes generally is open from mid-December though March and is guaranteed fun for all levels of skiers from beginner to advanced.