Joe Lion, the official mascot of Mount St. Joseph University, is the heart and soul of the University and embodies the excellence that is the Mount. Joe can be found at games pumping up the crowd and cheering on his favorite student-athletes, and also out in community representing the Mount at various events.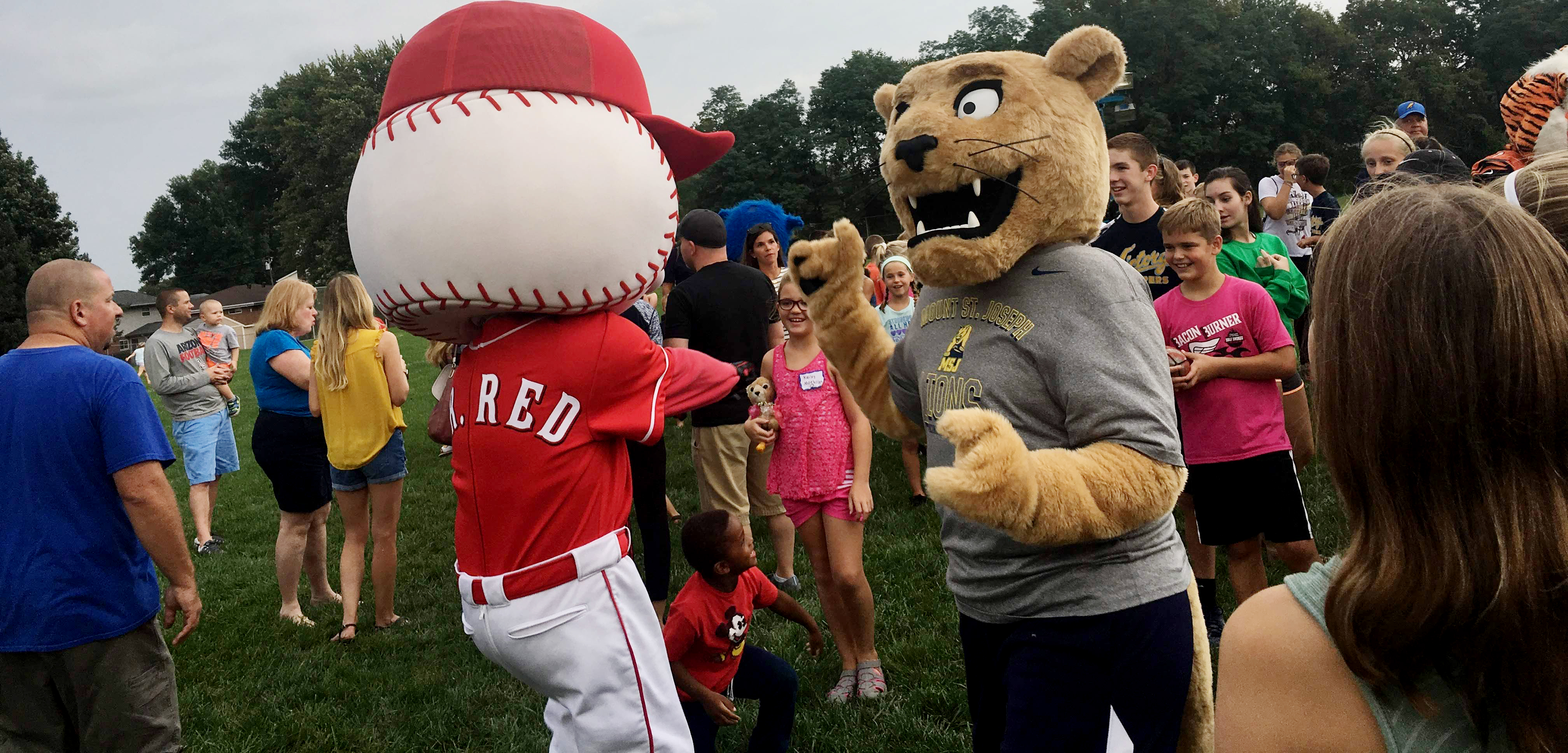 Joe Lion Mascot Program
The Joe Lion Mascot Program is seeking qualified applicants for the upcoming school year.
Applicants should be dedicated, creative, entertainers excited to help promote school spirit at all event appearances. Students must be enrolled at the Mount full-time, be in good academic standing, healthy physical condition, good with kids and fans of all ages, and due to suit restrictions, be at least 5'8".
If you meet this criteria and love the MSJ Lions, you are encouraged to apply. A total of 4 students will be selected, and they will either suit up in the mascot costume, or serve as Joe Lion's handler at 60-80 events per year.
Students that are selected for the Joe Lion Mascot program will be eligible for a $10,100 ($5,050/semester) Room & Board Scholarship. Students will be expected to meet criteria to maintain this scholarship.
Contact Miranda Calhoun at miranda.calhoun@msj.edu to apply
Estimated Amount of Appearances per Year
| | | |
| --- | --- | --- |
| Area/Department | Types of Events | Mascot Appearances per Year |
| Athletics | All home football games, multiple men's and women's basketball games, and one home game of every other sport | 50-60 |
| Admissions | Appears at all five Discover the Mount events, some Saturday visits and College Fairs, plus some hand-delivering acceptance letters | 5-10 |
| Student Affairs | Orientations, Move-In Day, Homecoming, Parents Weekend, Commencements, etc. | 5-10 |
| Total | | 60-80 |
Invite Joe Lion to Attend Your Event
Joe Lion loves to be out and about. He regularly attends many events on behalf of Mount St. Joseph University. To request his attendance at your next event, please complete the online request form.
PLEASE NOTE: Submitting a request does not confirm Joe's attendance.
Due to his academic and university commitments, Joe needs to be notified at least one month prior to your event date. Joe's availability is limited during major athletic tournaments, and he is unavailable on all football Saturdays. After his university commitments are scheduled, private functions are scheduled in the order received, so submit your request as early as possible and you will be contacted by email with the status of your request. Please understand that although Joe would love to be everywhere, the volume of requests received makes that challenging ... he is a student, after all!