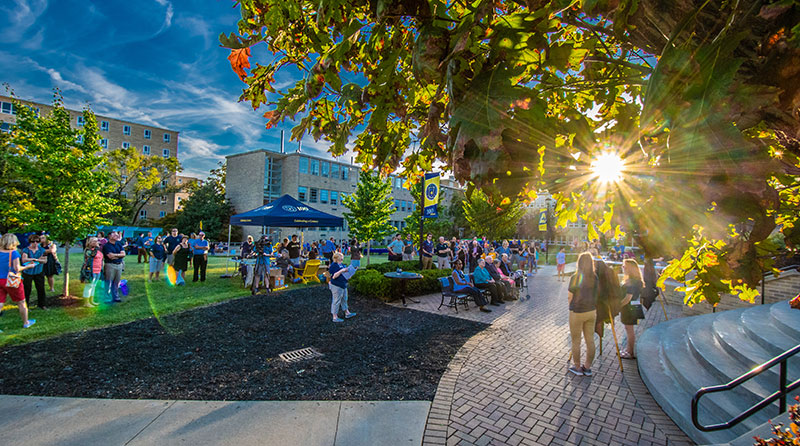 In response to the COVID-19 situation, the University is taking precautions on campus to keep our community and prospective guests safe. 
We are currently scheduling phone and/or virtual appointments with our admission counselors and other university staff. 

Guests with pre-arranged campus visits scheduled with the Office of Admission will be contacted. We want our campus guests to have an enjoyable visit experience and appreciate your understanding and patience during this time. 
Location of the University
The Mount's scenic campus overlooks the Ohio River and is a 15-minute drive from downtown Cincinnati, Ohio, a cosmopolitan Midwestern city. Cincinnati is home to professional sports teams, innovative Fortune 500 companies, and iconic music, art, and cultural venues!  Find out more about the location of the University.


High School Students or Recent High School Graduates


Individual Visits
Meet the Mount! Join us for a 30-minute, virtual information session about Mount St. Joseph University's academics, campus resources, and the application & enrollment processes.
Immediately following each Tuesday and Friday presentation we will also host a 30-minute virtual student panel with current MSJ students via Zoom.
We can't wait to meet you! Sign up today!
Once campus reopens, the Mount will offer personalized tours Monday through Friday at 10 a.m. and 2 p.m., and on Thursday evenings at 7 p.m. (Thursday evening visits are available September through April). Go to the Individual Visits page to learn more.
Group Visits
The Mount is able to accommodate large group visits ranging in size of 5 - 100 guests! We can help plan your visit tailored to your group's needs.
Check out the Group Visits page to learn more.
Discover the Mount Visit Days
During Discover the Mount visits days, students tour campus, chat with current Mount students, professors, and coaches. Guests learn about financial aid, campus life, and support services offered at MSJ. 
Visit the Discover the Mount page for specific dates or to register.
Saturday Visits
During one of the Mount's Saturday Visits, students get to explore academic programs, learn about the application and enrollment processes and catch a glimpse of campus.
Check out the Saturday Visits page for dates, details and registration.
Adult Visit Interviews and Adult Information Sessions


Adults who are interested in learning more about the Mount and its programs can schedule an interview with an adult counselor. 
Go to the Adult Interview page for more information and to schedule a visit.
Graduate Programs Events
Attend a Graduate Information Session, tour, virtual fair, or schedule an individual appointment! These events are designed for the busy graduate student, offering a variety of dates, times, and meeting formats. 
Find details and registration info on our Visit Graduate Programs page.
For questions please contact the Office of Admission at admission@msj.edu, 513-244-4531, or click HERE to meet your admission counselor today!
MSJ is 513!
Loading...