You served us. Now it's our time to serve you and your educational goals.
Mount St. Joseph University is proud to participate as a Yellow Ribbon School, and to be designated a Military-Friendly School.
At Mount St. Joseph University, we are proud to support our Veterans and the valuable perspectives they bring to the community. Whether you're just beginning your academic studies, or finishing your degree, the Mount is a supportive environment that helps you achieve your educational goals. As a Veteran you will bring honor, integrity, and leadership into your role as a Mount student. Thank your for your service to our great nation.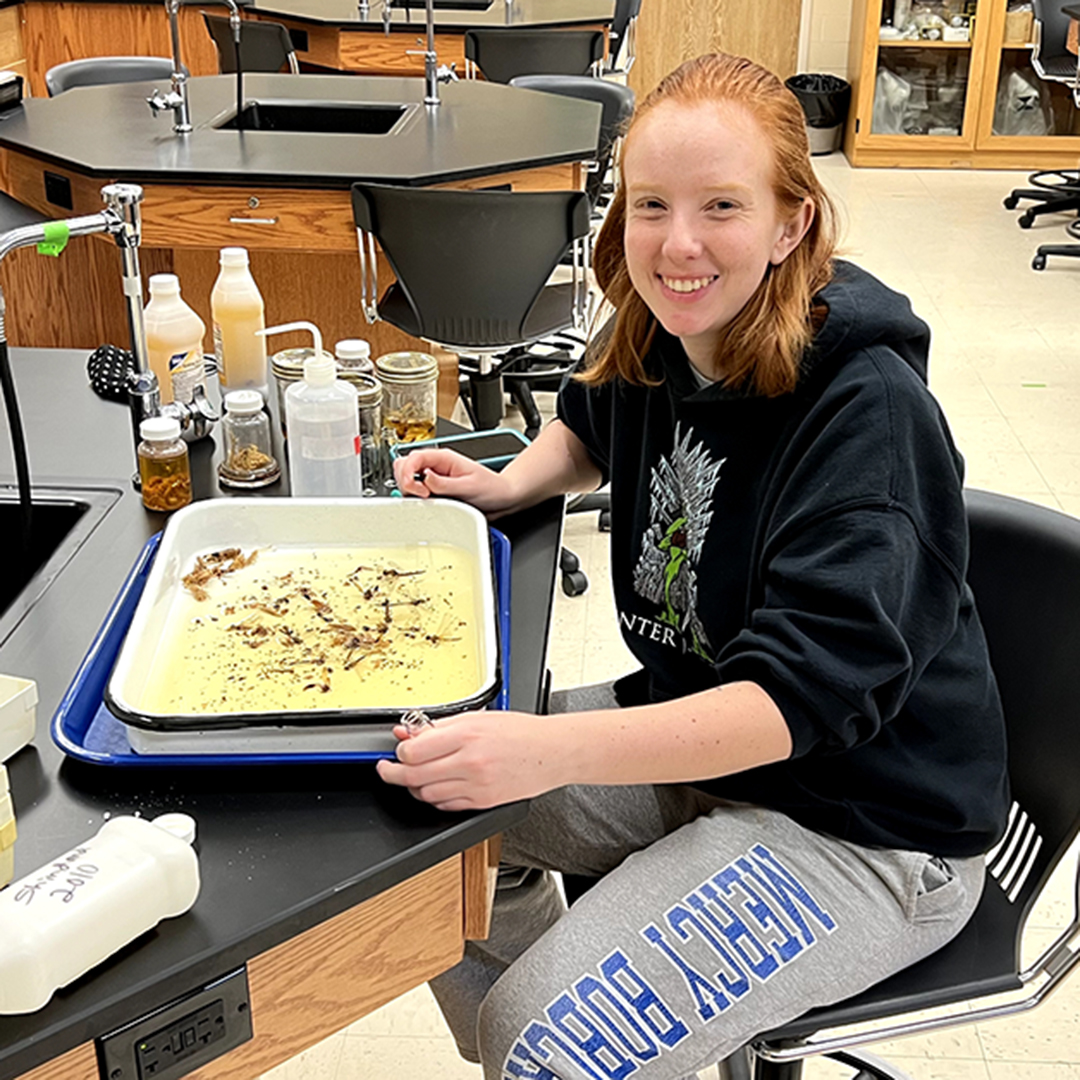 Meet Morgan Cunningham '23, who merges her biology major with her military-affiliated experience on a project with Dr. Kritsky, Dean of Behavioral & Natural Sciences:
"Having never been overseas myself, it's neat to think that I'm still able to see parts of the experiences that many other soldiers have had."
~Morgan Cunningham '23, Unit Supply Specialist in Army Reserves
Biology Student Pursues Military-Affiliated Wildlife Biology Project: Morgan Cunningham, '23
By: Amanda Gratsch
Beginning the Army Reserves in high school when she was 17, biology major Morgan Cunningham, '24 has served throughout her entire college career at Mount St. Joseph University. She has been an Army Reservist for nearly four years now.
"I chose to go the route of being enlisted over becoming an officer, so I started as a private and now I'm currently a specialist working on becoming a sergeant," she says.
After arriving home from Advanced Individual Training to learn her military job, Cunningham applied to and started at the Mount over the course of three weeks. This fast-paced process involved meeting with numerous people on campus, email follow-ups, and learning how to navigate a civilian lifestyle.
MSJ Entomology Course Leads to Military-Affiliated Biology Project
This past fall, Cunningham took an Entomology course with Dr. Gene Kritsky, Dean of Behavioral & Natural Sciences. One day, she communicated to him that she needed to miss a class period to meet with her unit, and her military experience was brought to the forefront that unveiled a unique academic opportunity.
"We had started talking about his previous experiences with students in the military, particularly one that had become an Army Entomologist," she recalls. "He had sent back several containers of insects and other bugs from his time in Afghanistan for Dr. Kritsky to curate. Dr. Kritsky thought I would be a good fit to help begin the curation project because of my military experience and interest in wildlife biology."
"Working with Dr. Kritsky on this project has been a really unique and rewarding experience," she reflects. "Having never been overseas myself, it's neat to think that I'm still able to see parts of the experiences that many other soldiers have had. I'm also really excited to be able to share some of the outcomes of this project with my unit, especially since many of them used to be active duty and might have stories about encountering some of these insects and bugs."
Finding Balance between Coursework and the Military
When it comes to balancing school, the military, an entomology project, an upcoming internship with a wildlife sanctuary, and another part-time job with the Chemistry Department, Cunningham aims to plan her priorities and assignments one week in advance so she can fit everything into her schedule without feeling overwhelmed. She also finds that keeping a "To Do List" helps a lot when organizing what needs to be done each day.
For veteran and military-affiliated students looking to pursue a 4-year degree, Cunningham asserts the importance of getting out of your comfort zone.
 "The military emphasizes a lot on getting out of your comfort zone, and I think that's a skill that anyone with military experience can carry over. Before taking Entomology in the fall I disliked most insects, but I knew it was a course full of information I'm not normally exposed to, as well as it being something that I considered outside my comfort zone. I would also say that the military teaches us a lot of different skills, but it's okay if you choose a degree that is completely different from your military job. For example, I work as a Supply Specialist for my unit, but I'm working towards a biology degree, and I love doing both jobs. And don't forget about the different benefits and scholarships that are open to you."
Information for Veterans
Learn about credit for military education and our military friendly status by visiting our Information for Veterans page
Benefit Programs
To find out about benefit programs offered, please visit the Benefit Programs page.
Helping all Veterans in Communities
Helping all Veterans in Communities (HAVIC) is a social organization that assists and educates people about veterans' issues within the community. To learn more, please visit the Helping all Veterans in Communities page.
Resource Links
For helpful links to external resources, please visit our Resource Links page.
Request Information
If you need more information, don't hesitate to contact the Office of Admission.