Students in the Master of Science Degree in Nursing program learn to become effective nursing educators and leaders.
The Master of Science Degree in Nursing (MSN) program offers two specialized tracks: administration and education.
Our expert faculty, interactive online courses and small class sizes will help hone your professional communication and collaboration skills to improve health care outcomes. Our curriculum includes specialty courses related to your chosen track, and core courses in evidence-based practice, leadership, technology innovation in health care and health care policy.
November 16, 2023 7:00-8:00 pm est
 

MSN & DNP Information Session
MSN at the Mount
Admission Criteria
MSN ADMISSION CRITERIA
The applicant must submit:
A completed graduate application at www.msj.edu/apply.
Official transcripts.
A one- to two-page essay with reasons for seeking the Master of Science in Nursing degree, including a statement of professional goals, and topic(s) of interest for MSN project.
A professional resumé.
Names and contact information for two professional references.
A TOEFL score, if an international student (as needed).
The applicant must possess:
A Bachelor of Science in Nursing degree or an entry level generalist master's degree in nursing (such as the Mount's MSN-MAGELIN degree) from a regionally accredited university.
*The RN applicant with a bachelor's degree in a field other than nursing must demonstrate completion of an undergraduate research project, nursing in the community, and a leadership course with a grade of "C" or better, in addition to general admission requirements for the MSN program.
A minimum cumulative undergraduate or generalist master's degree GPA of 3.0 on a 4.0 scale.
A grade of "C" or higher in an undergraduate statistics course.
One year of professional work experience as a nurse.
An active United States RN license with no restrictions.
Requirements
Program Requirements:
Hours: 36-39
Administration Track - 36 hours
NUR 710 Exploring Leadership in Nursing (3)
NUR 730 Human Resource Management for Nursing Administrators (3)
NUR 731 Strategic Management in Nursing Administration (3)
NUR 732 Organizational Management of Health Care Systems (3)
NUR 733 Finance for Nurse Administrators (3)
NUR 734 Nurse Administration Practicum I (3)
NUR 735 Nursing Administration Practicum II (3)
NUR 741 Integrative Project in Nursing Administration (3)
NUR 801 Biostatistics for Evidence Based Practice (3)*
NUR 802 Evidence Based Practice (3)*
NUR 804 Global Health Care Policy (3)*
NUR 805 Transforming Health Care Through Technology (3)*
*Can be applied towards the MSJ Doctor of Nursing Practice (DNP) Degree.
Education Track - 39 hours
NUR 700 Advanced Pathopharmacology (3)
NUR 701 Advanced Health Assessment (3)
NUR 702 Clinical Specialty Practicum (3)
NUR 710 Exploring Leadership in Nursing (3)
NUR 720 Teaching & Learning Theories and Strategies (3)
NUR 721 Curriculum Development in Nursing Education (3)
NUR 722 Evaluation in Nursing Education (3)
NUR 723 Nursing Education Practicum (3)
NUR 740 Integrative Project in Nursing Education (3)
NUR 801 Biostatistics for Evidence Based Practice (3)*
NUR 802 Evidence Based Practice (3)*
NUR 804 Global Health Care Policy (3)*
NUR 805 Transforming Health Care Through Technology (3)*
*Can be applied towards the MSJ Doctor of Nursing Practice (DNP) Degree.
Graduation Requirements:
In order to graduate from the Master of Science in Nursing program, the following criteria must be met:
Earned cumulative GPA of 3.0/4.0 or higher
Completion of the Master of Science in Nursing Program within 5 years of starting the program
Earned a minimum of 75% of credits at Mount St. Joseph University
Completion and presentation of an Integrative Project
Completion of track specific required practicum hours
Completion of a graduation application which demonstrates completion of MSN coursework
Program Format
You choose the specialized program track that best meets your interests and needs: nursing administration or nursing education. Each program combines a variety of the highest academic courses related to your speciality track with evidence-based practice, global health care policy, leadership and nursing informatics. In the final phase of your program, you will complete a practicum experience and integrative project related to your chosen area of specialty. Four of the required MSN courses apply as credit toward the Doctor of Nursing Practice degree if you continue your education at Mount St. Joseph University.
To learn more about admission to the Master of Science in Nursing program, read the admission requirements.
Accreditations
Mount St. Joseph University is authorized to offer nursing degrees at the baccalaureate, masters and doctorate levels by the Ohio Department of Higher Education (ODHE) and the Higher Learning Commission (HLC).

The University receives its regional accreditation from:

     The Higher Learning Commission 
     230 South LaSalle Street, Suite 7-500
     Chicago, IL 60604
     800-621-7440  

To learn more, contact: Higher Learning Commission.
Copies of the University's accreditation can be obtained through the Office of the President.

The Bachelor of Science in Nursing and Master of Science in Nursing Magelin pre-licensure programs at Mount St. Joseph University are approved by the Ohio Board of Nursing (Certificate of Approval)* Ohio Board of Nursing 17 South High Street Suite 400 Columbus, Ohio 43215-7410 614-466-3947 FAX: 614-466-0388 http://www.nursing.ohio.gov/.

The baccalaureate degree program in nursing, master's degree programs in nursing (MSN-MAGELIN and post-licensure MSN), and Doctor of Nursing Practice program at Mount St. Joseph are accredited by the Commission on Collegiate Nursing Education (http://www.ccneaccreditation.org).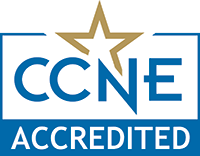 Program Outcomes
The graduate of the Master of Science in Nursing program will be able to:
Provide caring, values-based, ethical leadership as a member of the interdisciplinary health care team to improve patient and population health outcomes.
Promote therapeutic interventions within systems and organizations leading to quality improvement and safety.
Utilize information systems and patient care technology to enhance patient care.
Demonstrate the role of the master's-prepared nurse as a change agent within professional, social, and political arenas.
Analyze current best practices in the specialty area of study through intellectual debate and inquiry and the synthesis of theory and research.
MSN Scholarships and Grants
Interested to find out what scholarships and grants are available through the MSN program at the Mount?
The Post-Licensure MSN and DNP Nursing Programs at Mount St. Joseph University support individual student success through a variety of methods and services, including:
Individualized student advising including the Advisor registering all MSN and DNP students for every course throughout the program
Access to top-ranked student services, all included in the cost of the MSN and DNP programs:

The Learning Center: MSN and DNP students benefit from meeting especially with the Writing Center to gain individual consultation at every stage of the writing process to assist in developing, writing, and learning strategies that help students become more effective writers.
Library Services: Library Services offers a multitude of support services to MSN and DNP students. Students have access to over 24 million electronic journal articles from 100+ databases, as well as over 46 million books in addition to the individualized research assistance offered by the highly qualified Librarians at MSJ.
Designed to Work Around your Schedule and Needs
This graduate degree program is dedicated to meeting your professional and career needs in a flexible, caring, educational environment. The Mount's MSN Program offers:
A program schedule of only six semesters, with summers off.
The part-time MSN program can be completed fully online, enabling students to continue working while pursuing a degree. Students enroll in two 10-week courses simultaneously each semester. Students participate in 2-3 meetings that occur in real-time via online video conferencing with the remainder of the learning taking place via an interactive online environment.
Smaller class sizes and a cohort model enable students to build lasting relationships and provides the ongoing support needed to stay on track.
A relevant practicum and an evidence-based integrative project related to the student's chosen specialty area.
Student Testimonial
A virtual celebration of nurse leaders honored our Mount MSN Administration student Cody Jackson. Congratulations nurse leader Cody Jackson BSN, RN, CMSRN, SANE, CPI-1!
Cody has been a nurse for 18 years. She has served as a critical care RN, charge nurse, clinical nurse educator, and most recently as a psychiatric intake RN. Cody focuses on both the humanitarian aspect of care in conjunction with providing evidence-based care and with that has been able to create connections with others that transcend the standard nurse-patient relationship. This ability allows her to find common ground and establish long-standing and trusting relationships with other professionals.
She has been invited to speak at TriHealth's Nursing Grand Rounds (NGR) on three occasions within the past two years. Most notably in 2020, she has co-developed a research project which centers on bundling suicide prevention interventions on non-behavioral health units at Good Samaritan Hospital.
What's Happening in Health - Ask a Nurse
*If you are applying for the Summer 2024 program and beyond please apply through the CAS link
Get Started
If you're ready to take the next step in advancing your career, fill out this form and a counselor from our School of Health Sciences will be in touch shortly.
Loading...
INSTAGRAM NEWS
RECENT NEWS
Resources
Nurse Faculty Loan Program (NFLP)

The Nurse Faculty Loan Program (NFLP) was created to increase the number of qualified nursing faculty by providing loans to students enrolled in the post-licensure Master of Science in Nursing or in the Doctor of Nursing Practice programs.

View a complete listing of tuition, fees, and other costs associated with graduate study at the University.

Program Requirements
MSN Curriculum, Program and Admission Requirements

MSN_DNP FAQs
Mount St. Joseph University Post Licensure MSN and DNP Programs FAQs