While Hope found enrolling into a bachelor's degree program as an adult student challenging, the amount of encouragement and compassion she received from Mount St. Joseph University made the process easy.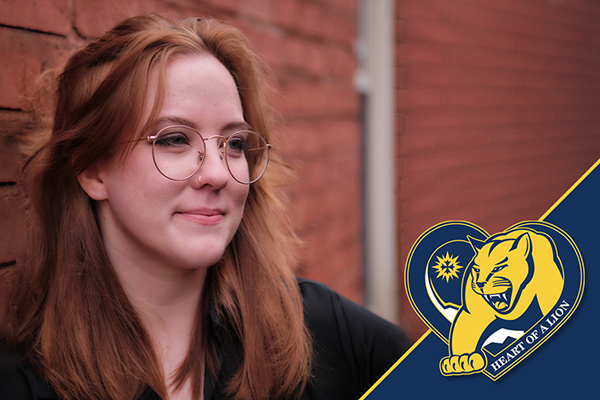 Like many teens beginning to cultivate self-awareness, belief systems, and their place in the world, Hope's budding interest in mental health empowered her to soak up the many existing explanations behind what ties us all together: human behavior.
Beginning her college journey as an adult, Hope wanted to keep her options open. So, she decided to enroll at Cincinnati State Community College to gain foundational credit hours to work toward a two-year Associate of Arts degree before committing to one field, while balancing a part-time job.
Hope meditated on her next step in her last semester. Was a bachelor's degree at a four-year college the right option? She felt a psychology degree would serve her well—the hard part was just transferring to the right college.
"Enrolling in a bachelor's program as an adult was a daunting task for me," says Hope. "At times, the fear of overcommitting myself with schoolwork while trying to juggle working was overwhelming. While I did not want to push myself too hard, I also wanted to graduate in a reasonable timeframe."
One day, the Mount attended Cincinnati State to answer questions for students looking to transfer to a four-year program, and Hope stood ready to ask questions.
"The MSJ representative explained the Mount's psychology program is well-respected with a heavy emphasis on research," says Hope. "The program is treated like the science it is, while also encouraging the Mount's social responsibility mission, which aligns with my values."
When Preparation Meets Opportunity
Getting a bachelor's degree opens up a wealth of career opportunity, but it has to be affordable, too.
Hope found exploring four-year colleges as a financially intimidating experience as an adult student. After deciding to apply to the Mount, an MSJ admission counselor reached out to carefully walk her through the entire enrollment process, discussing the wide range of scholarships available for adult and transfer students.
"He explained all the different scholarships I automatically receive as an adult, and talked to me about additional scholarship opportunities," she says.
Following the Mission of Violence Prevention
Upon her acceptance to the Mount, Hope was ready to hit the ground running with speed in her coursework and beyond the classroom.
The Mount's Department of Psychology works to connect its students with local organizations needing part-time and full-time help. When Psychology Department Chair, Dr. Tracy McDonough, Ph.D. contacted the psychology students regarding an open position as a part-time Crisis Intervention Specialist at a local violence prevention organization, Hope optimistically applied.
She began working at the shelter for individuals and children survivors of intimate partner violence. "I took the position, and she [Dr. McDonough] encouraged me to enroll in her domestic violence course. Her course prepared me for my new position in numerous ways, allowing me to fully understand and support the clients I am working with."
While working in violence prevention was not easy, the knowledge from Hope's coursework propelled her forward to make a difference.
"My heart broke for these families, but my psychology education allowed me to understand what they were experiencing and how to help. While there are challenging moments, supporting and watching these survivors make internal and external growth is an incredible privilege that I am honored to be a part of."
After working through her decision to pursue a bachelor's degree, Hope benefited from the encouraging faculty and staff who ensured she was prepared to tackle her next two years, both financially and academically with the Heart of a Lion.
"This fantastic opportunity helped fuel my passion and directed me closer to my goal. My connection with the organization allowed me to take MSJ students to the shelter as volunteers and, more recently, help facilitate a permanent donation collection on campus for the shelter. My experiences have allowed me to build excellent professional relationships and experience making reaching my dreams obtainable."
After her recent graduation in December 2022, Hope will continue her employment with the domestic violence organization as a Hospital Advocate, while also working part-time as a Therapeutic Program Worker at UC Health Emergency Psychiatric Department.
"Five years ago, I never believed I would be so close to my bachelor's degree. MSJ has helped me reach goals and dreams I never thought possible. The quality education I received with the financial help provided was unbeatable."
With the right resources available, Hope's advice to adult students is to not fear it—go for it.
"Be open and honest with your professors about your different challenges, and advocate for yourself. At the Mount, everyone wants you to succeed and will work with you to make that happen. The professors treated me with great respect and understanding, constantly reminding me they were on my side."
Hope plans to apply to a Masters in Clinical Counseling program within the next year, to continue her upward trajectory in mental health. As the saying goes, it all came full-circle.
__________________________________________________________________________________________________
Psychology Program: Learn More
Are you interested in understanding people's behavior and mental processes? Psychology may be a strong career choice for you! Bachelor's-degree careers of our graduates include mental health specialists, therapeutic service providers, HR, and more.
Plus, our general psychology major allows you to specialize in a specific area of psychology with our psychology advising tracks. A survey of our recent psychology graduates showed that 100% of them had either obtained full-time employment or were pursuing graduate study.  Visit the Mount's Psychology page here to check out these offerings!