Centennial Kickoff Celebration features live music, food trucks, and fireworks.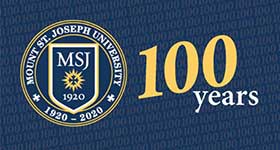 CINCINNATI, OH--- Mount St. Joseph University (the Mount) kicks off the celebration of its approaching Centennial Year on Sept. 14 with a day of events commemorating the University's commitment to mission, education, and service to others. The year 2020 will mark the Mount's Centennial Anniversary.


"The Mount is excited to launch a yearlong celebration of events, commemorations, and special programs," said President of Mount St. Joseph University, Dr. H. James Williams. "Indeed, we invite the whole community to come celebrate a century of mission, education, and memories with us at our Centennial Kickoff Celebration."


"The Mount opened its doors to the first 20 students in 1920 and, now, enrollment has grown to 2,168, with the goal of a student population of 2,500 by 2025," said Dr. Williams. "The Mount's future holds much promise as we prepare for another 100 years of educating our students, building better communities, and serving the common good."


Celebrations begin with an art gallery reception at Studio San Giuseppe from 2-4 p.m. The featured exhibit, MOSAIC: 100 years of Living Mission, highlights the University's mission as lived out by students, alumni, staff, and faculty. One hundred connecting partners were selected from among co-op employers, service-learning partners, immersion course experiences, and academic courses to be visually represented in the display.


Following the gallery reception, Archbishop Dennis M. Schnurr will celebrate Founders Day Mass at the Mater Dei Chapel at 4:30 p.m. Archbishop Schnurr was ordained to the priesthood in 1974 and has served as Archbishop of the Archdiocese of Cincinnati since 2009.


Finally, the Centennial Kickoff Celebration will take place on the campus of Mount St. Joseph University, in the Quad, from 5:30-8:30 p.m. Bob Herzog of WKRC Local 12 will be Master of Ceremonies. Festivities include live music by Ladi T and Cinci Band, local Food Trucks, a Kid's Zone, #MSJ100 photo booth, Esports games, and more.


Attendees can also purchase Centennial Ale, a limited-edition beer created by West Side Brewing and University instructors to commemorate the Centennial Year. The evening closes with a fireworks display by Arthur Rozzi. All events are free and open to the public.


About the Mount
As a Catholic institution rooted in the values of the Sisters of Charity, Mount St. Joseph University excels at serving the common good. Undergraduate, graduate, and doctoral students at the Mount are inspired to think beyond the classroom and redraw the bounds of what's possible for their futures. This is accomplished through individualized educational experiences, a safe, secure campus environment, and an all-in commitment from faculty and staff to seeing students reach their highest potential. The Mount fosters life-long learners who serve, care, and contribute to the world beyond their front doors. To find out more visit: www.msj.edu.