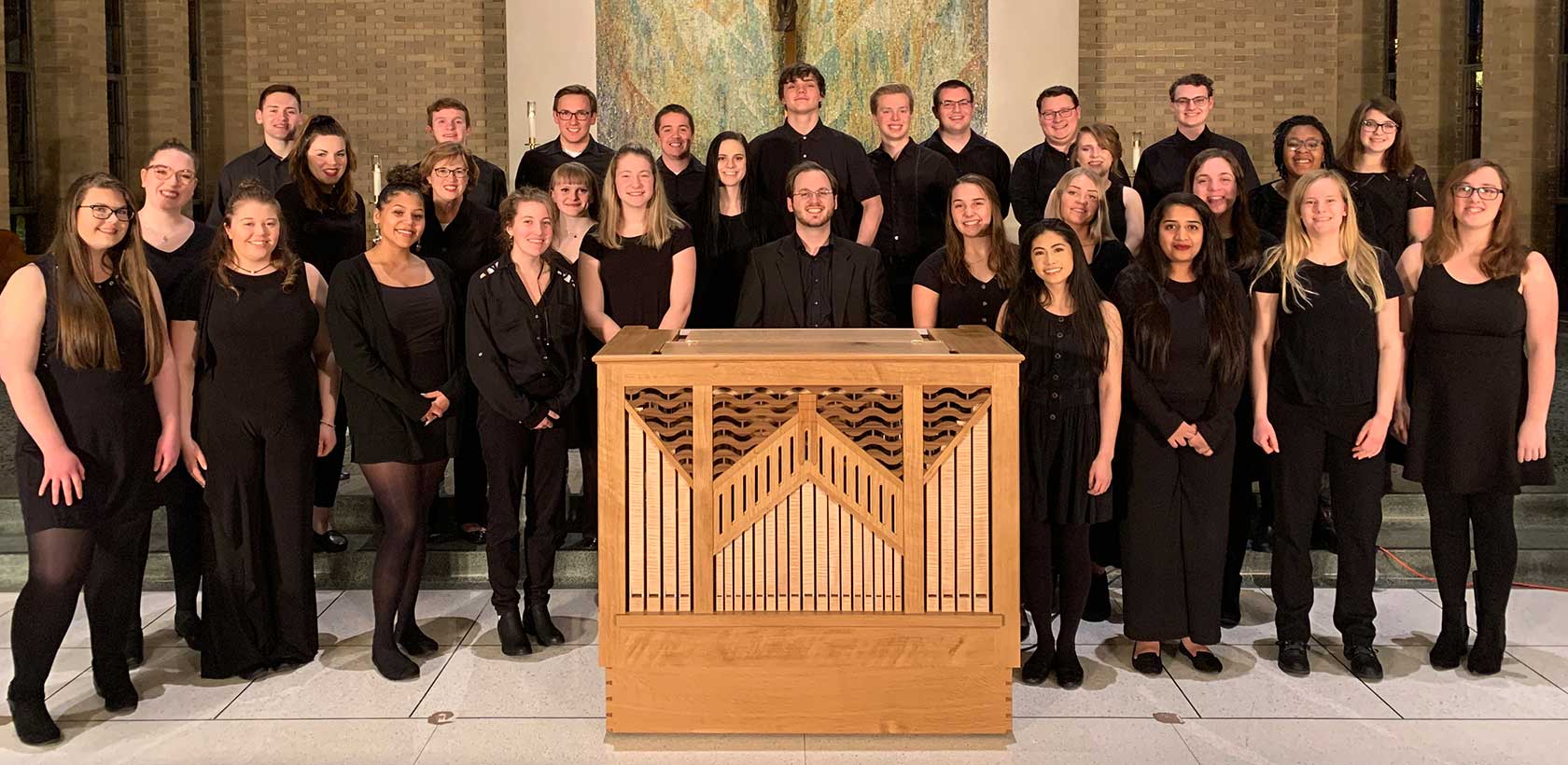 Overview of the Music Education Program
Students are equipped with the skills and knowledge necessary to pursue professional careers and graduate study. Structural, cognitive, and aesthetic aspects of music are investigated and cultivated through theoretical and historical studies. Musicianship is expanded and enhanced through vocal/instrumental ensembles and private study. Applications for theoretical studies in music are enhanced through state-of-the-art technology in ear-training and sight singing.
The Music Education program prepares students to obtain multi-age licensure in music for teaching ages 3-21. Students perform throughout the year in formal concerts and are often featured on Open Mic Night. An audition is required for initial acceptance into this program.
Program Highlights
100%
2-Year Career Outcomes Rate - School of Arts and Humanities
$3,000
In Music Scholarships and Grants
Program Outcomes and Careers
Potential Careers
Professional musicians typically work in various areas of music, including:
Composer/arranger
Music Teacher
Performer.
These careers can encompass employment at institutions such as schools, orchestras, and publishing houses, and in an entrepreneurial (self-employed/independent) arrangement. Many professional musicians find it beneficial to maintain contacts throughout the music, education, and entertainment industries.
Alumni Spotlight
Since her 2010 graduation with a Bachelor of Arts degree in Music Education, Samantha has enjoyed a multi-faceted music career. She has been actively teaching middle school music and choir where her duties include preparing the students for concerts and competitions, as well as directing musicals, along with her regular teaching duties. She also teaches private voice lessons. Outside of her teaching, Samantha has served as the music director for shows in local community theaters and she maintains a vibrant performing career acting and singing in multiple local shows with other professional performances.
Hands-On Learning
Professional musicians who are active in the regional and national performance scenes, as well as in the international academic field guide students in their study of Music. A low student-to-faculty ratio sets the stage for valuable mentoring relationships. While at the Mount, students will engage in performances in academic, athletic, religious, and community settings. Large ensembles, chamber ensembles, and opportunities for individual performances abound. Many students build experience in Church Music, and all students have the opportunity to serve communities in need. Outreach to retirement homes, underserved communities, and educational venues are a central part of the MSJ Music major experience.
Featured Courses
Church Music
Orchestra
University Singers
University Band
World Music.
The Mount's location in Cincinnati provides students with a wealth of musical opportunities. Minutes away are professional orchestras, Broadway touring theater productions, and all the benefits of a metropolitan city.
Our facilities offer students an intimate Recital Hall (90 seats) and Theater (1100 seats) as well as access to contemporary and traditional performance venues. Our food court is equipped with the latest sound equipment—used for Open Mic Nights and other social/entertainment events. Students are able to participate in the choir for worship, including Baccalaureate Mass and weekly Sunday Mass in Mater Dei Chapel.
Click below to view our University Theatre, Recital Hall, Rehearsal Room, and other facilities and equipment at MSJ.
Launch University Theatre
Program Facilities
Take a
virtual tour
of our University Theatre and other facilities and equipment at MSJ.