Performing arts have a long-standing heritage at Mount St Joseph University and we are proud to expand performing arts opportunities.
In addition to music-specific major and minor program offerings, performance opportunities in Theatre Lab, University Band & Orchestra, and University Singers are available to ALL students from any major or program. Students involved in these groups can apply to qualify for an award of up to $1,000 a year off tuition. Contact Mark McCafferty at mark.mccafferty@msj.edu for details. 
THEATRE LAB
Our student group, Theatre Lab, meets weekly throughout the semester offering theatre lovers the opportunity to play fun theatre games, meet new friends, and most importantly, to make theatre.
Theatre Lab holds events throughout the semester, like Zombie Night (where students presented a zombie character they crafted over several weeks to compete for prizes). Periodically throughout the semester we go to see theatre productions at local theatres such as the Know, Cincinnati Shakespeare Company, Ensemble Theatre, and the Cincinnati Playhouse in the Park. 
Contact Richard Buchanan at richard.buchanan@msj.edu for details. 
BAND 
In addition to music specific major and minor programs, musical experience opportunities are available for ALL students to audition as performers in University Band & Orchestra

University Band performs four concerts per year, in the University Theater. Performances can also occur at athletic events and graduation ceremonies. There can be other ensemble opportunities including drumline, pep band, steel drum band, and jazz band.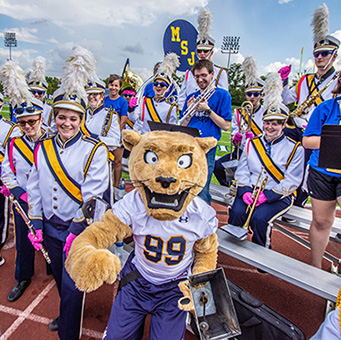 Contact Mark McCafferty at mark.mccafferty@msj.edu for details.  
ORCHESTRA
Orchestra: String players attending MSJ are eligible to perform with the Cincinnati Metropolitan Orchestra, an offsite (Seton High School Theater) community orchestra that typically draws between 600 and 1,000 person audiences.  Course credit is available.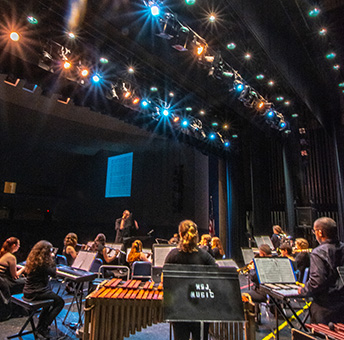 Contact Mark McCafferty at mark.mccafferty@msj.edu for details. 
UNIVERSITY SINGERS
The University Singers perform four concert per year in the Mater Dei Chapel and at special community events. Additional performance opportunities include Chamber Singers, MSJ ACAP (pop a cappella), and Student Mass.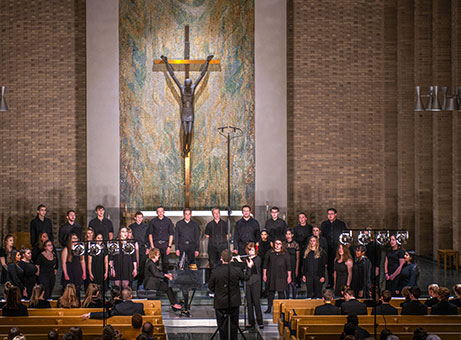 Contact Danielle Steele at danielle.steele@msj.edu for details. 
Want to Perform at MSJ?
Submit the form below and one of our performing arts directors will be happy to reach out to you and share all of the information about MSJ performing arts, including potential award opportunities.
Loading...
MSJ Theatre Arts Director, Richard Buchanan
MSJ Theatre Arts is led by Theatre Arts Director Richard Buchanan, who comes to the Mount having already established himself as an actor, director and educator. Richard also serves as an adjunct faculty member teaching theatre arts class ENG 150 Acting Workshop. Visit Richard Buchanan's bio page for more information. Contact Richard at richard.buchanan@msj.edu.
---
Bands and Percussion Director, Mark McCafferty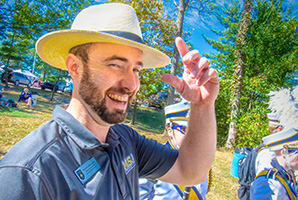 Mr. McCafferty is an instructor and chairperson for the Department of Music, serving as the Director of Bands and Percussion.  In those capacities, he has revitalized the band program, increasing membership, awareness of the organization, and the number of performance opportunities open to students.  Having re-formed the MSJ Drumline in Fall 2014, McCafferty also founded the MSJ Steel Drum Band in Spring 2015, and re-formed the MSJ Pep Band in Fall 2015. Visit Mark McCafferty's bio page for more information. Contact Mark at mark.mccafferty@msj.edu.
---
Choral Activities Director, Danielle Steele

Ms. Steele is the Director of Choral Activities. She joined the Mount's Department of Music in August 2021. Visit Contact Danielle at danielle.steele@msj.edu.
About The Mount
Mount St. Joseph University is a Catholic institution grounded in the spiritual values and vision of its founders, the Sisters of Charity. Located on the west side of Cincinnati in Delhi Township, the Mount is dedicated to student success and well-being, emphasizing values, integrity, and social responsibility. The Mount was founded in 1920 as one of the only women's colleges in the eastern United States at the time. Today the University educates a diverse coeducational population of more than 2,000 undergraduate, graduate, and doctoral students. Nearly 99 percent of those who earn a degree from the Mount are employed, enrolled in graduate studies, or volunteering within six months of graduation.​