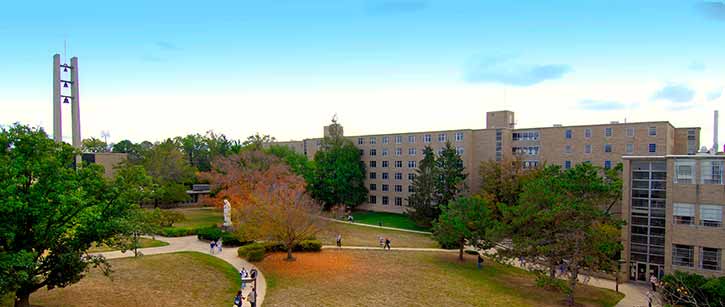 We offer the resources you need to make your education count, both in and out of the classroom.
Focusing on you
The Mount is dedicated to you, our students, in delivering high-quality academics, personalized resources and the close faculty interaction you need to become deeply rooted in a profession. Our knowledgeable staff shares in the commitment to your success, offering career and advising resources tailored to your immediate path and your future goals.
Smaller class sizes enable faculty to create valuable connections between the classroom, research projects and the professional work environment. Graduate students at the Mount appreciate the consistent interaction with faculty as well as being a part of a diverse community of shared learners.
Visit Us!
Graduate Information Sessions are held several times a year. Representatives from each graduate program are on hand, and you'll also learn about financing options and admission procedures. Reserve your spot at msj.edu/gradinfo. To set up an individual appointment with a graduate admission counselor, please email us at graduateadmission@msj.edu to schedule an appointment.


Offered Graduate Programs
Education:
The Ed.D. in Reading Science will prepare practicing educators to be informed and effective leaders in their districts and organizations. We aim to prepare the next generation of education professors and literacy leaders to utilize and teach others practices that have been identified most advantageous through scientifically-based reading research.
The Masters in Educational Studies with Combined Ohio Endorsements: Fully Online is a unique opportunity to extend professional learning by providing teachers the opportunity to "stack" Ohio endorsements in their areas of interest. Teachers are able to obtain a masters and Ohio endorsement credentials through a fully-online program that meets their needs as a working professional. This Masters is available to students who already have an Ohio teaching license.​
Master of Arts: Initial Teacher Licensure Programs 
The Early Childhood program prepares adults to enter the teaching profession through an intense and exciting learning and apprentice format. A combination of coursework and a nine-month apprenticeship within a K-3 classroom setting immerses the student in the teaching experience. The EC is also offered in a part-time format.
For students with a bachelor's degree who want to teach grades four through nine. Students are eligible for a Middle Childhood Education license after successfully completing the program. All licensure candidates must have specialized in two subject areas. You can choose from Language Arts, Science, Math or Social Studies.
For students with a bachelor's degree who want to teach grades seven through 12. All AYA licensure candidates must have a concentration in the subject they intend to teach. This generally is equivalent to your undergraduate degree with a major in the subject area to be taught. See the Alternative Licensure section in the graduate catalog for a license to teach Mathematics and Science.
This program is designed for individuals with a bachelor's degree who want to teach children with special needs in grades K-12. It is ideal for non-traditional second career individuals who do not have a teaching license and are seeking Ohio special education licensure. This program is also available for Ohio teachers seeking second licensure as an intervention specialist in the state of Ohio.
This program prepares you teach students from 3 to 21 years old. Candidates must have an undergraduate major in art or music. You are eligible for Multi-age Education licensure after successfully completing the program.
Fully Online Ohio Endorsements and/or Master of Arts: Teacher Advancement Programs

Fully Online Ohio Endorsements (Two endorsements can be stacked with core classes to earn a master's degree)
The Gifted Intervention Specialist endorsement is available to those who have an existing Ohio teaching license and are interested in working with specific gifted and talented populations.  The endorsement program also prepares teachers to serve in district leadership around gifted and talented students.  Students are able to immediately appy their course concepts in their school settings in order to improve outcomes for K-12 students.
The Pre-Kindergarten Special Needs online option is designed for individuals who already possess a current Ohio teaching licensure in Special Education or Early Childhood Education and wish to obtain an endorsement to work with children ages 3-5 with special needs.
The Reading Endorsement Program was developed according to Ohio Department of Education standards. It provides in-depth knowledge on the theories, practice and technology in the field of reading education. Adding the Reading Endorsement to an Ohio teaching license will allow you to teach reading across grades.
The Teacher Leader Endorsement program is available to students who have an existing Ohio teaching license and a completed master's degree. Our endorsement program allows teachers to engage in real-time integration of learning and enhance their professional work. The Teacher Leader endorsement allows teachers to pursue leadership roles in their school settings. Roles could include mentoring other teachers, leading professional development, and participating in decision-making opportunities.
Designed for the working professional, the Mount's Reading Science programs are convenient to an educator's schedule, available fully online. All three options require the same core courses. Students can complete the Ohio reading endorsement in less than one year, then choose to continue studies to earn the dyslexia certificate and/or master's degree.
Provides a specialization in the teaching of reading in grades pre-K through 12. A reading endorsement can be embedded in this degree. The reading science concentration features a curriculum based on the recommendations of the National Reading Panel report and uses the scientifically-based reading research model.  Graduates of the program will have the skills to implement evidence-based reading instruction and/or intervention.
The Dyslexia certificate provides an in-depth knowledge base related to the field of reading and language development, assessment, instruction, and individual differences. This program provides teachers with the deep knowledge and practices that are needed to teach reading to dyslexic students, other struggling readers and/or the general student population
The Reading Endorsement Program was developed according to Ohio Department of Education standards. It provides in-depth knowledge on the theories, practice and technology in the field of reading education. Adding the Reading Endorsement to an Ohio teaching license will allow you to teach reading across grades.
Business:
This format is primarily for traditional Mount undergraduate students who wish to begin MBA courses in their senior year and complete the MBA with only one additional year of study.  It is open to all Mount students regardless of major, provided five foundational courses are completed.  Courses are during the day. Admission is competitive.
The Master of Science in Organizational Leadership is a multi-disciplinary graduate program intended for individuals in a variety of organizations that require executives with well-developed leadership skills. Both an art and a science, the essence of leadership is explored and put into everyday practice by the variety of professionals who are enrolled in the MSOL program. Classmates from a wide range of industries encourage new perspectives and broaden each student's view. Our every-third-Saturday-format provides the flexibility required by today's busy leader.
Health Sciences:
This comprehensive, three-year program is accredited by the Commission on Accreditation in Physical Therapy Education (CAPTE) of the American Physical Therapy Association (APTA). The program prepares clinicians to think critically, solve problems and apply scientifically-validated therapeutic skills and techniques while respecting the uniqueness and dignity of the individual.
This program offers the highest quality academic courses to address the eight DNP Essentials outlined by the American Association of Colleges of Nursing (AACN) and includes courses in evidence-based practice, global health care policy, leadership theory, nursing informatics and epidemiology. In the final phases of the program you will complete practicum experiences and a DNP project related to your chosen area of specialty.
MSN-MAGELIN: Master's Graduate Entry-Level into Nursing is for individuals with a non-nursing baccalaureate degree who want to enter the nursing profession. Graduates of the program work in clinical areas, leadership roles, or they pursue an advanced practice degree in nursing. Upon completion of the program, students apply and take the NCLEX-RN to become licensed to practice as an RN. 
The Master of Science Degree in Nursing (MSN) program offers three specialized tracks: administration and education. Our expert faculty, interactive blended courses and small class sizes will help hone your professional communication and collaboration skills to improve health care outcomes designed to work around your schedule and needs.
Mount St. Joseph University's Physician Assistant program seeks to prepare students to become outstanding clinicians fully prepared to deliver quality health care in an ever-changing environment. The 27-month graduate degree program will emphasize critical thinking and lifelong learning through its use of hands on patient care and state-of-the-art technology.