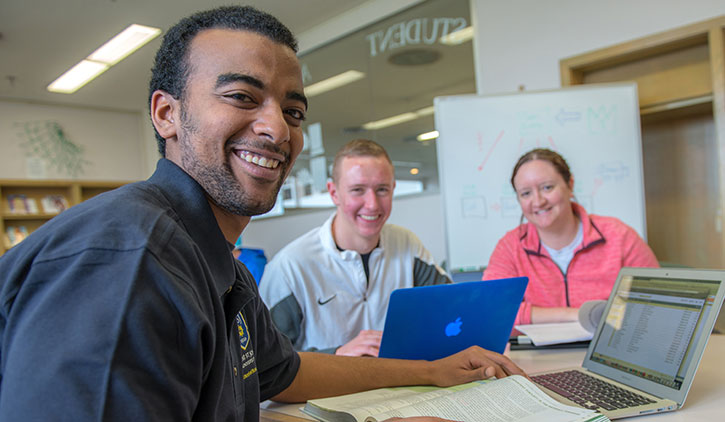 Our "4+1" program allows you to earn both your undergraduate and MBA degrees in just five years. As a Mount St. Joseph University undergraduate, you can begin taking MBA courses in your senior year and complete your remaining graduate coursework in your fifth year. The 4+1 is open to students in business and non business majors. Admission to the program is competitive.
An Economical and Efficient Way to Earn Your MBA
The 4+1 MBA is an economical way to earn your MBA. There is no additional charge for the four graduate courses taken as a senior (as long as you do not exceed 18 credit hours per semester). Undergrad scholarships and financial aid apply to these courses. Tuition for the 4+1 students in the MBA year is discounted vs. the Mount's other MBA programs.
Our 36-hour MBA curriculum challenges you to strengthen and apply your knowledge in core business areas such as managerial finance, accounting, economics, marketing, and leadership. Our small class sizes allow you to hone your interpersonal, team and group communication skills while working one-on-one with expert faculty.
Career Potential:
The MBA prepares students to assume leadership and management positions in nearly all areas of business, both profit and not-for-profit. Students develop a technical knowledge of accounting, finance, operations and project management to help organizations become more effective and efficient.
In this challenging global economy, your skills and knowledge will be put to the test. Understanding how to navigate within a variety of business environments will open the door to many challenging and exciting career opportunities.
Admission Process
Apply to the MBA program in your junior year.
To apply, please submit the following:
Fall Semester
Global Economic Issues
Leadership in Organizations
Leadership Seminar I
Strategic Management
Spring Semester
Managerial Accounting
Managerial Finance
Project and Operations Management
Leadership Seminar II          
Learn More
Visit the School of Business located on the fifth floor of the Seton Center.
Email Graduate Admission at graduateadmission@msj.edu
Call (513)244-4807 to talk to a graduate admission counselor.
Talk with your advisor.
Resources
Foundational Courses must be completed prior to the beginning of the +1 year. Students may apply for the 4+1 MBA program even if they have not yet completed all of the Foundational Courses.
View a complete listing of tuition, fees, and other costs associated with graduate study at the University
View a complete listing of tuition, fees, and other costs associated with graduate study at the University
4+1 Curriculum, Program, and Admission Requirements