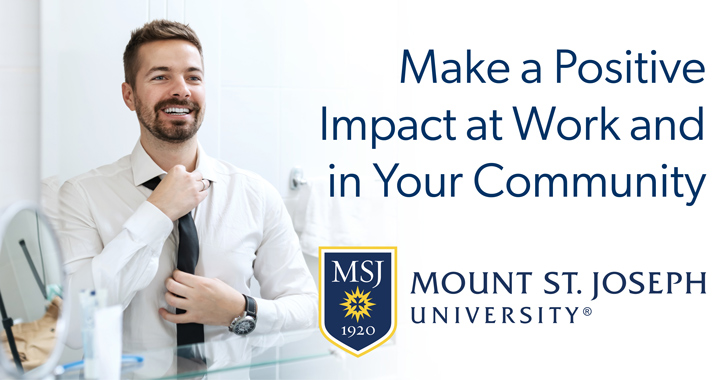 Our 4+1 MBA program allows you to earn both your undergraduate and MBA degrees in just five years. As a Mount St. Joseph University undergraduate, you can begin taking MBA courses in your senior year and complete your remaining graduate coursework in your fifth year. The 4+1 is open to students in business and non-business majors. Admission to the program is competitive.
The MBA covers all the fundamentals of business including economics, marketing, management, and accounting.  The theme of the MBA is social impact.  All businesses want to make a positive impact on their community, thus the theme of social impact is woven into several of the courses and is the focus of the social responsibility for managers class that is take in the first semester of the program.  In this class students learn about socially responsible investing, environmental sustainability, and diversity equity and inclusion in human resource decision making.  Students will utilize technology and learn about the start-up techniques for opening their own business.
4+1 MBA at the Mount
Career Potential
The MBA prepares students to assume leadership and management positions in nearly all areas of business, both profit, and not-for-profit. Students develop a technical knowledge of accounting, finance, operations, and project management to help organizations become more effective and efficient.
Admission Process
Apply to the MBA program in your junior year. Students do not need to complete foundational coursework before submitting an application.
To apply, please submit the following:
Learn More
Visit the School of Business located on the fifth floor of the Seton Center.
Email Graduate Admission at graduateadmission@msj.edu
Call (513) 244-4807 to talk to a graduate admission counselor.
Talk with your advisor.
"
"My inspiration for choosing this field was changing the trajectory for women in male base fields! We are capable of any and everything and I want to show other women anything is possible! I chose the Mount based off the school of business and specifically to achieve the goal of completing my Masters within a year of completing my undergrad. I would rate my experience with the Mount a 10/10! My college experience truly changed transferring to the Mount, I gained life long friends and family and amazing people I can stay connected with."
Hayli Huff
MBA '22
"
"I chose the Mount because I loved the small intimate feel and I knew I wanted to participate in the 4+1 MBA program. So many people throughout the MSJ community have impacted me throughout my time here. The one person who has really changed me for the better is Sister Karen. She has always given me amazing advice, rooted for me not only as a athlete but as a student, and was kind to me every time she saw me! I am forever grateful for her and the impact she has had on my life! I would rate my educational experience at the Mount as phenomenal! I am beyond grateful for everyone I've met and everything I've learned at the Mount and it will forever be home!"
Aliyah Huff
MBA '22
"
"I chose the Mount for the small class sizes as well as the ability to play a sport at the college level. I feel the Mount has prepared me for the work force by using real life situations in class as well as having professors who care. Professor Rashed helped develop my critical thinking skills in class by actively using current global issues."
Hayden Wood
MBA '22
An Economical and Efficient Way to Earn Your MBA
The 4+1 MBA is an economical way to earn your MBA. There is no additional charge for the four graduate courses taken as a senior (as long as you do not exceed 18 credit hours per semester). Undergrad scholarships and financial aid apply to these courses. Tuition for the 4+1 students in the MBA year is discounted vs. the Mount's other MBA programs.
Our 36-hour MBA curriculum challenges you to strengthen and apply your knowledge in core business areas such as managerial finance, accounting, economics, marketing, and leadership. Our small class sizes allow you to hone your interpersonal, team, and group communication skills while working one-on-one with expert faculty.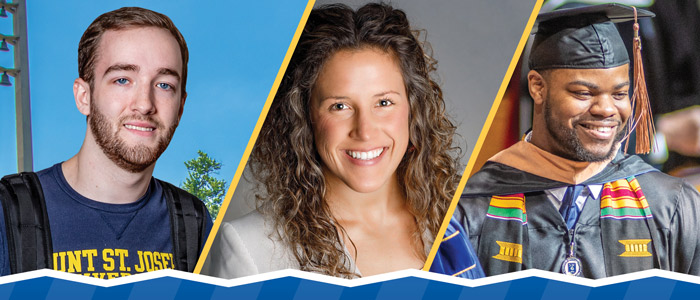 INSTAGRAM NEWS
RECENT NEWS
Resources
View a complete listing of tuition, fees, and other costs associated with graduate study at the University.
Foundational Courses must be completed prior to the beginning of the +1 year. Students may apply for the 4+1 MBA program even if they have not yet completed all of the Foundational Courses.
Our faculty experts bring years of real-life experience to their programs.
4+1 Curriculum, Program, and Admission Requirements