Mount St. Joseph University (Mount) and TriHealth have created a strategic partnership aimed at fostering leadership through a Master of Science in Organizational Leadership (MSOL) degree cohort.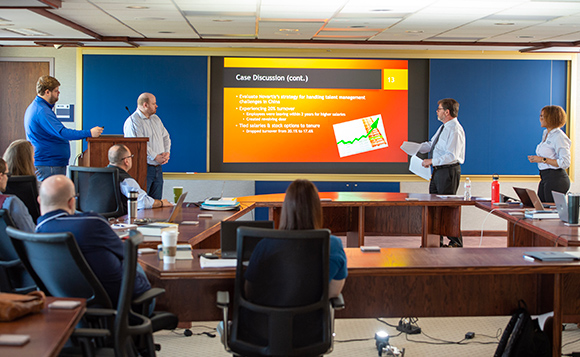 CINCINNATI, Oh. - This partnership aligns the academic expertise of the Mount with the healthcare excellence of TriHealth to empower TriHealth professionals with the knowledge and capacity to drive positive change in their profession and the community.
The MSOL degree program is designed to empower professionals with the skills and knowledge needed to lead and navigate the complex challenges of today's rapidly evolving landscape. Through this strategic partnership, the Mount and TriHealth aim to cultivate a cohort of dynamic leaders within TriHealth who will drive positive change, enhance patient care, and foster innovation within the organization. 
The program focuses on key areas such as leadership theory and practice, strategic project management, talent development, organizational behavior, and disciplines like business research, accounting and economics. Students finish the program with an applied research project that can directly support strategic outcomes within their organization.  
"We are excited to join forces with TriHealth yet again for the MSOL cohort," said Lisa Gick, MSOL program director at Mount St. Joseph University. "In a rapidly evolving world, the demand for effective leadership is more critical than ever. Our mission is to cultivate leaders who are not only proficient in their respective fields but also possess the vision, creativity, and collaborative skills needed to shape a better future for their organizations and our community."
"One of the main benefits we hear directly from the professionals in our MSOL program is that they are able to apply what they learn the next day in their professions. Being able to translate the learnings from a course so immediately enriches their learning and impact," Gick added.
The collaboration between the Mount and TriHealth started in 2009, and the current cohort is the fifth TriHealth cohort at the Mount. This partnership not only shows commitment to education but also signifies a shared vision of nurturing leaders. This MSOL degree provides participants with a unique opportunity to learn from experienced faculty members and industry leaders while gaining hands-on experience through real-world projects and case studies. Graduates of the program are poised to expand their leadership capacity, and meaningful outcomes in their organizations and community.  
"The TriHealth MSOL cohort is one of several ways we invest in our team members' career development with an opportunity to obtain a graduate level degree in a small cohort atmosphere where they are able to network and build relationships with other TriHealth team members across the organization," TriHealth Vice President of Talent Development & Organizational Effectiveness, Lynda Garcia , said. "The MSOL cohort also fosters TriHealth team members' connection and understanding of various lines of business outside of their own by providing experience working in small learning communities. This experience ultimately strengthens TriHealth's mission of serving all of Cincinnati's unique communities."
Those interested in learning more about the MSOL degree at the Mount can visit the MSOL program page here.
About the Mount
As a Catholic institution rooted in the values of the Sisters of Charity, Mount St. Joseph University excels at serving the common good. Undergraduate, graduate, and doctoral students at the Mount are inspired to think beyond the classroom and redraw the bounds of what's possible for their futures. This is accomplished through individualized educational experiences, a safe, secure campus environment, and an all-in commitment from faculty and staff to inspire students to reach their highest potential. The Mount fosters life-long learners who serve, care, and contribute to the world beyond their front doors. 
More about TriHealth
TriHealth is hospitals, physicians and the community working together to help people live better. We provide clinical, educational, preventive, and social programs through Bethesda North, Bethesda Butler, Good Samaritan and McCullough-Hyde hospitals, and more than 140 other locations throughout Greater Cincinnati. This includes an ambulatory network, physician practices, research division, employer-based health services, hospice care, and fitness and health facilities. Learn more at trihealth.com, Facebook.com/TriHealth, @TriHealth on Twitter, and at YouTube.com/TriHealth.
###