Artwork produced by students from Mount St. Joseph University's Art & Design Program's Sustainable Sculpture Class is being featured in the Art & Ecosystems Earth Month exhibit at the Cincinnati Zoo.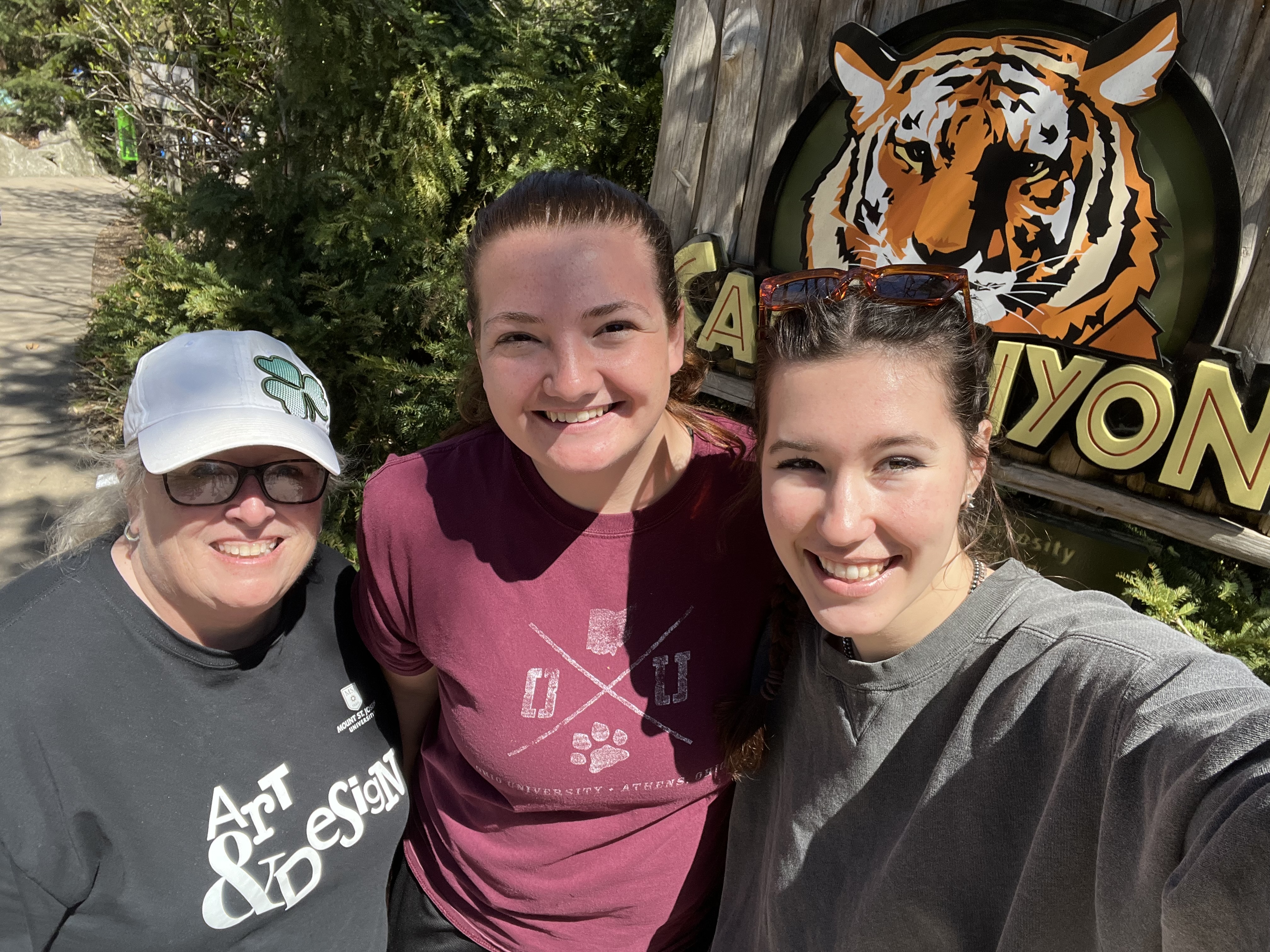 CINCINNATI, Oh. – A total of 14 Mount students – 13 Art & Design students and one studying Chemistry with a Sustainability minor – produced the sculptures as part of a class being taught by noted Cincinnati artist Tom Tsuchiya and fellow artist Brandon Lowery.
"The Mount student artists are so excited to be a part of the Cincinnati Zoo's Earth Month celebration," said Michaelann Kelley, Ed.D, chair and assistant professor in the Mount's Department of Art & Design. "And they were honored to be able to have their sustainable sculptures on display in such a prestigious place as the zoo. The zoo is known for its environmental work and to be a small part is an opportunity very few artists get to have in their lifetime."
"The Mount's Art & Design students in the Sustainable Sculpture class have a tremendous opportunity to be a part of keeping materials out of landfills by upcycling through their creative expressions," Kelley said.
"This exhibition is an affirmation of artists' tremendous imagination to transform trash into beautiful and thought-provoking work. Art and ecosystems indeed," Tsuchiya, who has created several Zoo sculptures, including statues of Fiona and Fritz, said in a Cincinnati Zoo press release. "The Art & Ecosystems exhibition features works made of recycled and upcycled materials, and some of them are actual receptacles that visitors can use to drop cans and bottles that can be recycled!"
Tsuchiya is best known for his public art including the plaques for the National Baseball Hall of Fame in Cooperstown, NY, and the sculptures of Cincinnati Reds players at Great American Ball Park. Because of his passion for our environment, Tsuchiya has been immersed in creating sustainability-themed sculptures including the innovative, award-winning Atlas Recycled. 
"The Department of Art & Design is thrilled to be partnering with sculptor Tom Tsuchiya and the Cincinnati Zoo during Earth Month," Kelley said. "The mission of the Sisters of Charity is to care for all creatures. This collaboration is a perfect illustration of how we all play a part in caring for the Earth whether it be through recycling and upcycling into art or the care of the planet's animals, like Fiona."
Visit the Art & Ecosystems MSJ Sustainable Sculpture Class' artwork and student bios here.
About the Mount
As a Catholic institution rooted in the values of the Sisters of Charity, Mount St. Joseph University excels at serving the common good. Undergraduate, graduate, and doctoral students at the Mount are inspired to think beyond the classroom and redraw the bounds of what's possible for their futures. This is accomplished through individualized educational experiences, a safe, secure campus environment, and an all-in commitment from faculty and staff to inspire students to reach their highest potential. The Mount fosters life-long learners who serve, care, and contribute to the world beyond their front doors. 
###