The Anthony Muñoz Foundation and Mount St. Joseph University (MSJ) find alignment in creating opportunities for local students to access higher education through a specialized scholarship offering at the Mount, starting with incoming fall 2023 students.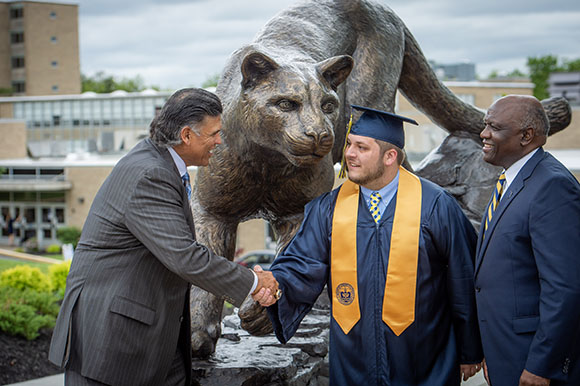 This collaboration will directly impact students by providing scholarship opportunities to those high school seniors who plan to continue their education at MSJ. In the inaugural year, the Mount will award four AMF Impact Program students $2,500 annually, totaling $10,000 over four years.
The Anthony Muñoz Foundation's mission of impacting Greater Cincinnati youth mentally, physically, and spiritually aligns with the Mount's values of service, compassion, and charity.  The Mount's President, Dr. H. James Williams, says it is natural to connect with the Anthony Muñoz Foundation, because it builds increased opportunities for regional high school students to receive educational diversity scholarships, consistent with the goals and objectives of the Mount's Transformation 2025 strategic plan.
"The work of the Anthony Muñoz Foundation, by providing leadership training, mentoring, and tutoring to regional youth, exposes students to future opportunities that many may not know exist. Our educational diversity scholarship collaboration builds upon this foundation, offering access for students to attend the Mount, where they will embark on a cutting-edge, interactive, and personalized educational journey that results in obtaining a four-year degree and prepares them for success in their careers and in life," said President Williams. "At the Mount, an integral part of our mission is embracing diversity of cultures and beliefs and services to others, and this venture with the Anthony Muñoz Foundation furthers our mission and will enhance our campus for the benefit of all students."     
"The importance of not only increasing the affordability for students to continue their education, but also the commitment to creating community for these students is invaluable to the success of the individual and our Greater Cincinnati area," says Anthony Muñoz. "We are grateful for collaborators like Mount St. Joseph who empower these students and provide them with resources and opportunities to succeed."
_________________________________________________________________________________________________
Additional information about this scholarship, including how to apply can be found at munozfoundation.org/scholarship-fund/msj-scholarship/.
About Mount St. Joseph University
As a Catholic institution rooted in the values of the Sisters of Charity, Mount St. Joseph University excels at serving the common good. Undergraduate, graduate, and doctoral students at the Mount are inspired to think beyond the classroom and redraw the bounds of what's possible for their futures. This is accomplished through individualized educational experiences, a safe, secure campus environment, and an all-in commitment from faculty and staff to inspire students to reach their highest potential. The Mount fosters life-long learners who serve, care, and contribute to the world beyond their front doors. 
About the Anthony Muñoz Foundation
Established as a non-profit organization in April of 2002, the Anthony Muñoz Foundation's mission is to engage the Tri-State region to impact youth mentally, physically, and spiritually. The Foundation reaches out to underprivileged youth to recognize, and reward those who excel in all phases of life. Through the foundation's seven impact programs, which include scholarship opportunities, character camps, a tutoring program and a leadership seminar, thousands of area youth are empowered. More information can be found at 
munozfoundation.org
 and on our 
Twitter
 and
Facebook
 page.