President H. James Williams, Ph.D. offers a grateful reflection to the Mount St. Joseph University family in light of Thanksgiving break.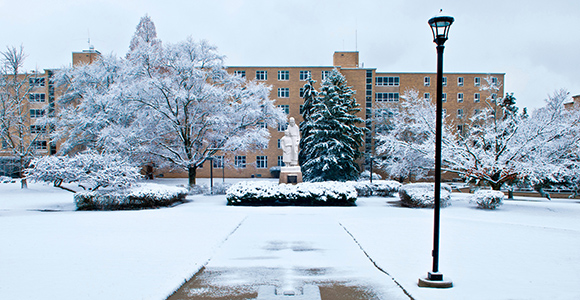 November 22, 2022
Mount Students, Faculty, and Staff:
During this Thanksgiving week, we can all be grateful for the first part of an academic year that has been momentous for faculty, staff, and students – both in academic and co-curricular events and activities.  Indeed, the Mount's recent academic, artistic, and athletic achievements have been outstanding – and are simply too numerous to mention individually.  Each of us should take great pride in the impact you have made on our campus through your scholastic work, your interactions with each other, and the meaningful ways you contribute to this extraordinary Mount culture. 
The Thanksgiving holiday is a wonderful opportunity for each of us to take a break from the demands of campus life and spend time with immediate and extended family and friends.  While the holiday season is joyful for many, it can be challenging for others.  I encourage all of us to take care with friends and colleagues who may need support and encouragement during this season of thanks.  Let us remember to "dare to risk a caring response."
Carole and I continue to be most grateful for the Mount's talented and engaged students, faculty, and staff; the inspiration of our Foundresses, the Sisters of Charity of Cincinnati; and the commitment of the Mount's Board of Trustees, alumni, parents, donors, and other stakeholders.  We are grateful to God for the abundant blessings bestowed upon us as we support one another, with humility, in simplicity, and with charity for all.  May we continue to demonstrate, in all our endeavors, our dedication to the common good in the many ways we live our Mission.  We pray that God will continue to bestow abundant blessings on each and every person – during this season of thanks and always.
May we all enjoy a beautiful, bountiful Thanksgiving Holiday with our families and friends...  
Happy Thanksgiving – and Go Lions!
H. James Williams, Ph.D.
President