For the third time in four years, Mount students, faculty and staff were afforded a rare educational opportunity: to witness a Naturalization Ceremony when the United States District Court, the Southern District of Ohio, convened in the University theater.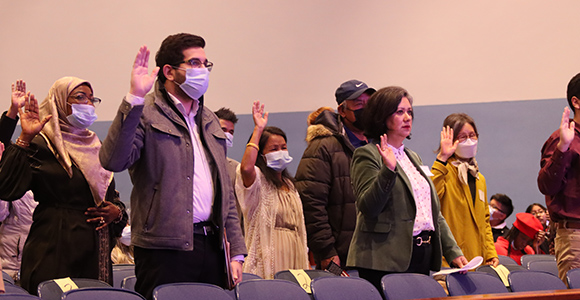 Inviting the court to campus under U.S. Magistrate Judge Karen L. Litkovitz has been a project overseen by Professor Emerita Georganna Taggart. "I coordinate, but loads of people make it happen," she explains.
Several classes attended the Nov. 18 ceremony, including my first-year writing students, all of whom were impressed and honored to witness the event. They agreed to write some observations as a follow-up.
"When I walked into the theater, the middle section was filled with people from many different countries, from China, Russia, Ukraine, Mexico, and many more," writes Justin McGraw. "There were 39 different countries with close to 1oo people."
Also noting the number of people from many countries, Brandon Little finds a connection to his own life, since "my mother attended a ceremony like this when she gave up her citizenship in El Salvador to become a U.S. citizen."
His classmate, Carter Lindemann, adds, "It was cool to see how people from other countries dressed and how they spoke. The low dim light in the theater made people pay attention. Everyone was quiet when the people took the oath (of allegiance)."
Pride in the attendees and in the United States was a common theme in students' reflections.
Briar Herbert recalls her feelings during the hour-long event: "Being able to witness a Naturalization Ceremony made me feel overwhelmed with positive emotions."
Because her class attended the event, Orlandria DeRamus was able "to learn a lot from watching the process of the ceremony, and I was very proud of the people that became citizens."
Taiwan Howard notes what to him was an essential reason for the ceremony: "These people came to America to find something they couldn't find anywhere else, freedom."
Looking forward, Jack Andorn writes: "People came here for opportunity, and it is our job to help them get accustomed. Naturalization Ceremonies are an extraordinary way to observe, hear, and see our new neighbors begin life anew."