Having lived in one state a majority of my life, I was a little unprepared for the biggest change of all when moving to Florida: The weather.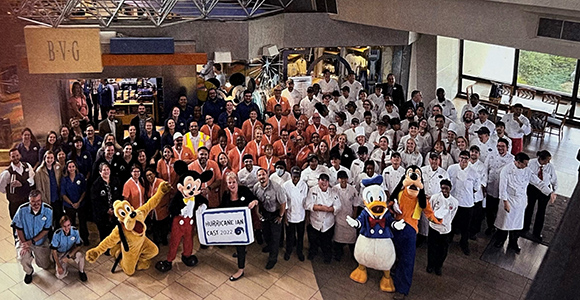 Coming down in June to work at Disney meant it was the middle of monsoon season. While rain is something I'm used to, I was not prepared for the hurricane that was soon to come.
When starting in the middle of rainy season, Disney is prepared early by having each workplace create a hurricane ride-out crew. This is a team of workers who will come in during the hurricane and be the only ones working until it is clear to leave. The nice part about the crew is that you are paid from the moment you get there, until you leave, and a majority of it is double. About a month or two into my program, I was asked if I would be willing to be a part of this team if that time came.
Well, as I'm sure we all already know by now; the time did come. Days before Hurricane Ian we would get constant updates before every shift on where it currently was and the trajectory of when it would be hitting us. On Tuesday, September 28, I received a messaged from my leaders that the hurricane crew was to report the following morning to work and be prepared to stay a few days.
I was extremely unprepared as I had not bulked up on water or any essentials besides peanut butter and jelly, but no worries because Disney was going to take care of everything. After arranging someone to watch my pup, I went to work the following morning at 10 a.m. and prepared to stay there for two days.
The  plan was to send home all of the cast members not a part of the crew, as Disney gives them a four-hour time span before a hurricane if they want to leave or still have to prepare. That is when our shifts would begin and we worked until 11 p.m. when stores closed.
As the storm began to pick up, guests were told that after 9 p.m. they should avoid going outside at all costs. The rain was hitting the large glass wall at a slant, and the wind speed continued to pick up as the night went on.
At about 9:30, debris started falling from the ceiling into our Fantasia store. We had to quickly close and call over maintenance to figure out what was going on. It was explained that the fans about the store that usually filtered out the air and kept things from coming in were having issues because of how strong the wind was. We quickly cleaned the area and reopened.
The rest of the night was calm and we received access to our rooms after work, compliments of Disney. Working almost a 12-hour shift is something I had never done, but when it was over, I was not tired. By the time my fellow cast members and I had returned to our rooms, we decided to watch the storm from our balcony windows.
A majority of us are not from Florida so this was the first hurricane any of us had experienced. The wind was very powerful as you could see pieces of trees flying through the area, and a majority of the area had already begun to flood.
The next day we were assigned different times to go onto the floor and begin work, so that there were designated openers and closers.
I grew familiar with the people who were there and all of the different activities taking place so that the guests were kept busy. There were games and movies and everything was organized to try and distract from the fact that we were stuck inside. Characters like Mickey and Pluto would walk around every now and then to get pictures with the kids and hang out.
At around 2 p.m. we gathered for a team photo and then were told the hurricane was passing fast enough that we would be able to go home that night. The full time and part timers were sent home so that the only one's working were college program cast members.
After working another long day, I returned home to find that part of my apartment had flooded since I was on the first floor. Two giant fans were placed in the doorway to dry the areas and we were instructed not to unplug them or anything until maintenance had deemed the area dry enough.
As things around me slowly return to normal, I am thankful I am not living on the coast and that the hurricane did not damage my life as much as it did some others. There are still roads closed to flooding and an emptiness of some grocery shelves, but it is nowhere near as bad as it could've been. For now we move forward and Disney has volunteer opportunities for us to go help central Florida recover as well.