What time is it? It's game time! New to the Mount this year is a group called the Spirit Squad. They can't wait to see you and your friends at the upcoming sporting and campus events.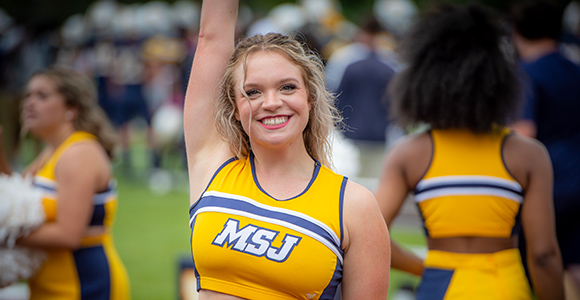 The Spirit Squad is made up of the cheer team, the dance team, and Joe Lion himself. They were brought together by Miranda Calhoun, the woman pulling all the strings in this operation. It is because of Miranda's knowledge and enthusiasm that the Spirit Squad was born.
The Spirit Squad is not here only for the sports events, she says. The idea behind this team is to get students involved. This new group is generating all kinds of excitement and they want everyone at the Mount to be a part of it. "Who doesn't need some fun in their life!"
"Now that the school year has begun, the Spirit Squad plans on hosting events designed so students can get to know who they are and what they are about," Calhoun says. These events will be held on the Quad, full of music and fun. The Spirit Squad hopes everyone will stop by and say "Hey!" Or even stay awhile.
 The Mount has a lot of commuter students who might not be on campus for all the events outside the school day, so this is a great way for students to get to know the people here or a way to get involved. "Why should the MSJ residents have all the fun?" Calhoun asks.
These will be community events that will help MSJ spirit grow. The Spirit Squad wants students, faculty and staff to stay on campus, have fun and create traditions, according to Cahlhoun. It is simple: just stop by when walking past, grab a flyer, get information on upcoming events, or stay for a while and hang out.
A way to stay informed is through Mount email announcements, but the Spirit Squad will post flyers with details of upcoming events-- in the halls and in elevators. But sometimes you don't see those in time.
According to Calhoun, the best way to stay up to date with all the MSJ events is to follow social media. There is a lot to be excited about--follow the football team, the cheer team, the volleyball team, etc., but  not just the sports teams. Students, faculty, and staff should follow the university's accounts as well. Social media is where you'll get information fast.
The Spirit Squad will also be at the games to cheer on Mount teams--at home football games, men's and women's home basketball games, and even some volleyball games. They hope to see you there!
"The Spirit Squad needs your help to cheer on the Lions," she says, "so put your party pants on and let's kick this year off to a good start!