Mark your calendars … because…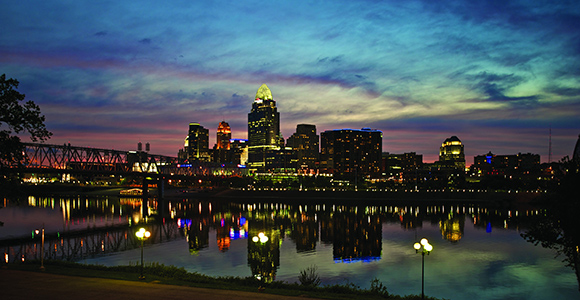 One of the largest light art shows in the nation, with buildings and city blocks decorated with lights and murals, will be happening in the Greater Cincinnati area Oct. 13 to 16. BLINK brings together a large community and two states, traveling from Findlay Market in Over-the-Rhine through downtown Cincinnati, crossing the Roebling Suspension Bridge, and following into Covington, Ky.
The theme for this year's festival is "Together: a constellation of shared cultures and unique identities; we illuminate joy through creative expression."  There will be an opening parade on Oct. 13. Marching in the parade will be a variety of  groups, organizations, and communities, including our MSJ band!
The Mount's band will preview their portion of the parade march on Wednesday, Oct. 12 after the choir concert, throughout the MSJ campus.
BLINK is also bringing together a community of international and local artists to help transform Cincinnati into a light show. There are artists from the United Kingdom, Spain, Poland, Germany, Italy, and the USA. Together they transform 30 city blocks to have 39 large-scale projection mappings, 16 new murals, and interactive light sculptures.
Unfortunately, this is not a drive-through event, so I recommend bringing your walking shoes. It is too large to see in one night, but if you're up for a challenge, go for it!
BLINK is free and open to the public from 7 to 11 p.m. If it is free, it is for me (aside from parking and food from restaurants and food trucks). I'd recommend bringing a water bottle and snacks.