My younger brother Andy is battling ALS. There really is no way to sugarcoat something like that.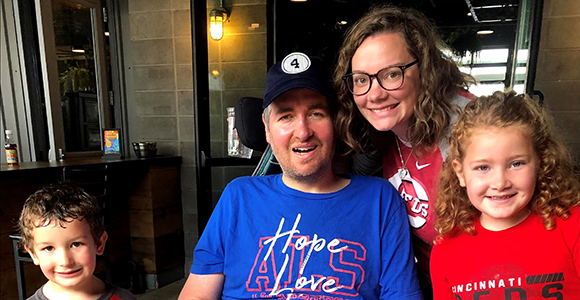 Amyotrophic lateral sclerosis (ALS)--sometimes known as Lou Gehrig's Disease--is always fatal. No two cases are exactly alike, but typically the nerve cells in your brain and spinal cord will gradually stop communicating with your muscles and you will eventually lose your ability to walk, move, talk, eat and breathe. Statistically, all of that will happen in your newly truncated lifespan of 2 to 5 years though it can be longer or shorter for some. 
Before Andy was diagnosed, he noticed any number of symptoms he couldn't explain. Muscle twitches, occasionally losing his balance, slurred speech and some other unexplained sensations all became hard to ignore as his body slowly betrayed him. After six months and two doctors they ruled out a litany of lesser, treatable issues. A day or so after Christmas 2019 Andy and Brooke were told Andy had ALS. 
As Andy has been confined to a wheelchair and has lost almost all basic functions, the weight of ALS on Andy and his wife Brooke's young family--daughter Kerrigan is 8 and son Drew is 5--is heavy and, trust me, its effects are deep and long-ranging. I have to imagine that it would be very easy to let ALS be all-consuming and too heavy.
That isn't what I see from Andy, Brooke, their kids, and the community that has rallied around them. The sobering reality of dealing with ALS is only part of their story. 
Almost as soon as Andy was diagnosed, people wanted to know how they could help. Several of Andy's roommates and friends from his college days at Indiana University are college basketball coaches now and all of them used their social media platforms to tell Andy's story. The Indy Star did a feature story on his fight with ALS. His college roommate did two separate ESPN radio interviews. All that attention helped Andy's GoFundMe account balloon to over $78,000. 
In mid-September the second annual Murphy Wiffle Ball Classic will take place. Some of Brooke's family started that tournament to help with ALS-related expenses, but it seems like all of their adopted hometown of Batesville, Ind., is wrapped up in the day-long event. 
People have reached out to talk about setting up college funds for their kids. Friends and family near and far have offered to take their kids on a zoo trip or give Brooke a mental health break spa day. Everyone wants to know if there is anything they can do to help.
The ALS organizations and nonprofits have been outstanding. From offering logistical support and loaning Andy's family the necessary equipment to covering costs for family trips and retreats, these groups have been a godsend. The ALS nonprofits have had a hand in helping with everything from machines to help him breathe to a motorized wheelchair to a handicap accessible van.
I'm sure I have failed to mention someone because there are just so many helpers who have stepped up for Andy and Brooke. We're appreciative of every gesture and outreach, no matter how big or small. It should also be noted that no one has done more or has shouldered the weight of the situation more than Brooke.
Brooke is painfully shy and sort of reserved. To be honest, she didn't really talk much around our extended family early on in their marriage and I sometimes wondered if she actually liked us. It's almost funny to think of that misconception of Brooke now. From the moment they shared Andy's diagnosis with us, that all melted away. It had to. 
As far as I'm concerned, Brooke is a saint. She is Andy's primary caretaker and to be honest, he'd be lost without her. We all would. Her care for Andy has been thorough in the way that she almost intrinsically became a skilled and detailed ALS patient caregiver overnight. She advocates for Andy with physicians, legislators, and anyone else who has a stake in fighting ALS. She does this all while making sure their two young kids have as strong and normal an upbringing as possible. Andy doesn't miss too many t-ball or soccer games, thanks to Brooke. 
To be clear, Andy's battle with ALS is not some blessing in disguise. There is a lot to be thankful for, but ALS is horrific for anyone it touches. To only look at them as inspiration would betray the very real pain and suffering they're dealing with. They embody the stoic foundation of controlling how you respond to a situation, but their situation is still unbelievably hard. 
People often wonder how they would react in a difficult situation. Andy and Brooke don't have to play that game. Against an impossibly difficult situation they have stood tall where others might have collapsed. A common theme among the ALS community is that you never really understand the impact of ALS unless it touches you personally.
With an unfortunate peak behind that curtain, I can tell you that it's incredibly heartbreaking, but it has also revealed a very real sense of strength rooted in faith, hope and love that I've rarely seen in person. 
P.J. Murphy ('97 BA in English), a writer for Dateline during his years at the Mount, currently serves as Chief Public Affairs Officer for Ohio University's Heritage College of Osteopathic Medicine. Throughout his career, he's served in leadership roles in fundraising, sales, marketing, government relations and communication for colleges, universities, nonprofits and other institutions.