Aaron Barber, Athletic Training Major '13, Currently Lives in the UK with his Wife, Haley Barber.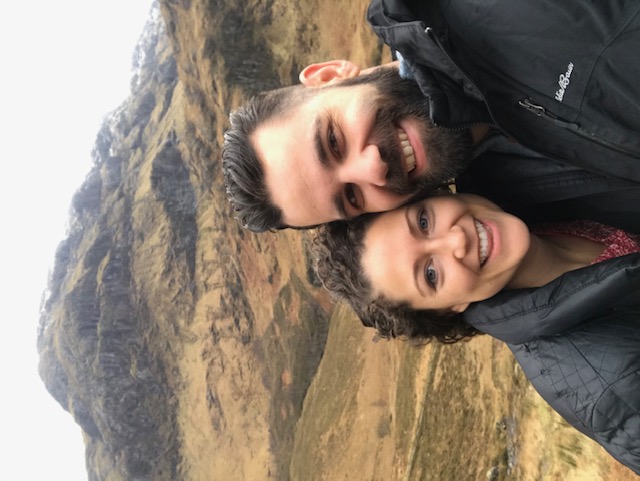 Aaron Barber and his wife, Haley Barber, graduated from the Mount in 2013.  Aaron graduated with a BS in Athletic Training and Haley graduated from the Art and Design program. After graduation, she was accepted into a master's program in Scotland at Glasgow University for their medical illustration program.  They moved abroad for her to study, and he began working as a personal trainer, a UK credentialed sports therapist (AT reciprocal degree). He has most recently been working for Amazon as an EU Ergonomist – analyzing, preventing, and managing injury risk for warehouse and logistics facilities in Europe.  He is one of 8 across the EU. Haley now works for a pharma/medical company designing 3D images as an illustrator
"We lived in Scotland for 2 years as we originally moved over for Haley's Master's program at Glasgow University. We fell in love with Scotland and the culture immediately and felt at home with the people. We explored as much as we could, which included holidays spent in a castle and hiking in the Highlands. Our love and appreciation for Scotland soon grew to the entirety of the UK and we set our sights on settling down. We currently reside in Oxford, England." -Aaron Barber
Athletic Training Alumni Q&A with Aaron Barber:
1. What was your graduation year and major?
2013 B.S. Athletic Training
2. What inspired you to pursue your major(s)?
My inspiration for pursuing an AT degree is similar to most. I had a major injury in high school that forced me to have surgery and, consequently, physical therapy for 5 months. My initial hope was to pursue a doctorate in physical therapy and I believe an undergraduate degree in athletic training would be the best avenue for it.
3. Why did you choose the Mount?
I was being recruited by the Mount for basketball and during my visit, I felt at home both in the classroom and on the court. I met with both the basketball coach and director of the athletic training program and loved how welcomed I felt.
4. What field did you pursue after graduation? How was the Mount instrumental in preparing you for your future career path?
Initially, I started in the typical ATC environment and worked as an Athletic Trainer & Physician Extender both in the clinic and in a local high school near Columbus, Ohio. Though in less than 3 years, I became burnt out. I was working 45-60 hour weeks for 6 months out of the year and, as much as I loved the athletes, I was left feeling unfulfilled and drained constantly. I wanted something more. Therefore, I took a job as an Industrial Athletic Trainer at a food manufacturing factory in North Carolina, which led me to managing an ergonomics program AND injury prevention program. This was quite new for me as not only was I assessing injuries and having to stay within OSHA First Aid protocols, but I was working with engineers to design tools and workstations for employees too. Though it was a unique role, I feel my rigorous coursework at the Mount prepared me well for the demands of the challenging position. The variety of experiences at the Mount challenged me beyond just taping ankles and assessing injuries. I left the Mount with a process of how to manage a program by hoping for the best but planning for the worst. Anticipating consequences and responding appropriately is what elevates a professional in their field and my time at the Mount.
5. Was there a professor/instructor that helped your development as a person?
I think most of my professors helped shape me into becoming who I am, but the two that had the greatest impact were Dr. Melissa Martin and Dr. BC Charles-Liscombe. Dr. Martin was the program director when I began at the Mount and, while at the time I wanted to go into Physical Therapy after undergrad, she always encouraged us that we could do so much as an ATC as well. I have been able to accomplish so much as an ATC and the confidence to continue to achieve and push the boundaries of my degree was empowered by her words. On the other hand, Dr. BC encouraged me at one of my low points in college. I was the only one in my graduating class to not pass the boards during my first attempt. I struggled with that failure immensely, but Dr. BC reminded me that a failure is not definite nor defining. It's an opportunity to learn, improve, and grow. It's the response to the failure that can define you and since then I have gone on to lead programs and teams and am having an impact at a global level.
6. Did you co-op/intern? If so, where?
I had an internship at Beacon Orthopedics with Tim Elser, PT. I learned most of my manual handling techniques from him and gained even more of an appreciation for the body. Being able to see the body with more than just my eyes but my hands as well made was crucial in becoming the clinician I wanted to be for my patients.
7. What was your involvement like at the Mount? Extracurricular activities, major projects, etc. that you would like to share.
I played basketball at the Mount for 3 years and was a Resident Assistant for 3 years. I worked in the Writing Center and as a dispatcher for the Mount Police Dept. I also served as VP of the Athletic Training Club during the year we had our first "Goalball" charity event.
8. How would you rate your educational experience at the Mount, and how was it a strong fit for you?
Looking back on my college experience at the Mount, I appreciate it far more now than I did at the time. My experiences as an athlete and working through injuries yielded me a relatable perspective to have with my patients and clients. My rigorous coursework and clinical experiences provided me with the foundation that prepared me for the demands of the working world. The pairing of my perspective and knowledge set me on a path I could have never imagined. All in all, my Mount experience was incredible and I am glad I made the decision to attend Mount St. Joseph University.