Brian Thesing, Nursing Clinical Coordinator for the MSN-MAGELIN Program at the Mount, Competes in the 2022 Boston Marathon Race on Monday, April 18th.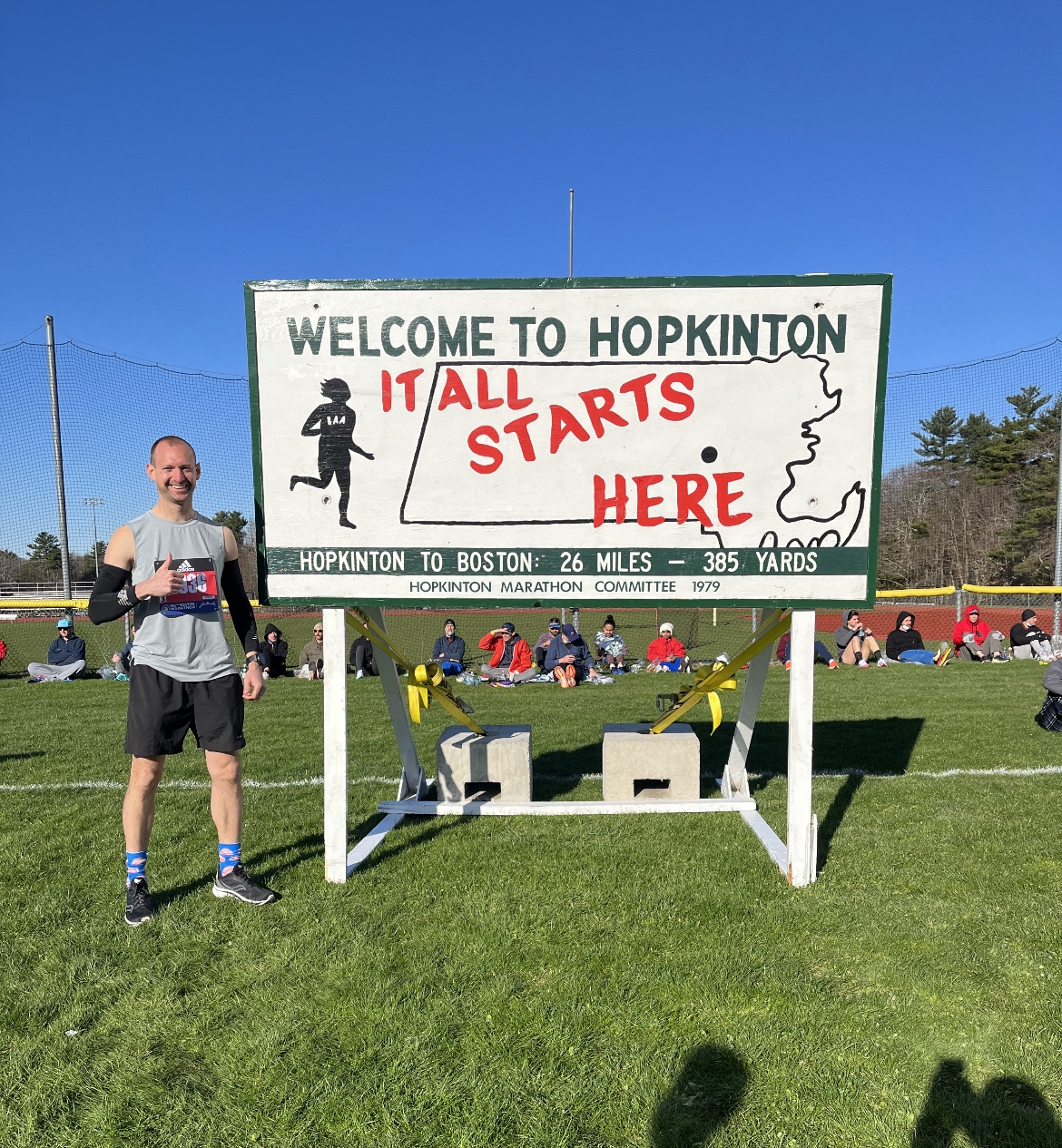 1. What is your involvement with the Mount?
I work in the Department of Nursing as the Clinical Coordinator for our MSN-MAGELIN program. I'm actually a 2x MSJU alumni – I graduated in 2005 with a bachelors in Communication Studies & in 2009 I earned my MSN from the MSN-MAGELIN program. I also played soccer here during my undergrad.

2. What are the qualifications to be in the Boston Marathon?
The qualifications vary based on gender and age group. For my particular age group (18-34), my Boston Qualifying "BQ" time is 3hrs 00mins 00secs (pace per mile = 6:52). BQ times for ages 35-39 = 3:05:00, 40-44 = 3:10:00, etc.

For females, the BQ time for ages 18-34 = 3:30:00 (pace per mile = 8:00), 35-39 = 3:35:00, 40-44 = 3:40:00, etc.

One thing to note: even if you qualify, you're not necessarily guaranteed entry at Boston. If the number of qualified applicants registering for Boston exceeds the field size capacity, there becomes a "cut-off time" that you need to survive. The time under the standard in the 2021 race was 7:47, so a male in the 18-34 age group would have had to run a 2:52:13 marathon time to qualify. Likewise, a female in the 18-34 age group would have had to finish in 3:22:13. The time under the standard, AKA "cut-off time", varies based on year due to field size limit and number of qualified applicants. For this past year's race on 4/18/22, there wasn't a cut-off time, so everyone who ran a BQ time would have been accepted.

3. How long have you been training to be a participant in the Boston Marathon?
Oh man – forever! I finally qualified at the Indianapolis Marathon on 11/7/21 in 2:52:35. I posted this status on Facebook two days later on 11/9/21 that pretty much sums up my entire journey to Boston.

Today I did something that has been over 10 years in the making. Ever since I started my marathon journey in May 2011, I've always had one goal in mind: to qualify for the Boston Marathon. Unfortunately, given my finish time of 3:55:02 (8:58/mi) that day, I knew it wasn't going to happen anytime soon. I needed to find a way to shave 55+ minutes off my finish time.

For years I kept chipping away at PRs.
3:35 (5/2013), 3:33 (10/2014), 3:26 (5/2018), 3:25 (10/2018), 3:15 (5/2019), 3:08 (1/2020).

And then FINALLY, this past weekend, after years and years of training and falling short, I finished the 2021 CNO Financial Indianapolis Monumental Marathon in 2:52:35 (6:35/mile). Three days later, the feeling is still surreal, and today I was able to officially submit my application for the 2022 Boston Marathon.

A huge thank you to my wife, Dani, for allowing me to train 6 days a week with a very cute, but high maintenance, 1-year-old at home, my Queen City Running teammates who have no doubt made me a stronger runner, and also my family for making the trip to Indy on Saturday. While I'm not guaranteed entry for Boston in April 2022, I'm hopeful that my 7:25 cushion below the 3:00:00 qualifying standard will be enough to make the cut. And if it's not, here's to attempting yet another PR in the Spring!

4. How was your training process leading up to the marathon?
I typically run 5-6 days per week. I usually do a tempo run on Tuesdays (between 7-10 miles at marathon pace), a speed workout on Thursdays (3 miles of track work at 5k speed), one long run on Saturdays (anywhere from 12-20 miles), and then the remaining 2-3 days are "easy" runs consisting of 6-8 miles. Some weeks are surely a grind!

5. What was it like balancing work/life/training?
Because my ultimate goal is to run a marathon in all 50 states (I'm up to 7 states & 13 total marathons), I try to train for at least two marathons a year – one in the spring and one in the fall. Because each marathon build is approximately 16-18 weeks, I definitely have a routine. I generally wake up around 5am and then I'm out the door by 6am to run. I have a very supportive wife who wakes up each morning with my daughter, and then I'll take over when I get home around 7am so she can go work out. That's what we've done for almost a year now and it works for us! Sometimes things get a little hectic with an 18-month-old, and runs will inevitably get rescheduled for the evening, but for the most part I get my training accomplished in the morning before my work day starts. Hopefully this strategy continues as I'm currently registered for another bucket list marathon later this year on November 6, 2022: the New York City Marathon.

6. What was it like participating in the Boston Marathon?
The entire weekend was amazing. It's hard to describe, but it certainly has a different feel to it than other marathons. For so many runners, qualifying for Boston is like a dream come true – and you can feel that sense of pride and accomplishment the moment you get there. The race takes place on Patriots' Day each year, so the entire city is already buzzing, and spectators are literally lined up cheering for you all 26.2 miles of the course. The energy on the course was unlike anything I've ever experienced and you really have to see it for yourself to believe it. I didn't have my best race that day, but I'll say the energy from the crowd is what enabled me to keep pushing and finish strong. That experience alone has me now more motivated than ever to earn another BQ so I can return next year.

7. What advice do you have for anyone training for a marathon?
- Invest in a nice pair of running shoes. Support your local run shop and go get custom fitted – it's worth it!
- Find a training plan. There are so many online for you to choose from depending on the distance, timeframe, and intensity. Start slow and just be consistent.
- Join a local run or walk group to hold yourself accountable and make friends. The miles always go by faster with a group!
- Don't get discouraged by a bad run. There are so many factors that can contribute (stress, sleep, diet, dehydration, etc.) and they're inevitable. Embrace it and move on to the next.
Congratulations to Brian on this amazing accomplishment!