The Mount's Celebration of Teaching and Learning takes place this year on Thursday, April 7, 2022.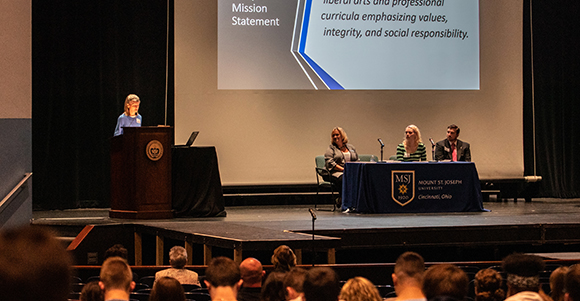 The Celebration of Teaching and Learning, which will take place this year on Thursday, April 7, 2022, is a highly anticipated eventson campus this year. Rife with influential guest speakers, academic faculty presentations, and student achievements that will be honored, this celebration will spotlight some of the most praiseworthy work of Mount St. Joseph University and much-deservedly showcase that which makes the Mount so special.
"The Celebration of Teaching and Learning," Associate Provost Heather Crabbe notes, "is an opportunity to bring the campus together. As you know, teaching and learning isn't something that just happens inside of the classroom, it's something that happens all around us. It happens organically. Things that happen inside of the classroom are taken outside of the classroom and conversations are always occurring and opportunities are always occurring outside of the classroom and this is just a way to bring all of those things together and celebrate all of the wonderful things that are happening around campus. So we are really excited to do a lot of that in person this year and we have some really special guests coming."
Panelists on "Mount Alumnae Impacting the World of Sports" include Melanee Wagener, Kelsey Carpenter, and Mary Wineberg. Wagener, Athletics Director at the Mount, having been granted the title of "director" at the start of the pandemic, demonstrates the propelling and prevailing force sports truly is during worldwide disquiet.
Carpenter, who worked for the Cincinnati Reds, the Flying Pig Marathon, and the Western & Southern Open, serves as a symbol of the impact a Mount graduate can have not only on the world of athletics but the integrity of Cincinnati altogether.
Finally, Olympic gold medalist Mary Wineberg proves on a global stage the grandeur of her athleticism, teaching, and community volunteering, which should only inspire the Mount community even further.
"We're just super proud of them," says Crabbe. "I think it will be very inspiring to have them back on campus and talk about what the world of sports has been like for them and the things that they've done to blaze the trail."
While the panel will be livestreamed on all TVs across campus, in case some are uncomfortable in crowds coming out of the Omicron wave, it is exciting and trailblazing for the Mount to have organized an event like this year's Celebration of Teaching and Learning. One of the first momentous occasions for the Mount community to unite once more, this celebration holds significance more profound than one may initially gather.
"I think it's really important to bring people together and the pandemic really limited the way that we could do that in the past," says Crabbe. "So I'm really excited about having this panel and being able to bring people together."
Breakfast will be served in front of the theater before the panel. Crabbe comments, "I always think it's really good for people to break bread together. Meals are really important and I guess that some of that has been missing for the last couple of years. We're in a period now where we're very comfortable bringing everyone together."
All that said, it is still important to note that the events will be livestreamed across campus so that the community does not have to crowd in one area. This livestream will also be on all of the Mount's social media pages, so students, faculty, and staff can experience the entire celebration virtually if they so wish.
But if one wishes to attend in person, how can he or she get involved?
"Come out and support!" Crabbe encourages. "Come to the theater or watch on the livestreams that will be happening around campus. Be prepared to submit questions."
After the panel, which will run from 9:25 to 10:40 a.m., there will be poster sessions in the Theatre Lobby from 10:50 a.m. to noon. This event will consist of simply displaying the Mount's research neatly on posters. The topics will focus on chemistry, computer sciences, criminology, physical therapy, and physician assistant studies.
This will be followed by the Honors Convocation and then a poetry session facilitated by Dr. Elizabeth Barkley with readings from Mount and high school students.
Finally, the Celebration of Teaching and Learning will conclude with faculty research presentations. This is the time when campus professors will present academic reports and research projects that they have worked on personally, specifically for the celebration. These breakout sessions will run from 1:30 to 4 p.m. and focus on a variety of topics, including but not limited to Dr. Pete Robinson's on historical humor in American presidency, Dr. Elizabeth Mason's on free speech, and Dr. Richard Simon's on the gender gap in productivity among faculty at research universities.
Dr. Crabbe notes that "It's really intriguing because the teaching and learning is so much more than what occurs in just the classroom. I mean, we have world-class professors but they do so much more than just teach in the classroom and I think students will find it very interesting to hear the other side of what faculty do."
In being united under a shared love of teaching and learning, the Mount community really sees no greater harmony than in these events.
"I think that's part of us being a small, close-knit community. I think that's why students choose the Mount and that's why they love the Mount. Everyone knows each other and this is a way for us to bring everyone together," Crabbe adds. "So I do think that's really a part of the Mount's identity and it gives us a chance to really celebrate that by bringing everyone together and I don't think you get that same vibe or feeling (of camaraderie) in larger institutions."
The Celebration of Teaching and Learning will not only be a unifying experience but a motivational one as well. Given the current state of the world, it is imperative that, while united, communities like the Mount are projected into optimistically bright prospects and hope. The panelists attending this celebration will certainly serve as that catalyst.
Crabbe feels that the stories from three strong alumni will serve as earnest inspiration, "Even for our students who aren't interested in sports, it's still interesting to hear their stories and maybe how they forged a path in an area that maybe has not traditionally been a place that women have thought about leadership in those areas. So I think it will be very inspiring for men and women alike."
 In recognizing how people like Wagener, Carpenter, and Wineberg overcame obstacles in their own lives in terms of athletic achievement, listeners can apply similar concepts to their own hurdles and barriers. Learning to overcome, which is perhaps the most profound aspect of this celebration, is the root of reshaping the world for the better.
When asked if there was one thing she wanted students to take away from this celebration, Crabbe says with conviction, "Belief. Belief in themselves and belief in others so that they know that their time at the Mount is building them up to be the person that they're meant to be, that they know they can do it if they put their minds to it."
She also wants students to recognize  that "these are some really cool alums that are coming back, just knowing that we have alums like that out in the community who would be willing to connect with you. It's really cool. I hope they walk away with that, just knowing that it's possible."
Crabbe will serve as the moderator for the panel during this celebration. Breakfast will be served in the Theatre Lobby from 8:30 to 9:20 a.m.
Come out and have breakfast and join the celebration if not for teaching and learning, at least for the spiritual community that the Mount and the world so greatly need right now.