Kylie Arvin speaks with Mount St. Joseph University's Esports coach, Christian Duvall to get insight on how someone can pursue a career in Esports.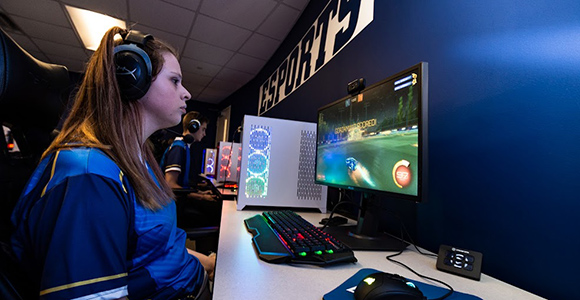 Remember how our parents believed that we were wasting time on video games, that we would be best served to put more time into something that will help us in the future? What if I told you that gaming and esports could be a career path for you?
According to Newzoo, a platform that records gaming data, in 2015 there were only a little over 800,000 viewers who watched Esports events/streams. Newzoo also stated that today there is global awareness of esports, and globally there are over 2.0 billion viewers as of 2020. As far as revenue goes from 2020, esports brought in 1.48 billion dollars. It is estimated by 2027 to grow 24.4% totaling a whopping 6.81 billion, according to Grand View Research. With the growth and demand in esports comes the opportunity to make a career, so I spoke with Mount St. Joseph's esports coach Christian Duvall, to get insight on pursuing a career in Esports.
Q. Did you always want to pursue a career in the Esports field, and what inspired you to want that?​
A. No at first, I didn't want to have to defend my job every time I told someone what I did. Then slowly but surely, I got sucked in due to my passion for video games. Each place I went over the last three years I was able to build from the ground up and problem solve which is what drew me in even more. Now I get to say I play video games for a living and there is nothing better than thinking what my younger self would say.
Q. How did you pursue a career within an esports organization?
A. I started out as a Graduate Assistant for Club Sports at the University of Cincinnati where I oversaw 45 clubs and 1500 students. One of the teams was a League of Legends team, which led me to want to help get esports to be recognized and move forward at UC. I ended up doing my Master's thesis on esports and the project I had started at UC. From there I went to Special Olympics – North America where I started all of their national high school esports, as well as college level.
Q. How difficult was it to pursue a position like this?
A. It is difficult in the sense that there aren't a lot of opportunities to get involved in esports outside of professional or collegiate esports is concerned. Most esports companies or leagues usually operate on the west coast. So, I got lucky that I was able to get into the positions I did in Ohio.
Q. Since esports and the gaming community are growing rapidly, do you think within the near future there will be more opportunities for careers within esports?
A. Just since Covid-19 has hit, the number of esports opportunities has skyrocketed. Administrators and others have realized the draw of esports/gaming in general for the younger generation. High school and colleges are all scrambling to get into esports. Esports in general is growing so quickly that almost any person's skills can be used for esports.
Q. What advice would you give to someone who is looking to seek a career within esports/coaching?
A. High schools are always looking for help with their esports programs, too many games and things teachers might not know about. Even if it's part-time it can be an easy experience and a good way to get your foot into the door. Once you get into an esports career, it is all about networking and there you can begin to find more opportunities within.
Q. What attributes do you think are important to someone seeking to pursue a career like yours?
A. Adaptability. Nothing in esports is normal, there are a lot of parallels from traditional sports, but the field is constantly changing that you need to be able to adapt to everything that goes on. With esports being online it sets new challenges and being a good coach, you will need to adapt to the challenges and get in front of them to prevent interferences from impacting gameplay.
Q. How do you feel about the growth of the esports community and the growing awareness of the sport?
A. The growth and recognition that esports is having currently are amazing to see. There are still plenty of problems that need to be worked out though since it is very much still in its infancy: toxic communities, bad attitudes, proper diversity and inclusion, proper oversight to name a few.
The esports field is changing and evolving rapidly, as the demand and popularity for gaming and streaming services grow. This creates an amazing opportunity for those looking to take their love of gaming to the next level. Even if you do not want to be an esports player, there are many roles you can partake in like coaching, IT support, esports director, and more. There are esports jobs awaiting those that are wanting to take the plunge into a whole new and ever-growing career.