Evelyn Perkins writes about the career journey of MSJ Police Chief, Kevin Koo.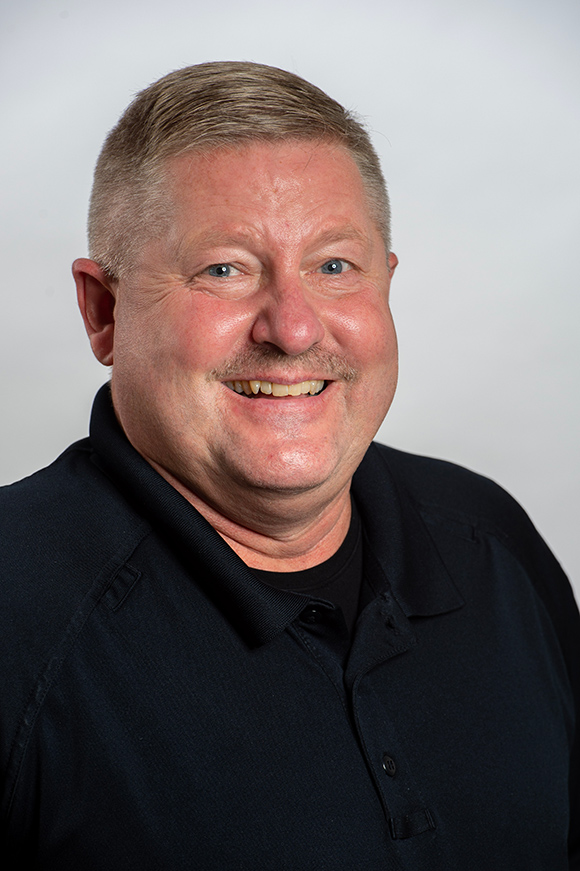 Mount St. Joseph University's chief of police, Kevin Koo, was born in Price Hill, Cincinnati, graduated from Elder High School, and joined the US Marines upon graduation.  He served in Okinawa, Japan.  This time it had nothing to do with the US effort of WWII, but was the peace-time presence after Vietnam.  Upon completion of his service he was honorably discharged, and returned home.
Over the next 30 years he worked for the Hamilton County Sheriff's Office until his retirement. He was a canine handler, and he and his partners were very successful, using a superior sense of smell to sniff out narcotics.  Don't get the wrong idea.  Chief Koo wasn't doing the smelling--his partners were two of the most beautiful German Shepherd dogs you have ever seen.
In her photograph, the female has such a regal bearing-that you can almost hear her say, "You may kiss the hem of my garment." The male stands at attention with an attitude that bespeaks authority.  They were very good at their job, and knew it.
Koo managed to stay retired for two whole weeks, and then came to the Mount, where he is head of 10 full-time officers who are on duty around the clock. There are also nine part-time officers who have full-time jobs elsewhere, and help cover the campus, depending on their schedules.  Koo and his people are the first responders in an emergency and provide public safety.  They assist students with vehicle issues, and issue parking permits and ID cards.  They handle traffic control during large events, are responsible for exit signs, the fire extinguishers, emergency lighting maintenance and even put up the fence on the grounds of the women's softball team. The former chief of Miami Township is also retired, and pitches in to assist part time with the Mount St. Joseph group when they need him. 
Although Koo skis, kayaks, swims and skeet shoots, he just couldn't manage to stay retired more than two weeks, and so he joined Mount St. Joseph's ranks.  Koo and his wife have six adult children. I was curious as to the origin of his last name. He advised me that he had always been told that it has a Germanic origin.  I found that it can claim an Anglo-Saxon background, which brings it right back to its Germanic beginning.