Mount St. Joseph University Sport Management alumna, Kara Marshall '18, describes her MSJ experience as a Sport Management major and her current position as an Account Executive for the Cincinnati Cyclones.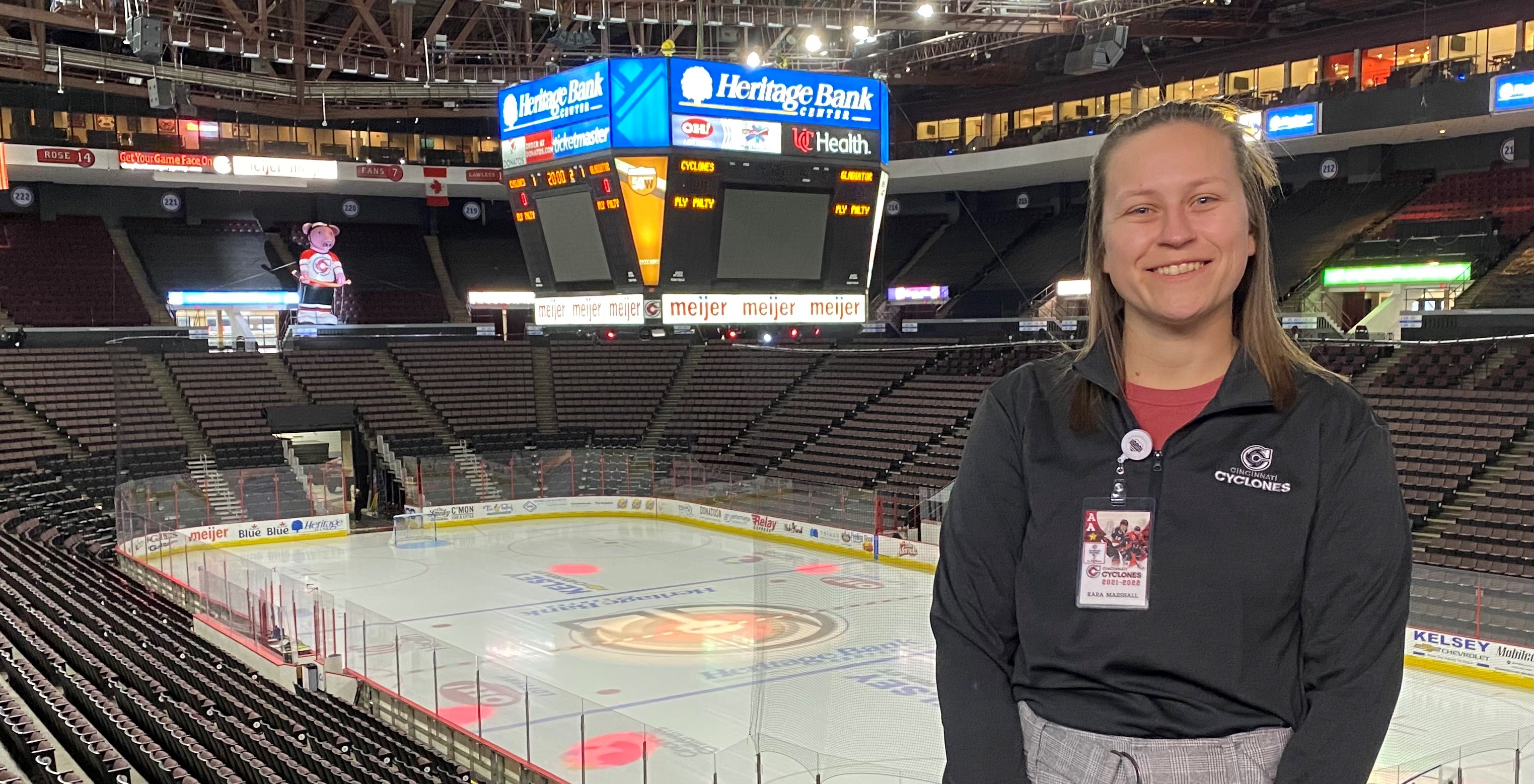 1.  What was your graduation year and major?
I graduated in 2018 with my undergraduate degree with a major in Sports Management and a minor in Business Administration. I graduated in 2019 with my MBA.
2. What inspired you to pursue your major(s)?
I was inspired to pursue a career in sports management because I have always had an interest in sports. From youth soccer when I was three to playing lacrosse for the Mount I have been inspired by the athletes around me. Through Sports Management I felt that I could stay connected to one of my passions and could inspire the next generation through sports.  
3. Why did you choose the Mount?
I took a visit to campus and never looked back! As soon as I walked onto the quad, I knew the Mount was for me. The Mount provided the small environment that I thrived in and it allowed me to continue to play lacrosse. At the D3 level, not only could I play lacrosse, but I could also participate in other activities and clubs. I also was interested in the 4+1 program that the Mount offered.
4. What field did you pursue after graduation? How was the Mount instrumental in preparing you for your future career path?
I pursued a career in Sport Management after graduation. I was an account executive with the Cincinnati Cyclones and was recognized as the 2019-2020 Sales Rookie of the Year for the ECHL. Now I am a Business Development Specialist for the Cleveland Monsters in the AHL. The Mount helped prepare me for my career path by giving me opportunities to intern with the Cincinnati Reds as well as with the Mount's Sports Information Office. Through these opportunities I was able to identify which sector of sports I wanted to pursue as a career.
5. Was there a professor/instructor that helped your development as a person?
Dr. Veraldo was a huge inspiration to me and an incredible mentor. She was not only my professor, but also my academic advisor. She helped me get my first internship with the Cincinnati Reds, which in turn led to me getting the position I currently have. I would not be where I am today without Dr. Veraldo.
6. Did you co-op/intern? If so, where?
I did my first co-op with the MSJ football program during the fall of my sophomore year. I interned with the Cincinnati Reds Community Fund in the summer of 2017. I did a co-op in the MSJ sports information office in the spring of 2018. Then I interned with the Cincinnati Reds Single Game Ticket Department in the summer of 2018.
7. What was your involvement like at the Mount? Extracurricular activities, major projects, etc. that you would like to share.
During my time at the Mount I was a member of the women's lacrosse team for four years, I was a campus ambassador at both the undergraduate and graduate level, I was a member and became the president of the Campus Activities Board, I was a statistics tutor in the learning center, I was an orientation leader in the summer of 2016, and I participated in the Dominican Republic Service Trip in the summer 2017.
8. How would you rate your educational experience at the Mount, and how was it a strong fit for you?
I would rate my educational experience a 10. Through my classes I was able to gain a great understanding of the sports field and what would be expected. I was able to gain the rest of my knowledge through my co-ops and internships to make me the most well-rounded individual to enter the sports industry.