Mount St. Joseph University students and faculty Traveled to Italy to Engage in service learning and Grow Their Understanding of International Sport.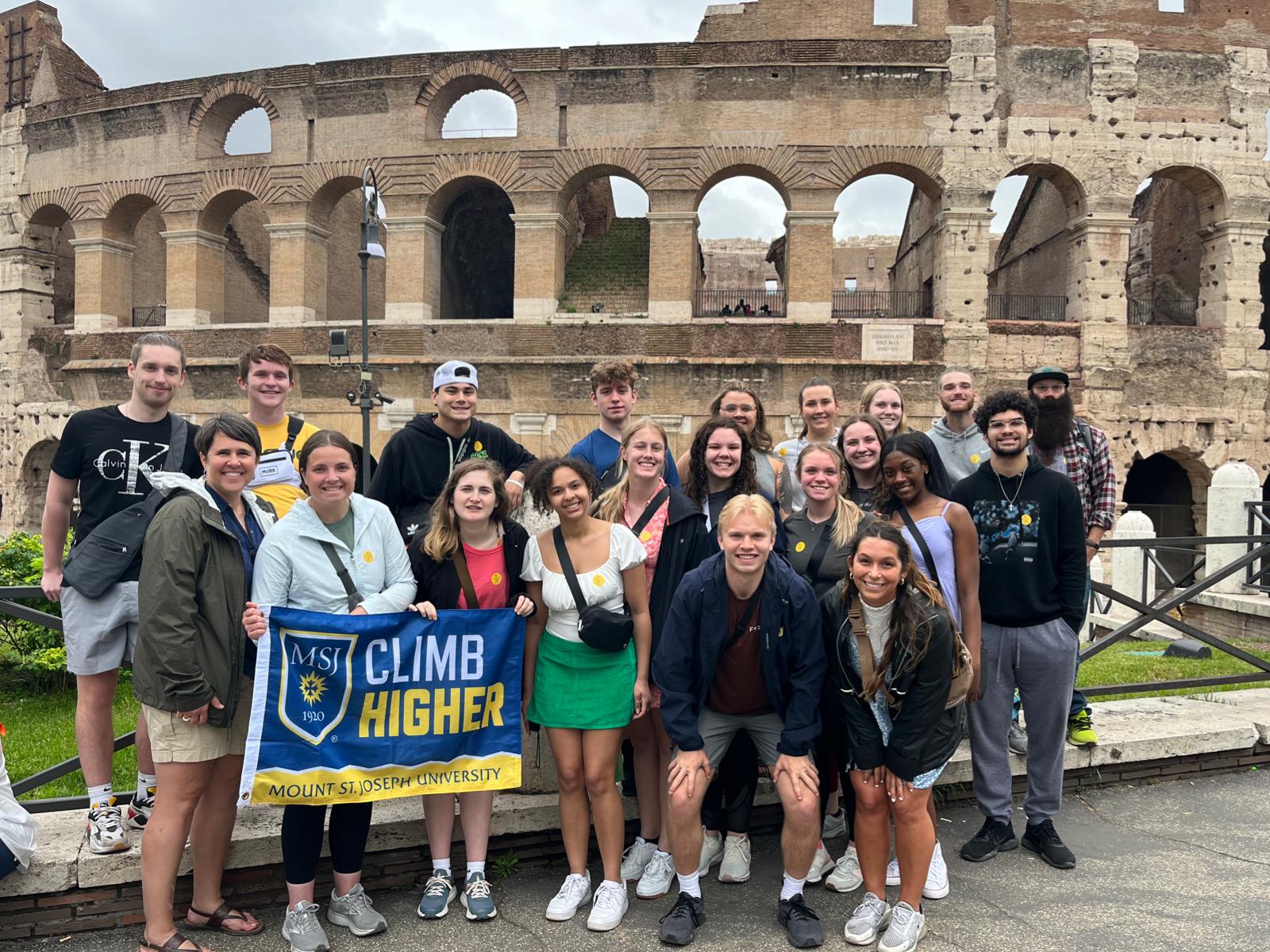 The Sport Management Department at the Mount within the School of Business offered an awesome opportunity for MSJ students to travel to Italy in May of 2023. Students from majors across campus completed the International Sport Management course and additional service learning components before the trip. 
Graycie Collins, a Sports Management Major '24, says she "decided to attend the Italy Service Learning Trip because it was honestly just too amazing of an opportunity to pass up on. We got to visit so many amazing places and attend events that would have been so much more expensive had I planned the trip myself, so I couldn't pass up the opportunity. The trip being planned through the sport management department also meant that it aligned with many of my interests, so that was another bonus."
The MSJ Sport Management Department in coordination with a third-party travel group planned the entire trip. Some of the trip highlights are pictured below.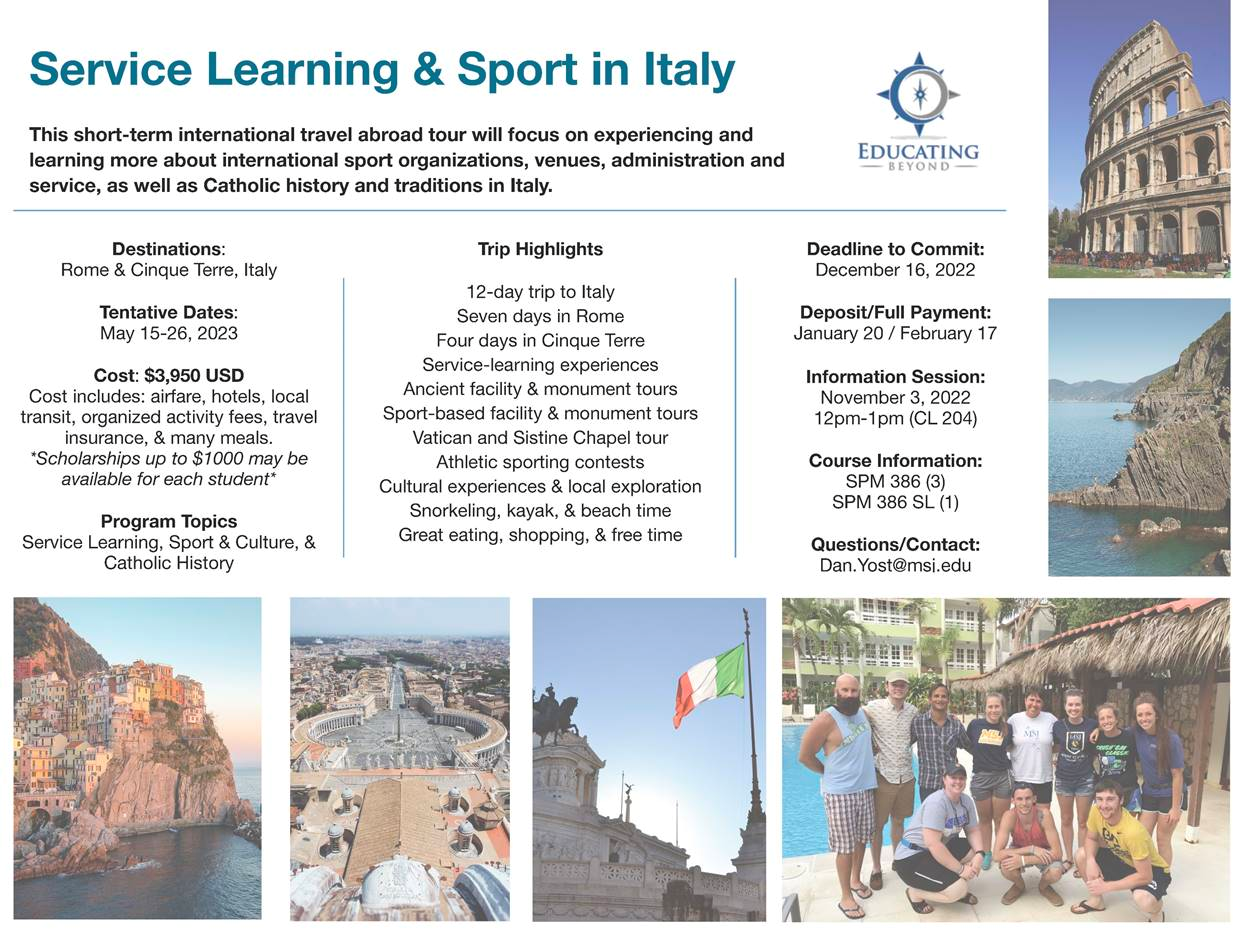 While in Italy the group visited Rome and Cinque Terre. Some of the highlight activities while in Rome were touring Palentine Hill, the Forum, the Coliseum, the Pantheon, the Vatican, and Sistine Chapel.  Students also attended the Italian Open Tennis Tournament and toured the Stadio Olimpico. While in Cinque Terre students got to hike to a nearby village and see additional villages via train.  They also got to enjoy a kayaking and snorkeling tour off the coast of Monterossa.
Dr. Cindy Veraldo, an Associate Professor at the Mount said "This is our third abroad trip with students and we do these trips because students engage in experiences of a life-time and they have an opportunity to deepen their learning and cultural awareness." When asked about her favorite part of the trip she replied, "Italy is an amazing country, it's so hard to pick just one part, but I did really enjoy the Coliseum, the Vatican and hiking from Monterosso to Vernazza."
Graycie Collins's favorite activity while in Italy was "the tour of Stadio Olimpico where we actually got to go down on the soccer pitch, see the locker rooms, and really just get a whole behind-the-scenes view of an Olympic stadium." Her biggest takeaway from the trip was "realizing how much more there is in this world outside of the United States. Since I had never left the U.S. before it was truly an eye-opening experience to see how different things are and how much more there is around the world. All in all, this trip helped me to realize to use a broader perspective when looking at different aspects not only within sport management but life, as well.
Below is the video compilation (made by Grace Wilking, Communications & New Media Studies Major, Sport Management Minor) of the Italy MSJ Instagram takeover recorded by Brooklyn Brunner (MSJ senior student) of activities the MSJ students participated in while in Rome and Cinque Terre.
Also, enjoy some additional snapshots of the MSJ students' adventures in beautiful Italy!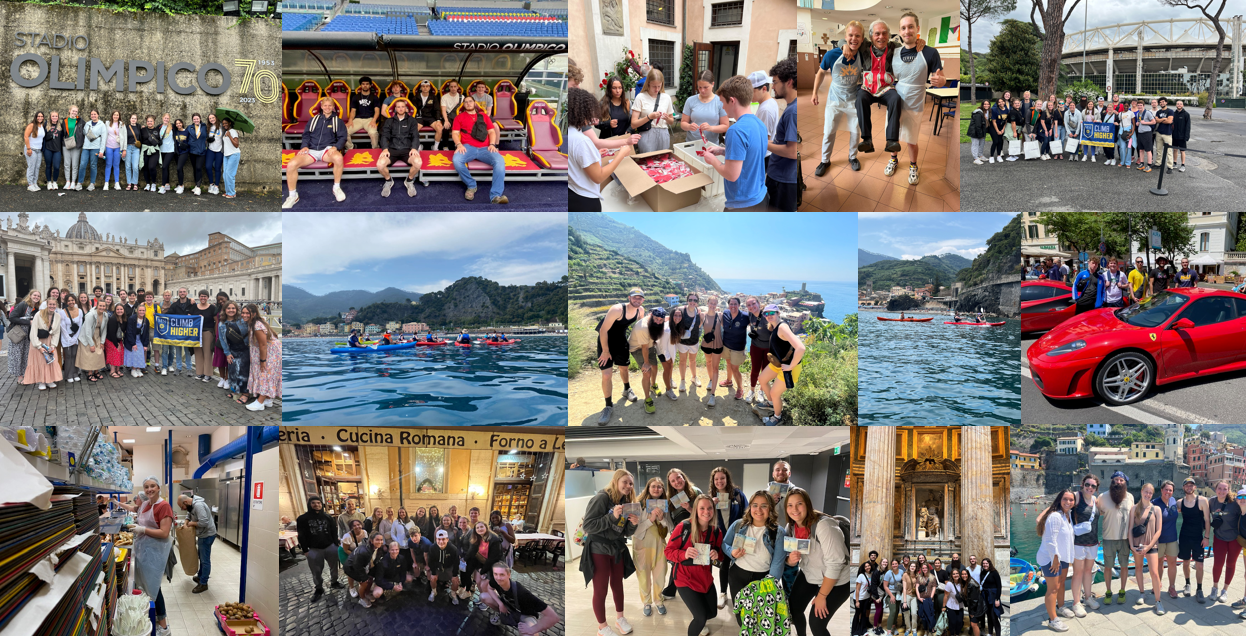 If you or anyone you know are interested in participating in an awesome opportunity like this, reach out to your advisor to see what events are available for this coming school year!