The Mount Community commemorates the amazing life and selfless contributions of MSJ alumna and trustee, Mary Ellen Cashman Ivers.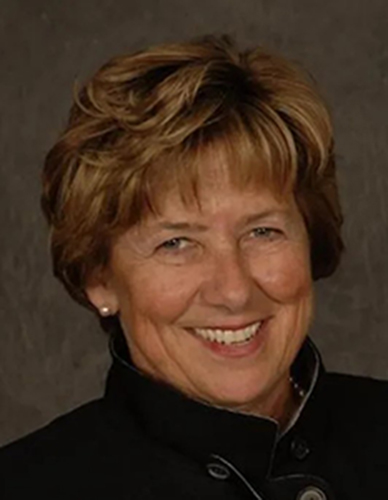 CINCINNATI - The entire Mount St. Joseph University family—students, faculty, staff, alumni, Board of Trustees, and friends—are remembering the amazing life and selfless contributions of MSJ alumna and Trustee, Mary Ellen Cashman Ivers.
Mary passed away last week, leaving behind a legacy of service and success.  She brought her contagious energy and spirit of giving to everyone she met, touched, helped, and mentored.
"Mary lived a life that exemplified the Mount's mission of respect and concern for all persons, and service to others," said Mount St Joseph University President H. James Williams, Ph.D. "She had a deep love for her family and the Greater Cincinnati community, she built a successful business with her husband, mentored and helped countless women through Dress for Success, and made significant contributions to the Mount as a Trustee.  Mary never stopped giving to others."
"We mourn the loss of Mary as we celebrate her incredible life and journey," Dr. Williams said. "The Mount and our community are better places because of Mary. Our thoughts and prayers are with her loved ones. Her life and her contributions will never be forgotten."
Like her mother, Mary received her undergraduate degree from the Mount. Mary also served multiple terms on the Mount's Board of Trustees, led many institutional committees and initiatives, served as a Commencement speaker, and received an honorary Doctorate from her alma mater.   
According to the Cincinnati Enquirer, Mary worked as a teacher before co-founding a successful software firm with her husband of 50 years, "Bill" Dargan Ivers, which the couple sold in 1995. Four years later, she started a Cincinnati affiliate of Dress for Success, which empowers women to achieve economic independence and develop tools to help women thrive in work and life. She also founded 4th Street Boutique, a thrift store that sold excess clothing with proceeds going to Dress for Success.
The 1995 Enquirer's Woman of the Year, Mary served as a member and leader of several other philanthropic organizations, including Cincinnati Chapter of the Junior League, the Cincinnati Women's Club, and the national board of Dress for Success. She was most proud of being a wife, mother, grandmother, and friend, her family told The Enquirer.
True to Mary's dedication to the Mount, her family asked that, rather than flowers, donations can be made to the Leila Cashman Scholarship Fund at the Mount, or to Dress for Success.
About the Mount
As a Catholic institution rooted in the values of the Sisters of Charity, Mount St. Joseph University excels at serving the common good. Undergraduate, graduate, and doctoral students at the Mount are inspired to think beyond the classroom and redraw the bounds of what's possible for their futures. This is accomplished through individualized educational experiences, a safe, secure campus environment, and an all-in commitment from faculty and staff to inspire students to reach their highest potential. The Mount fosters life-long learners who serve, care, and contribute to the world beyond their front doors. To find out more, visit: www.msj.edu.
###