As 2021 comes to a close, we celebrate some of our most memorable reflections over the past year.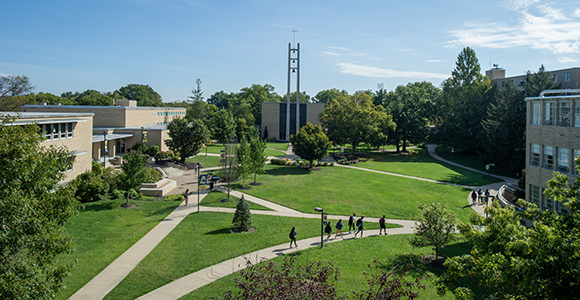 JANUARY:
Mount St. Joseph University Announces Dr. Erin Redle Sizemore As Chairperson of Communication Sciences and Disorders
Mount St. Joseph University is excited to announce that Erin Redle Sizemore, PhD CCC-SLP, has been named the chairperson of the Department of Communications Sciences and Disorders.
"Mount St. Joseph University has a long history of excellence in preparing students for careers in health care and education," said Dr. Redle Sizemore. "I am thrilled to join the Mount as we continue this tradition through the development of the Masters of Speech-Language Pathology program." Read more.
FEBRUARY:
Mount St. Joseph University Unveils Centennial Field House and Austin E. Knowlton Fitness Center
Mount St. Joseph University has formally unveiled the Centennial Field House & Austin E. Knowlton Fitness Center, an $18 million state-of-the-art facility that will provide indoor practice space and a wide range of recreation and fitness opportunities for the entire student population.
"This spectacular field house is about more than just a new building or simply expanding the Mount's campus," said Mount President H. James Williams, Ph.D. "It is a distinct example of how the Mount always focuses on students first, the student experience and creating a vibrant campus environment." Read more.
MARCH:
MOSAIC Cross Cultural and Inclusion Center Opens March 19 on MSJ Campus
"The MOSAIC Cross Cultural and Inclusion Center opening and ribbon-cutting ceremony provided us with a glimpse into the vast impact the center will have at Mount St. Joseph University," says Dr. Eastman. "The ceremony reaffirmed our commitment to cultivate a community that is diverse, equitable, and inclusive. The support of the faculty and staff at MSJ was overwhelming. Their engagement was a demonstration of their dedication to these efforts.  I was moved to tears by our students' remarks as they expressed their gratitude for creating a visible space on campus that will foster belonging and learning. With the opening of the MOSAIC Center, we lived out our mission. This is just one of the many Diversity, Equity, and Inclusion efforts that we will be doing to ensure MSJ is Inclusive by Design. The work has just begun!​" Read more.
APRIL:
Heart of a Lion: Chima John
When patients at Cincinnati Children's Hospital Medical Center (CCHMC) need help, they look no further than Chima John '19, R.N., C.P.N., C.C.M.
"I'm an advocate and they trust me," says the CCHMC care manager, who earned a Master of Science in Nursing from the Mount. "I help families navigate the complexities of the health care system, from managing their appointments and doctor recommendations to understanding a complex or chronic diagnosis. It's challenging but rewarding because I'm able to see what piece of the puzzle I can help them solve." Read more.
MAY:
Cicada Safari App Reaches 125,000 Downloads as Citizen Scientists Await Brood X Emergence
There are at least 125,000 citizen scientists eagerly awaiting the 17-year Brood X cicadas, which is emerging in parts of 15 states as this week.
That's how many times Mount St. Joseph University's hugely popular Cicada Safari app - which allows anyone with a Smartphone to search, photograph, video and help map the generational emergence - has been downloaded. Read more.
JUNE:
Mount St. Joseph University Launches Reading Science Doctoral Degree Program
Mount St. Joseph University recently launched a new Doctor of Education program in Reading Science, the first doctoral program in the Mount's School of Education. On May 10th, 2021, the first cohort consisting of 21 students began the three-year program.
"We are beyond excited to launch our first cohort of the Reading Science Doctoral program," said Dr. Amy Murdoch, reading science program director and graduate chair at Mount St. Joseph University's School of Education. "The Reading Science Doctoral program was created out of a high demand from graduates who wanted to go into doctoral work. In the first cohort, the Mount had an overwhelming applicant pool of 98 applicants." Read more.
JULY:
Mount St. Joseph University Announces Project Ready Expansion
Mount St. Joseph University is excited to announce the expansion of Dr. Amy Murdoch, Ph.D. and her team's successful Project Ready Initiative after receiving two grants to fund the expansion.
"We are very grateful for the Carol Ann and Ralph V. Haile, Jr. Foundation and the Nethercott Fund of Greater Cincinnati Foundation for funding the expansion of this successful project. Research shows the key to reducing reading difficulty is to provide quality and well-planned instruction from the start of children's school careers," said Dr. Murdoch. Read more.
AUGUST:
MSJ Alumnus Zach Gerber Attains New England Patriots Physical Therapy/Athletic Training Position
Zach Gerber, former Mount athlete lands his dream career for the New England Patriots NFL as a dual-credentialed physical therapist and certified athletic trainer (ATC).
When looking around at other schools, Gerber says when he went to visit Mount St. Joseph University, something just felt right. "I clicked with the coach (Rod Huber) and the rest of the coaching staff immediately treated me like family," says Gerber.  "Balancing [academics] and football was initially a little bit of a challenge, but that challenge really helped me grow as a person and I think ultimately made me a better clinician." Read more.
SEPTEMBER:
The Mount Celebrates 40 Years of Charlie
Greeting many who walk through the Mount's entrance doors with a genuine smile and hello, it's easy to spot campus treasure, Charlie Wrublewski, Set-Up Leader in Auxiliary Services who makes a difference in the lives of the people he serves every day.
"One memory I can share about Charlie is that early in my career, I can remember him collecting pop cans (aluminum) and using the money to buy additional chairs and tables for events," says Peggy Minnich, Dean of Admission. "Charlie has been a part of the Mount's history as we have grown and evolved from being a women's college to becoming co-ed. Charlie is also known to be a campus ambassador, finding guests that are lost and helping them find the correct office or event." Read more.
OCTOBER:
Lion's Cupboard: On-Campus Food Pantry at Mount St. Joseph University
Opened to all students last March, the Lion's Cupboard initiative is an on-campus food pantry run by the Student Resource Center at Mount St. Joseph University, that provides an assortment of non-perishable food items and hygiene products to MSJ students, full and part time, as well as residents and commuters. Read more.
NOVEMBER:
Business Courier: Climbing Higher Together
President H. James Williams, Ph.D., provides a reflection published in a business courier article on climbing higher at Mount St. Joseph University. Read more.
DECEMBER:
Dr. Michaelann Kelley Inducted as TAEA Distinguished Fellow
Dr. Michaelann Kelley, Ed.D., Chair and Assistant Professor of Art & Design at Mount St. Joseph University was recently inducted as a Texas Art Education Association (TAEA) Distinguished Fellow.
"It is a great honor to receive this award in recognition of my lifetime career in art education and long-standing work with the members of TAEA," says Dr. Kelley. "For me, this award also reflects the impact I have had on the almost 4,000 students I taught and honors the almost 200,000 students affected by the nearly 100 art teachers I worked with in the Aldine Independent School District as the Director of Visual Arts." Read more.