Art & Design Department Chair, Dr. Michaelann Kelley was recently inducted as a Texas Art Education Association (TAEA) Distinguished Fellow.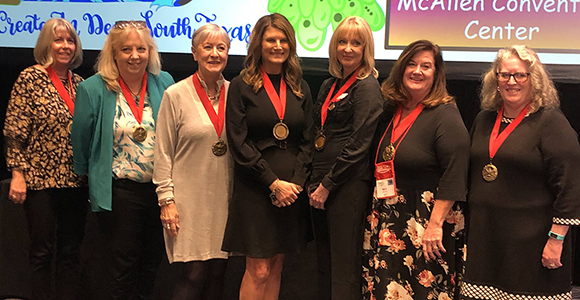 Dr. Michaelann Kelley, Ed.D., Chair and Assistant Professor of Art & Design at Mount St. Joseph University was recently inducted as a Texas Art Education Association (TAEA) Distinguished Fellow.
Members of the TAEA Distinguished Fellows Program have made long-term distinguished contributions to the work of the association, and to the advancement of the art education profession.
According to the TAEA organization, their mission is to promote quality visual arts education in Texas by promoting visual arts education as an integral part of the curriculum through professional development of knowledge and skills, representation of the art educators of Texas, service and leadership opportunities, research and development of policies, and decisions relative to practices and directions in visual arts education.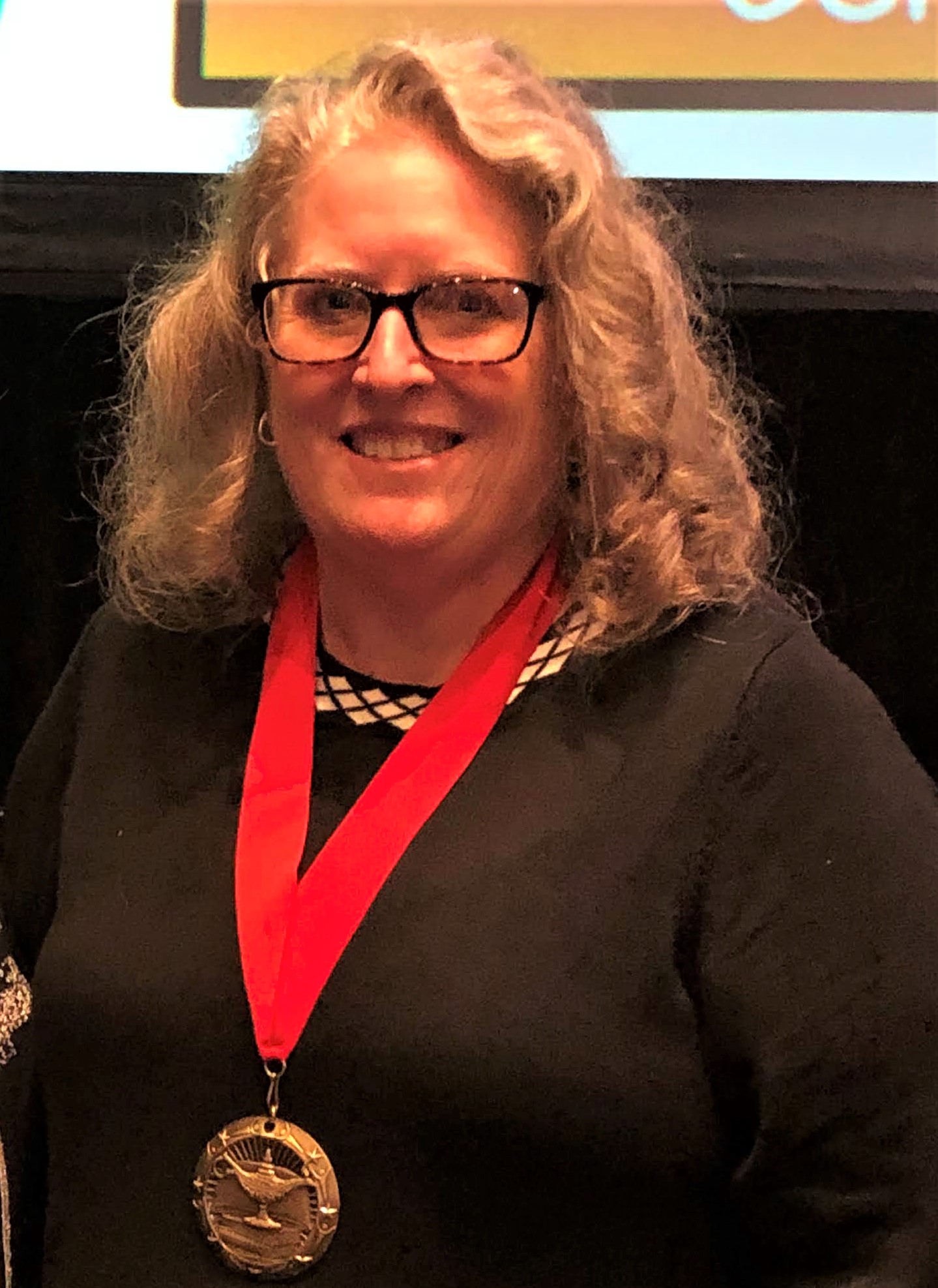 Dr. Kelley honored with TAEA Distinguished Fellow award.
Evolving Professional Development Impacts the Art Education Community
Dr. Kelley began her teaching career in Houston, Texas in Aldine Independent School District in August of 1992. She worked in public education for 28 years, and now almost 30 years in education. TAEA was first introduced to Dr. Kelley in 1993 through an art contest pilot program for high school students called Visual Art Scholastic Event (VASE), where she participated in numerous events that influenced her work.
"As a classroom teacher, I gave many hours of my time to my art students, to my school community, but also to many TAEA and VASE events, participating with my students since the inception of VASE," says Dr. Kelley. "I recognized that the VASE competition and TAEA were instrumental in making my students' artwork public, in shining a light on teaching and learning in the art classroom, and in promoting art education in schools."
Early in her career, she worked to transform her philosophy on education and her own work from a "prove" mentality to an "improve" self-mentality in order to change teaching and learning; first within classroom, secondly within her district, and finally within the greater educational community. By shifting her mindset, Dr. Kelley believes she has become a stronger teacher and her students have become better artists.
"A primary goal has always been to promote the visual arts, teaching and learning (across the disciplines), and in school reform in public education," says Dr. Kelley. "I have been working with the Portfolio Group, a cross-institutional, cross-disciplinary teacher/teacher educator research group for over 23 years. My colleagues have always helped in being windows and mirrors to me being a reflective practitioner through their authentic feedback."
One of Dr. Kelley's largest accomplishments in connection with TAEA is the District of Distinction Award. As the Administration and Supervision Chair-Elect, she voiced the idea at a Council-at-Large meeting and was asked to sign a napkin as a commitment to bringing the idea to fruition. Through many revisions to the rubric and votes by the board, the TAEA District of Distinction Award came to life and was first awarded in 2019. This award is now in its third year and has been instrumental in the promotion of art education and the arts in Texas, with record number of school districts working to receive this honor.
Whether independently or with collaborative groups such as the Portfolio Group and other school-based colleagues, Dr. Kelley's work as an art educator has extended beyond the classroom to include numerous authored/co-authored books, book chapters, and journal articles on the topics of art education and education in general. She has shared her work in almost 100 presentations and speeches in a multitude of content areas and educational venues.
Additionally, she has created, taught, or facilitated over 300 professional development and critical friends sessions and implemented grants totaling $2,161,746 that were used for the students of Eisenhower High School and Aldine ISD. The awards she has received from the Stanford University Outstanding Teaching Award to the Anti-Defamation League Teaching Award reflect her commitment to high-quality teaching and learning for all students.
Creating an Enriching Classroom Culture Changes Lives
Dr. Kelley adds that the impact of an art educator is often not represented in the number of presentations they give or grants they write, but in the way their classrooms create a culture of collaboration, reflection, and learning.
"I consider my best work to be seen in the lives of my former students," she says. "For example, former students have asked me to speak on national television about who they were as high school students. I have students that are professional artists and named to the top 20 young Hispanic artists to watch. Equally so, I am proud of my former students who themselves are making a difference in education and of those students who are working hard and have wonderful, fruitful family lives. It is about the students and how they live their lives that is the most meaningful part of my career."
Overall, her impact to art education is reflected in her students, in the initiation of the TAEA District of Distinction, and in the TAEA Distinguished Fellow Award.
"It is a great honor to receive this award in recognition of my lifetime career in art education and long-standing work with the members of TAEA.  For me, this award also reflects the impact I have had on the almost 4,000 students I taught and honors the almost 200,000 students affected by the nearly 100 art teachers I worked with in the Aldine Independent School District as the Director of Visual Arts. The TAEA Distinguished Fellow Award signifies the appreciation of the art education community—for which I am sincerely humbled and grateful—and the acknowledgement that my work continues to be on the right path in promoting all aspects of art education."
Interested in helping others develop creative expression like Dr. Kelley? Learn more about the Mount's Art Education program here.