MOUNT ST. JOSEPH UNIVERSITY PROUDLY ANNOUNCES THE OCTOBER "PRIDE OF THE LIONS" IS STAFF MEMBER VELMA DAILEY!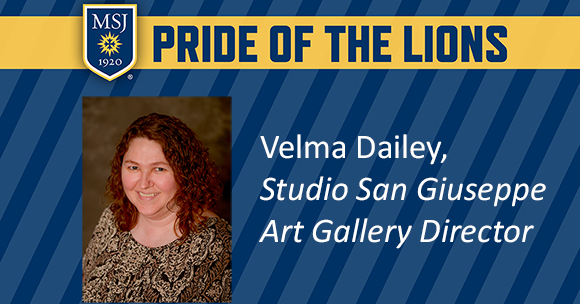 Since joining the Mount in 2012, Velma Dailey has included at least one mission-themed exhibit on the Studio San Giuseppe schedule every year. If you visit the studio before November 7, you will know why she and her two co-op students--Cameron Weitz and Bex Wooddell--deserve this month's "Pride of the Lions" award for their untiring and creative efforts to spread the mission of the Mount through the current gallery show, "Elizabeth Seton: Life and Legacy." Before it was an exhibit, it was merely a question to Velma from Sister Karen Elliott and Michelle Arnold of the Office of Mission Integration, wondering if she could hang "a few pieces" of art related to Elizabeth Ann Seton in the gallery to mark the 200th anniversary of her death this year.
What evolved is clearly more than a few pieces. The show that Velma curated runs October 4th through November 7th and draws on the rich resources of the Sisters of Charity--their art collection and archives. Velma also reached out to others locally and nationally to gather resources: the Sisters of Charity of New York, as well as art teachers and students from Seton and Depaul Cristo Rey high schools. Cameron Weitz, a senior art & design and music major, designed a poster and teamed with Bex (Rebecca) Wooddell, a senior design major to help hang the art pieces.
Please join me in thanking Velma Dailey, Cameron Weitz, and Bex Wooddell for exercising their incredible dedication and creativity on behalf of the Mount!
Sincerely,
H. James Williams, Ph.D.
President