A student writer provides a thoughtful feature on Tina Blakley's impact as Head Coach for the Lion's Cross Country and Track & Field team.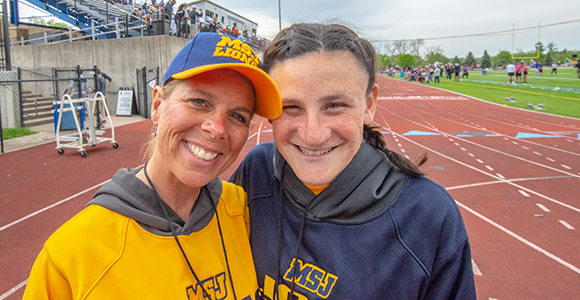 Everything was hurting! There I was lying on my back, absolutely wiped out. Everyone who has participated in one of Coach Tina Blakley's workouts knows she doesn't hold back. My freshman self had underestimated the work out. I looked up to see my coach reaching her hand to help me up and then she said, "That was a great first round, now you only have three more to go."
Blakley graduated from the Mount in 2015 with a sport management degree, but she was introduced to the university in 2008 when she was asked to be a seasonal assistant coach, with the focus on strength and conditioning for the athletes.
"At the time I was working full time for an insurance company, but I knew from the very first day that I stepped on the track that I wanted to become a full-time coach," she says. Once the head coach at the time left, Blakley took over as head coach, a position she has held for ten years.
I ran cross country and track from my freshman year until my junior year, and I thought Blakley was a great coach. She is always finding new ways to train her athletes for competition, but she strives to help her athletes outside of sports as well.
Last year, during the thick of COVID, she implemented mindfulness meditations at the end of each practice. At the time, there was so much uncertainty going around, and everyone was struggling with what seemed like the new normal. Although the meditations were only about ten minutes long, they really helped me reflect and keep my goals at the forefront when everything else seemed like chaos. I've also used her as a reference for a couple of jobs that I applied for, and I ended up getting them both. She has helped me out in many ways, even after I stopped competing in cross country and track.
When I asked other cross country and track athletes how they felt about her, all of them had similar stories to mine. Senior John Schonauer says, "It doesn't matter if you're the best, worst, or somewhere in the middle in terms of talent on the team, she treats everyone with the same amount of respect." I agree with this, as I was not one of the best runners on the team by any means.
Alum Zach Maysan, who ran all four years, noted, "Coach Tina is determined to get the best out of you, which in turns makes you compete better in sports, and in life for that matter."
Emily Salmons, a senior, said, "Not only is Coach Tina determined to get the best out of you, but she also expects you to do your best and nothing less. That goes for athletics and academics."
Speaking about how she recruits athletes for the Mount's team, Blakley say, "I have a very good working relationship with the MSJ Admissions office, and they send all the coaches a weekly report with prospective students who are interested in attending MSJ, and have indicated that they are interested in doing a specific sport." She also attends high school competitions to meet athletes in person.
Since I am studying sport management, and coaching is an option for me, I wanted to know what the biggest reward of coaching was for her.
"Watching my athletes develop and grow as people," she says.  "Not only do I get to coach them in the amazing sport of cross country and track and field, but I am also given the opportunity to be an advocate for them in the classroom and in life."