"Climb Higher Together" at the Mount with VAX-A-LION 2.0 to help reach a Community vaccination rate of 80 percent to ensure the safety of campus.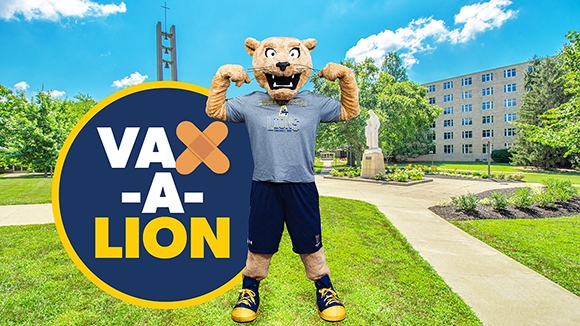 Beginning this September, Mount St. Joseph University is holding VAX-A-LION 2.0, a weekly prize drawing for students who complete their vaccination record. This effort encourages campus to "Climb Higher Together" to keep others safe and to keep campus experiences in-person.
On Aug. 23, 2021, the U.S. Food and Drug Administration (FDA) approved the Pfizer COVID-19 vaccine. This is a significant milestone in the nation's fight against the pandemic. The Mount hopes that the rigorous process that resulted in this approval helps assuage the concerns some members of our community may have had about the vaccine's safety and efficacy.
All students who email their complete vaccination record to the wellness.center@msj.edu by October 1, 2021 are entered weekly into a drawing to win a prize of a $500 VISA gift card.
Prize drawing dates are:
9/6,
9/13,
9/20,
9/27,
10/4.
During VAX-A-LION 2.0, the Wellness Center will select one graduate student and one undergraduate student each week. In addition to being eligible for the weekly $500 prize during this incentive, vaccinated students do not have to:
Quarantine or get tested after they have been exposed to a person with a known or suspected case of COVID-19, as long the fully vaccinated person is asymptomatic and has not been diagnosed with COVID-19.
Are not required to participate in the University's surveillance testing. The CDC and local, state, and federal public health officials believe vaccination is the most important tool for ending the pandemic. 
Resources for Getting Vaccinated
Interested in getting a vaccination? Walk-in clinics are available through the Hamilton County Health Department. On www.vaccines.gov, students can search their preferred vaccine type and location, and make an appointment with the provider, including Kroger, Walgreens, or CVS.
To learn more information about MSJ COVID-19, visit the COVID-19 Campus Updates page.
Contact
For questions, contact: student.affairs@msj.edu