As I walked up to the starting line of the 40-yard dash, I glanced nervously to my left, sizing up my competition.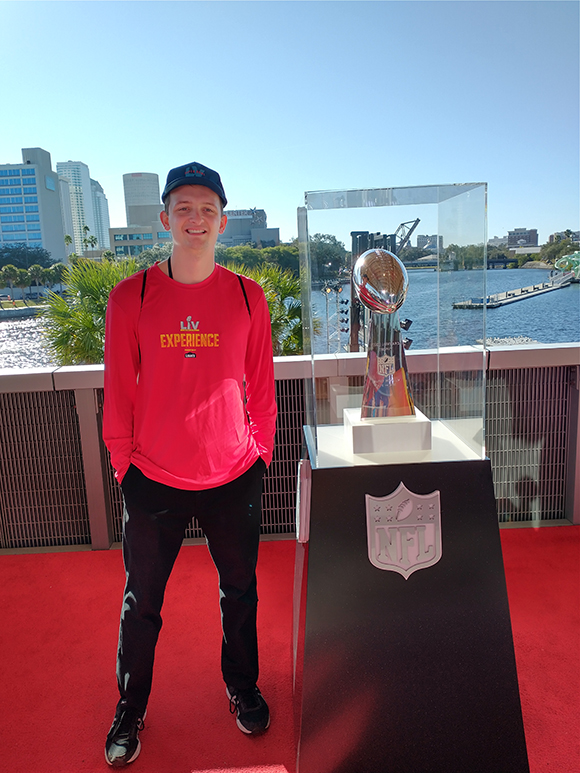 As I walked up to the starting line of the 40-yard dash, I glanced nervously to my left, sizing up my competition. He only looked to be about 10 to 12 years old, but I was on my 15th race of the day, and I wasn't sure if I could take him. This was the scene on the Thursday before the Super Bowl at Julian B. Lane Park in Tampa Bay, Fla.
You might be wondering how was I at a park in Tampa three days before the Super Bowl. The answer to this question is a company called Living Sport, a sport business company that accepts interns to work at large-scale sporting events throughout the world. Typically, they work international events, but due to COVID, they stayed with domestic events this year. When it comes to large-scale events in the U.S., it doesn't get any bigger than the Super Bowl.
The interviewing process was tough, but happily I was selected to join Living Sport in Tampa, along with 39 other participants, one of them being a fellow Mount St. Joseph alum, Tyler Britton. One of the best parts of this experience was getting to form relationships with people from all over the United States, especially during a pandemic. Through this, I was able to learn about many different cultures that I hadn't been exposed to before. It almost felt like COVID was gone for a week and things were back too normal, where I got a chance to meet new groups of people and have fun again. This alone was refreshing.
Before working Super Bowl LV, we had the opportunity to work with the Super Bowl Host Committee, working the pre-game festivities. We were stationed at Julian B. Lane Park, Curtis Hixson Park, and Technology Village, in downtown Tampa. I spent most of my time working at Julian B. Lane, which was the largest park with the most activities for guests to participate in. There was a whole NFL combine section for guests to compete in all the events that college football players have to complete to get into the NFL. This is where I worked for the entirety of my time at Julian B. I worked the 40-yard dash and the football toss. I was in charge of lining the competitors up on the starting line for the 40. I also was challenged many times by kids who thought they could beat me. In the football toss, I was in charge of catching people's errant throws that missed the net, then throwing the balls to my partner who returned them to the racks where the next fan would grab the ball and take their turn.
After working the three days with the Host Committee, it was time for the big game. There was a lot of hype around Super Bowl XV, as it pitted the home team Tampa Bay Buccaneers against the 2020 champion, Kansas City Chiefs. The man known as the G.O.A.T. (Tom Brady) who is quarterback for Tampa Bay versus baby G.O.A.T. (Patrick Mahomes) who is quarterback for Kansas City.
Although there were only 25,000 fans allowed in attendance, the stadium was electric. We were working for a company called Populous on game day. They had me stationed at the upper-level concourse where I showed spectators to their seating locations, and made sure people had their masks up. When there were no people in the concourse area, my supervisor allowed us to watch the game and the half time performance. This whole experience was definitely one of the highlights of my life so far.
As a sport management major, working the Super Bowl has allowed me to gain great experience working a large-scale sport event. I have also gained a great group of friends and a strong network in the sport industry. A strong network is a must when trying to get a job in the sport world, and the other participants serve as the most wholesome network I have. We all got a chance to see how the other participants work and handle the stress of long hours. Therefore, we can all vouch for each other's work ethic. We also had career workshops with the Tampa Bay Rays (baseball), the Tampa Bay Buccaneers (Football), and the Tampa Bay Lightning (hockey).
This was a big deal, because I hope to move to Tampa in the future, so making those connections was important. Working the Super Bowl and meeting all of the great people have made this trip a once in a lifetime experience. If anyone has any questions about Living Sport and their future business programs, you can email me at richard.feller@msj.edu.
Photo: Ricky Feller standing next to the Lombardi trophy in Julian B. Lane Park prior to the Super Bowl.