Much of my adult life has been spent in service in support of someone else.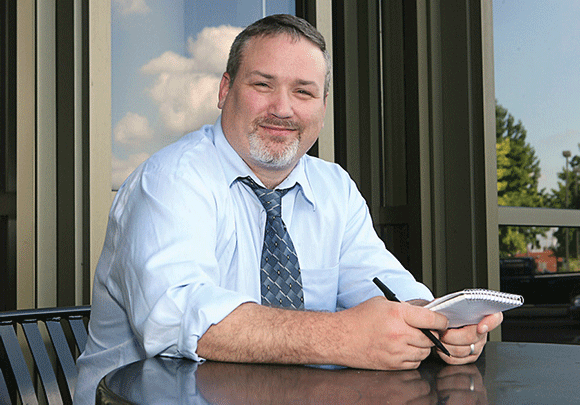 Much of my adult life has been spent in service in support of someone else.
Those years of service, most of which have been spent coaching in some type of gym, have allowed me to positively influence dozens, if not scores, of children on their journey to adulthood. My coaching, I believe, is akin to the military or Boy Scout philosophy: "Leave the world a little better than when you found it."
I like to think I have accomplished that, and become a better person, though there's some room for improvement (okay, let's be honest, a lot of room for improvement).
Realizing any transformation in myself hasn't always evident until my beloved Mount St. Joseph professor Buffy Barkley asked me to write a column for this publication. That request was a bit overwhelming when you have a figurative world of possible topics. Always the guiding light, however, she nudged me to a reflection. This reflection.
Some of it may be clichéd and campy, but that doesn't make it any less true or honest. All of it is part of my perpetual transformation into a better person. A better me.
Though I haven't really kept track of how many years I've coached, it likely would require me to take off my shoes to count. I don't feel it's important to know that number. It's an irrelevant number. If I really wanted to, I could assign a number to it, but why? It would trivialize, in some way, the why behind my volunteer activity, most of which has been at my St. Lawrence Parish community in the West Side community of Price Hill.
Everything I've learned and taught will be applied to the next generation of young ladies I'm coaching in this 2021 Girls Western Athletic Conference basketball season (the Catholic girls sports league on the West Side of Cincinnati). These third and fourth graders will benefit from some of the life lessons I've learned and passed on. While I cannot teach them all the lessons I've learned in my life, there are five I plan to impart.
Lessons one through three: have fun. This simple two-word phrase has a lot of power, which is why it's number one, two and three. It's that important. Having fun reinforces and reminds us of our passion, love or desire. Who doesn't want to do something again if they had fun? It imprints lasting memories on everyone involved, myself included. I'll always remember my daughter Emma's eighth-grade theater performance (I know, it's not sports, but I've helped the school's theater program when called upon). It was one of her many shining moments I recall often. Memories are important to guide our present and future selves, but they also allow us to relive moments important to us.
Lesson four: respect. Whether it's a team of athletes, a group of singers or troupe of grade-school actors, respect for others is one of those life-long lessons we always try to teach, but volunteering puts teaching into action. Actions speak louder than words, which is the "show don't tell" advice writers are often given. Volunteering is the action that helps show respect. The act of giving up your time shows the respect you and the people you work alongside are giving to the mission. Hopefully, the youth see that and try to emulate it.
Lesson five: patience. Working with kids can be rough. Working with adults can also be rough, though some are more childish than the kids. Working with all sorts of personalities can prompt you to lose your cool, especially when you don't need to be there. Keeping your cool through adversity, on the other hand, takes internal strength. It takes patience, and kids (and adults) will test that patience.
There's a lot more work for me to do, both volunteering in my community, and with my personal development. And there are a lot of opportunities for others to help out. There are never enough volunteers in the world who donate more than just their treasure---as time and knowledge are much more valuable. Donating your time and knowledge pays exponential dividends to the future of the community, and by extension country, because you never know who you may influence. You never know whose world you will make a little better than when you found it.
Featured in photo: Michael D. Pitman