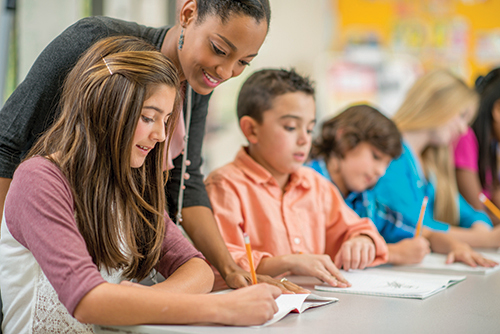 The Middle Childhood Education program prepares you to teach grades four through nine.
We prepare students to teach, change lives, and impact communities. The Middle Childhood Education (MCE) Program is both a major and a pathway to a teaching license. Students who pursue a Bachelor of Arts degree with an MCE major can be teachers for grades 4-9. Both a major and a license, the program allows students to focus on two chosen concentrations from the areas of language arts, mathematics, science or social studies.
Middle Childhood Education at the Mount
Featured Courses
Students take courses in their two selected content areas and take courses in pedagogy such as:
Classroom Management
Human Exceptionalities field experience during sophomore year
Introduction to Middle School

Service learning experience during sophomore year

Literacy practicum during junior year
Methods
Career Potential
Students who complete licensure in MCE receive a Resident Educator License which is good for four years. With the license, a graduate can become a teacher in any public or private school in the state of Ohio which includes grades from 4-9. Many teachers with MCE licensure sponsor extracurricular activities, including clubs, service organizations as well as coach interscholastic sports. 
Over time, MCE teachers can take positions of leadership within a school, such as:
Lead teacher
Department chair
Curriculum coordinator
Educational administrator
Hands-On Experience
Field experiences begin in the sophomore year, with service learning experiences in area schools. This continues into the junior year with practicum in literacy. During their senior year, students complete a practicum experience in two chosen content areas. This is followed by a student teaching experience in two of the student's content areas in the subsequent semester.
Student Voices
"The Education Department is a family. Everyone truly cares about each other and the success of their students. I know I can go to the Education Department for a friendly smile. I can honestly say that going to the Mount and being an Education major has been the best decision of my life."
– Sarah Campbell '19
BE THE CHANGE Program
The BE THE CHANGE program at Mount St. Joseph University is designed to make earning a bachelor's degree and teaching license more accessible for those who already have already completed two years (or equivalent) of higher education coursework at a community college. Learn more about BE THE CHANGE here.
For more information, contact the School of Education at 513-244-4801.
INSTAGRAM NEWS
RECENT NEWS