"I have always enjoyed playing music and performing for others—I think everybody is connected through music," emphasizes University Band student, Emma Welker.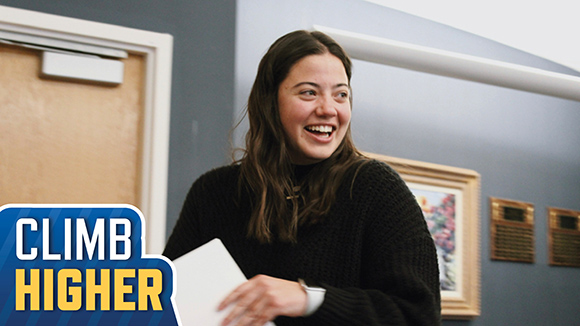 Emma Welker has been passionate about music ever since the 5th grade. Even at just ten years old, she knew that performing with her clarinet would go on to be one of her greatest passions in life. She continued to practice her skill from this point until now: her senior year of college. However, her journey of mastering her instrument did not come without obstacles.
"Once high school hit, I needed extra encouragement from my parents to keep playing as a member of the band," Emma explained, "but I have always enjoyed playing music and performing for others—I think everybody is connected through music."
It goes without saying that when it came time to search for universities, access to music was a crucial factor. When Emma went on her tour of the Mount, she met with Mark McCafferty, chairperson of the music department, who helped her make the life-changing decision to join University Band. "He was very welcoming when I toured the Mount with my parents, and that ultimately helped me decide to join."
Learning Determination through Music
Emma's freshman year began in the fall of 2020—a unique year for everyone around the world. "It was extremely hard to meet people without being involved in something other than class," said Emma. Luckily, once she joined the University Band, she was introduced to many new faces that would grow to be significantly influential in her life.
"Both Mark and Josclynn [Garrison, director of bands] have positively impacted my time at MSJ," Emma emphasized. "Mark was the band director for my first year and a half, and he always encouraged us to come to him for help."
"Josclynn is always willing to meet if there are conflicts or issues with scheduling. She also likes learning about her students and constantly makes jokes during rehearsal," she laughed.
As her involvement with the University Band grew, Emma became motivated to try new things at the Mount, such as the cITe program and Theta Phi Alpha—the Mount's sorority. "My roommate at the time was involved in the sorority and she explained all of the benefits in Greek life on campus," she said. "The leadership opportunities, events, and members all seemed to be something I would enjoy, so I decided to go through with the recruitment process!"
While balancing all of these commitments on top of college coursework and her personal life, Emma grew to become an expert in time management. "Between my two majors [Mathematics and Social Computing], most of my classes are pretty demanding of my time. There have been a few semesters where I have needed to audit band just in order to stay within the credit limit."
To combat the growing stress and still keep music in her life, Emma opted to participate only in the Lion's Roar Band on campus. This pep band exclusively performs at home sports games and public events. This version of the band proved to be more manageable for Emma, as their commitments fall primarily on the weekend.
The main function of the Lion's Roar Band is to interact with and get the crowd excited during a game. They play instrumental versions of popular music in pop culture, called "stand tunes."
"The band members are welcoming to everyone and always encouraging non-music major students to play with us. In fact, a majority of our musicians are not music majors!"
Going into her final year on campus, Emma plans on continuing her involvement with the Lion's Roar Band, while also encouraging her peers to be as involved as she is. "For students looking to get involved, my biggest piece of advice is to love the word 'yes,' but to also know your limits," said Emma.
"Say yes to going to events, especially is they are being hosted by a student-led organization. You will meet lots of people that way!"
Are You Motivated by Music?
Our Music Department is committed to training a versatile, competitive, and marketable student via a renowned faculty and advanced curriculum. Our mission is to foster comprehensive musicianship that teaches students to hear, comprehend, write, and perform various musical styles.
Want to know more? Check out our department page here!