On August 16, MSJ staff leaders discussed the architectural and cultural significance of the Mater Dei Chapel with local design firm.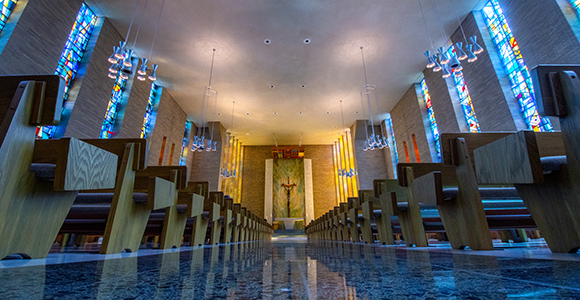 On this weeks' episode, Chief Mission Officer Sr. Karen Elliott and Chief Financial Officer Jeff Briggs, as well as MSA Design's Director of Preservation and Historic Rehabilitation discuss the Mount's mid-century modern national landmark: The Mater Dei Chapel in Cincinnati. 
Head of Access Services Josh Zeller in the MSJ library recently discovered research findings that uncovered a significant point-of-difference inside the walls of the Mater Dei Chapel, making it one-of-its kind among Catholic higher education institutions across the United States: Its design was extensively created by women students creating this spiritual space.
According to Zeller's research, in the early 1960s, three female undergraduate art students along with three female faculty members designed every aspect of Mater Dei Chapel on the new campus of Mount St. Joseph University (then the College of Mount St. Joseph), including the high altar, stained-glass windows, and the religious art contained therein (including the Stations of the Cross). This was completed under the direction and supervision of Sister Augusta Zimmer, MSJ Department of Art and Design retiree of 1971.
"Out of 285 catholic colleges and universities, we have this unique set of sacred art [designed by students]," says Sr. Karen. "It speaks that the Mount believes in the gifts and talents of its students—in 1958 they did, and we still do today in 2023."
Building Ideas Episode 71 - Jeff Briggs & Sister Karen Elliott
Building Ideas is a podcast by MSA Design, who are an award-winning national architecture and design firm headquartered in the Midwest. Ultimately, MSA Design believes design has the power to make the world a better place, as they share their podcast with leaders and innovators willing to talk about it.
"We discuss trending topics, innovative techniques, and deep-seated traditions in the design and business worlds that leave a lasting impact on our lives and our communities," the podcast represents under their About section.
Visit here to listen to the podcast episode to learn about the rich history of the Mater Dei Chapel student artwork.
Restore Mater Dei Chapel - Give Today
Mater Dei Chapel is the centerpiece of campus, with the iconic Corona Tower and its three bells visible from points across the grounds of Mount St. Joseph University. We are now ready to complete the restoration of Mater Dei Chapel with a new sound system, updated lighting, and a new organ. With your gift, you can be a part of history and help light the way for future generations. Visit here to give today.