Through providing support for her students before, during, and after school, Kayla Gibson lights the way for them in multiple facets of life.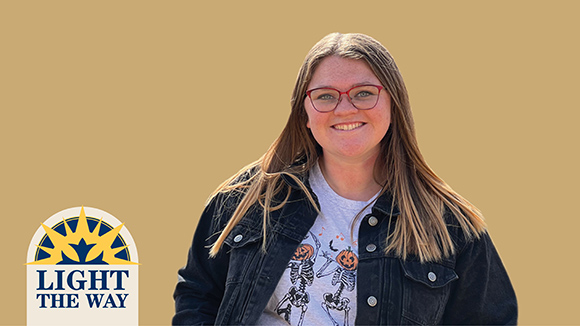 Kayla Gibson graduated from Mount St. Joseph University in 2020 with a degree in Inclusive Early Childhood Education [now known as the Dual Licensure degree]: a field that she knew she would be in since the 5th grade.
After "Teacher" was her top result on a standard job trait survey she completed in school, she immediately became interested.
"I always loved school, and I always babysat, but I knew I wanted something more, and this was it for me," said Kayla.
From there, Kayla put herself on a path to success—enrolling at Scarlet Oaks: one of the several high schools within Great Oaks career campuses. Once she received her diploma, she was already certified and trained in several aspects of the education field at just 18 years old.
"I thought that when I graduated high school I would just work as a daycare teacher," she reflected, "but my lab instructor helped me apply to colleges, and work with a counselor to take the ACT. If it weren't for my lab instructor, I would never have applied for colleges or even went on visits. She believed in me and inspired me the way I hope I get to impact my students."
A Leader Outside…
The year 2023 marks Kayla's third year teaching kindergarten at Ninth District Elementary School, located in Kentucky.
"Teaching a primary grade means that I get to teach all subjects," explained Kayla. This includes the basics of English, math, science, and social studies—but also foundations and SEL (Social Emotional Learning).
Due to the large number of students that Kayla interacts with during all these classes, she has tried to go above and beyond to cater to their needs in the classroom.
"In the 2022-2023 I was able to partner with several donors and get classroom supplies donated for my students in the fall, brand new board games for them at Christmas, and a brand new book for their kindergarten graduation."
Kayla also stays after school with several students to coach their Girls on the Run team—that she started.
"We taught lessons on character-building traits, and allowed the students to have an outlet and love for physical activity."
Additionally, Kayla is on the Instructional Leadership Team to be one of the guiding voices on how to effectively teach each grade level. She is also the president of the staff morale group—planning all staff events.
To put simply, "I love to stay as involved as I can," said Kayla.
Even though she is pulled in several different directions—she never jeopardizes the needs of her students.
…and Inside the Classroom
"We are a very diverse school, serving students of different ethnicities," she said. "I work in a title 1 school, meaning our population falls under the free/reduced lunch population.
Kayla has also worked as a collaboration teacher, meaning she's had a variety of students with special educational needs and accommodations.
"In my second year of teaching, I had a student in my class who started nonverbal. This student could not sit still, read, write, or even follow directions," reflected Kayla.
After further testing, it was discovered that this student had an average 3-second attention span.
"This means that it took a lot of practice to keep this child's attention on absolutely anything that was not preferred."
As a result of this student, Kayla teamed up with a special education teacher to help implement things like social stories and behavior charts to help keep the student on track. Over time, the destructive behaviors of drawing on walls and shredding work turned for the better. "By the end of the school year, this child went from those behaviors to being able to follow directions, walk with their classmates, write their name, and read simple stories!"
Such a drastic change of behavior in just one school year is a truly remarkable achievement for them both. Thanks to all the hard work, this student is set up for greatness in the future.
"There were moments of frustration, and moments of tears from both this student and I, but after spending any extra moments working on the interventions with this student we were able to create success."
Impactful Support from Fellow Educators
Before she graduated from Mount St. Joseph University, Kayla met several faculty and staff members that helped her along the way.
"At the Mount, Coach Tina was one of them! From the moment I met her, she has done nothing but inspire me and motivate me," she expressed.
Kayla joined the track team as a novice runner, so Coach Tina Blakley was there to help her whenever she needed.
"Every off-campus practice Coach Tina would run with me where we had many life talks—always resulting in her telling me I can do anything I set my mind to and to chase my dreams."
Inside the classroom, Kayla's education professors also played a key part in her journey.
"Several of our education professors were also so wonderful, especially Ms. Shibinski, and Dr. Saylor. Both of those women did nothing but encourage us and inspire us to be the best possible educators we could be," said Kayla. "They were wonderful, and I admire them and their work dearly."
Kayla's family and educators have helped her become a better person and teacher. The positive experiences she's had in her field have given her the capability to give back to her students. "I would say that I'm impacting [my students'] lives just simply by being an adult they can trust and confide in. I impact their lives daily by being a trustworthy adult that believes in them, but also being a teacher that empowers and influences them," she said.
When asked what advice Kayla would have for others, she provided remarkable insight:
"Remember that change is hard and scary—but it is not always bad. Accepting the change allowed me to move forward in my career and accept other leadership positions within my school and district. Change brings room for growth."
---
About the School of Education
The School of Education is committed to preparing prospective teachers to understand, appreciate, and meet the needs of children and youth in today's schools. For more information, please visit our department page here.