As a clinical instructor at Mount St. Joseph University, Kristen Bagnall imparts critical medical knowledge and personal guidance to her students.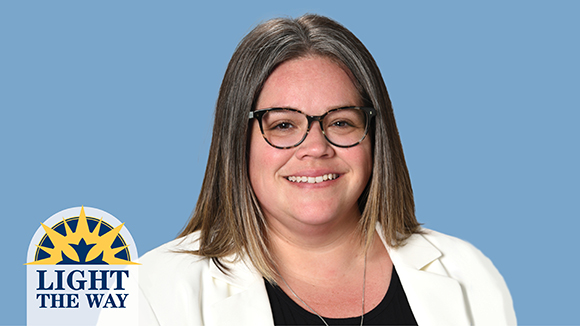 Kristen Bagnall has been exposed to the nursing field since the moment she could talk, with her mother working in the industry for over 40 years.
"When I was younger, I was not sure that I could handle the 'gross stuff' that came with nursing, so I avoided the idea," Kristen laughed.
Her first chosen major in college was pharmacology: a happy alternative to avoid the queasiness of the medical industry. However, she eventually found the subject to be lacking excitement—there was no personal connection.
After leaving her pharmacology program, she discovered that she had an innate passion for both science and helping others.
"I realized that people plus science equals nursing, and I found my way to my calling," said Kristen. "Although I took the long way around, I believe that my life experience has greatly contributed to my nursing career."
She would not arrive at Mount St. Joseph University until several years into her higher education journey—earning an associate's, bachelor's, and master's degree at two separate universities.
"I wish I would have known what a gem the Mount is, because I would have come sooner."
To further her education and continue learning, Kristen enrolled in the Doctor of Nursing Practice program (DNP) at the Mount, with an expected graduation in the spring of 2025.
"By completing this terminal degree, I will be positioned to serve our community as a leader in the nursing field and be a champion for the future of nursing," she emphasized.
Helping Others—In and Out of the Hospitals
Additionally, Kristen works at Mount St. Joseph University as a clinical instructor in the Mount's MSN-MAGELIN program—an accelerated nursing program that provides students who have already earned a bachelor's degree in a separate field to earn a master's in nursing.
"Serving as a clinical instructor allows me to see the world of nursing with a fresh perspective," said Kristen.
After the Covid-19 pandemic hit in 2020, the nursing industry encountered many challenges, including higher acuity patients and an augmented nursing shortage. As a result, we have seen more "compassion fatigue" in the field, as Kristen describes it.
"Compassion fatigue in nursing is common, especially through the pandemic, and working with students refreshes my compassion over and over again."
Kristen's role in the MAGELIN program is critical. Her work helps students apply textbook nursing materials to the real world—a skill that is often overlooked.
"The MAGELIN students are especially inspiring: They will graduate with their MSN, and will be positioned to serve as leaders and change agents to help overcome the challenges nursing must overcome in the future," Kristen explained. "They are incredibly smart and driven, and I love to be a part of it!"
"Once I am your teacher, I am your mentor for life."
As an instructor, the number of students and aspiring nurses Kristen has come across is too many to count. Where some people may be overwhelmed by the number of people looking to them for support, Kristen takes this as an opportunity to light the path for others.
"I love hearing from past students when they need advice on future decisions. I enjoy being the 'go-to' person when someone needs support," she smiled.
Past or present, Kristen's compassion she shows her students is remarkable.
"I had a student several years ago who I was able to mentor and support from nursing school through obtaining his dream job," she reflected. Kristen would go on to help this student obtain his first job as a patient care assistant in the area where she worked, and then as a resident nurse once he graduated.
"I supported his growth through his first year in the acute care setting and coached him through the interview process for his dream job on the Vascular Access Team," she said. "I still occasionally run into him and my heart fills with joy that I had the opportunity to influence his career."
This student's journey is one of many that Kristen has extended a helping hand to. Through her guidance and goodwill, she is making the medical industry better—one nurse at a time.
"My family, friends, leaders I have worked with, students I have taught, and patients I have cared for have all contributed to who I am today and my drive to continue to make a difference."
---
Our MSN-MAGELIN program offers aspiring nurses an accelerated path to their future. The courses emphasize patient-centered care, evidence-based practice, research, leadership in health care, and theoretical perspectives. To learn more, please visit our program page here.