Biomedical Sciences student Kara Bradley '23 promotes wellness emotionally and physically as a licensed pharmacy technician and an advocate for mental health.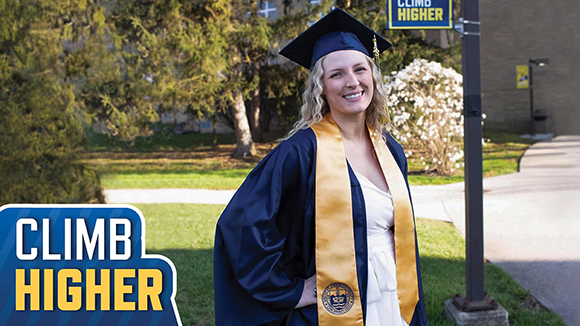 Kara Bradley was originally inspired to get involved in the medical field because of her greatest role model—her mother. As part of a multi-physician office at Clark Memorial Hospital, Kara's mother would do her rounds at the hospital when Kara was younger. She would follow her mother around to see her work, which was one of her favorite things to do. This is what laid the seed for Kara's own eventual engagement with biomedical sciences.
"I loved everything about the atmosphere and the fast-paced and ever-changing environment that medicine had to offer," says Kara. "Shadowing my mom is where I first gained my interest in medicine."
Throughout this time, she also heard her mother tell stories about each of her patients, revealing how interactive, connective, and impactful this occupation can be. But for Kara, the impact she makes on others is only half the benefit. She also grows from that which her patients teach her, not simply from the effect she has on them.

"To me, a career in medicine means so much more than that!" says Kara. "Not only do you get to impact your patients' lives, but each of your patients also impact your life to some degree. I cannot imagine any occupation that could be more gratifying and fulfilling than being a physician."
Volleyball to Vocation to Volunteering
Kara's journey toward a profession as a physician is intriguingly tied to her love for volleyball. Having played since she fell in love with it in the sixth grade, she has made lasting connections and learned how to function on a team—skills that would certainly come in handy later.
As an athlete, Kara interfaced with a college recruiting app called Next College Student Athlete (NCSA), which is where she first heard of the Mount and where an MSJ coach first contacted her.
"From there, I took a tour and fell in love with the campus," Kara recalls.
Accepted into the University's Biomedical Sciences program with a minor in Chemistry, Kara also continued developing her gift for athleticism in the Mount's volleyball team. Here, she learned more deeply the lessons she was taught as a middle and high-school athlete, such as perseverance, fortitude, and team-based cooperation.
"The MSJ volleyball team is different from teams I have been on in the past because there are more than 10-12 girls on the team," Kara notes. "For me, that meant that I had a really big support system and friend group behind me with my team. I loved all the girls on the team and I couldn't imagine playing with any other group of girls."
This sports-based tenacity and teamwork that has become so much a part of Kara's identity has undoubtedly influenced her success in the medical field. Now as a certified pharmacy technician (CPhT) and licensed in both Kentucky and Indiana, Kara works at the hospital where she was first motivated to be a physician—Clark Memorial. Operating as a pharmacy technician there, she feels this avenue will most effectively catapult her into the world of medicine and pharmacology.
In addition to this work, Kara has bolstered her capabilities as a pharmacy technician through the volunteer work that the Mount has directed her toward. She, for instance, has spent time at Kindred Hospice, Spring Hill Internal Medicine, and the Endoscopy Department of Baptist Health Louisville to help with patient transport.

Guardian of Life
Kara's efforts in each of these regards uphold one particular objective—the preservation of life. As an individual who helps others medically through her field and major, she does her part to improve the well-being and general standard of living of each of her patients. When it comes to her participation in Peers Advocating for Wellness and Safety (PAWS), however, her life-affirming objectives become even more clear.
"I feel as though one of my most significant contributions to the Mount has been through my involvement in Peers Advocating for Wellness and Safety (PAWS), a national campus organization focused on the seven dimensions of student wellness," Kara states. "I was part of the original group that brought this student organization to the Mount, and I have watched it evolve and grow over the past four years."

During this time, Kara functioned as secretary for three years before becoming president of the organization as a whole, which enabled her to focus on spreading mental health awareness. In an attempt to combat stigmas around mental illness, she, in collaboration with the Wellness Center, incorporated the Semicolon Project into campus activities.

"This event's goal was to share students' stories regarding their mental health struggles, to end the stigma surrounding mental health, and to discuss suicide prevention," Kara explains. "I believe that talking about our struggles with mental health can help end the stigma and reduce the effects of the mental health crisis that is occurring on college campuses across the country. I had many people come up to me after the event to tell me how empowering it was to share their stories and have others listen to them."
Kara's anti-suicide initiatives and advocacy, alongside her work in healthcare facilities, serve as some of the poignant ways she gives back to the Mount Community. She safeguards the health and safety of those around her with how much she has done in service of others and how many people she positively affects daily. Whether it's her patients or peers, or her future at the University of Louisville School of Medicine in the fall where she plans to obtain her M.D., or Doctor of Medicine degree, she implements practices to protect and promote what matters most—life.

"Even if they just help one person," Kara says optimistically, "it will all have been well worthwhile."
______________________________________________________________________________

About our Biomedical Sciences Program

With courses ranging from Genetics, Neurobiology, and Musculoskeletal Anatomy, among many others, students acquire critical thinking skills and build a solid scientific foundation to support their advanced degree.
Biomedical sciences majors may engage in individualized research on campus with a faculty mentor, have opportunities for shadowing and observation, and have co-op positions or internship experiences in off-campus research programs.
Pre-professional studies, like a pre-medicine track, offer dedicated guidance from faculty members who tailor your course work to best prepare you for your desired career.
Interested in learning more? Check out our
Biomedical Sciences program page here
!