Several years after graduating from Mount St. Joseph University, Annie Horn began work at Girls on the Run where she prepares young girls for success through fitness and kindness.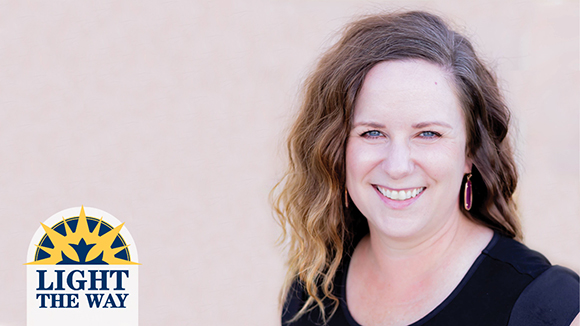 As any Mount St. Joseph University community member will know, the life skills and education gained on campus is unlike any other. With a dedicated faculty and staff, students are prepared for any path they wish to pursue after graduating, from scientific researchers to high school teachers.
Annie Horn, a Mount graduate in 2008, was inspired by all the good things she saw going on in the community of Mount St. Joseph University—and used it to give back to others.
With a major in Communications (now formally known as Communications & New Media Studies) Annie was exposed to the many faculty and staff members that make up the stellar department. However, one of the more influential faculty members to Annie was in a different area of campus: Dr. "Buffy" Barkley, chairperson of the Liberal Arts Department, and also Annie's mother.
"I struggled with behaving in high school and majorly goofed off in class, so I was afraid to let [my mom] down," said Annie. "However, when I got to the Mount, something clicked, and I began excelling in my academics and really enjoying my classes and professors."
Having a beloved professor as her mother exposed Annie to all the love the Mount has to offer. She especially thanks retirees Dr. Linda Wheeler and Dr. Jeff Hillard, as well as former staff member Kathy Owens—all mentors to her throughout her higher education career.
Annie smiled, "Now, I consider having my mom as a professor a unique privilege and a fun memory."
Beginning with Success
After graduating in 2008, Annie began her professional career with Messer Construction Company in the sales and marketing department. She and her team were able to achieve record sales of $1 billion—a true testament to the impact Annie has in her community.
After completing a wide array of successful sales and marketing work with the company for over six years, she took time off to focus on her family life.
"I reevaluated my family's priorities and took some time off in January 2014 to figure out where I wanted to focus my time and talents," Annie explained. "I had previously volunteered with Girls on the Run and knew that it was the right place for me."
A True Calling
A nonprofit spanning across the United States and Canada, Girls on the Run Greater Cincinnati provides programs for girls grades 3-8, supporting them at their most difficult times growing up. Over 10 weeks, girls and their volunteer coaches blend physical activity with life skill development. The organization supports 13 counties across the Tri-State area, and serves more than 2,000 girls annually.
As the Executive Director for the Greater Cincinnati branch, Annie plays a critical role in the program. This includes representing the program, optimizing financial performance, overseeing program delivery, building relationships with investors and donors, and much, much more.
"Our programs are about so much more than running—they make an impact at a critical age when confidence and physical activity decline," she explains. "At the end of the season, the team completes a 5K together, which provides a tangible sense of accomplishment and sets a confident mindset into motion. Our tested curriculum, trained coaches, and a commitment to serve all girls sets us apart."
However, the position does not come without its challenges. When the Covid-19 pandemic occurred, Girls on the Run saw a massive drop off in enrollment numbers of both students and coaches alike. The administration has continued to overcome the effects the pandemic created by thinking outside of the box and finding creative solutions to contribute to the organization's success.
Paying it Forward
Annie made the career switch to Girls on the Run when her oldest child, Kate, was one year old.
"She has quite literally grown up in the office with me," said Annie. "I am fortunate that I can bring my kids to work with me whenever needed."
When Kate turned eight, she had reached the requirement to enroll in a Girls on the Run team. Annie created a team at Kate's school, also helping coach for the next two seasons Kate would be a part of.
"Kate may fancy herself an expert in Girls on the Run, given how much she is around the content," she laughed. "But I know she still the enjoyed the season with her fifteen teammates and five other coaches!"
Annie has lit the path forward for her daughter by exposing her to the wonderful message behind Girls on the Run—also welcoming her into a positive and affirming community. At such a young age, the skills that Kate (and every other team member) learns at Girls on the Run will critically help her as she grows.
"One of my favorite quotes is by Mother Theresa: 'Not all of us can do great things, but we can do small things with great love.' This is my approach to work, parenting, and being a friend to others," Annie explained.
"One of our core values at Girls on the Run is to 'lead with an open heart and assume positive intent.' Life is much easier without assuming the ill intent of others and offering grace, instead."
"The person in line next to you may be having an awful day, and your smile is all the positivity they have received today, and it cost nothing to offer."
---
Our Communications & New Media Studies major offers a vast range of courses and opportunities—all aiding in gaining experience in speaking, writing, and collaborating to prepare them for success in careers, communities, and personal lives.
To learn more, please visit our department page here.