The Phi Theta Kappa Honor Society recognizes Mount St. Joseph University for their excellence in providing support to incoming transfer students.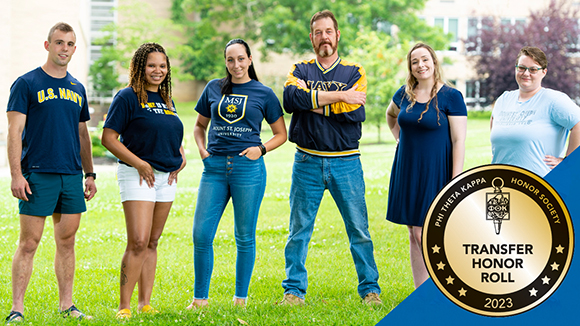 Mount St. Joseph University is honored and thrilled to be a member of the 2023 Transfer Honor Roll from the Phi Theta Kappa Honor Society.
On June 9, 2023, Phi Theta Kappa named 208 colleges and universities to the Transfer Honor Roll—a list of outstanding institutions who provide extraordinary support to their transfer students.
Phi Theta Kappa is the premier honor society recognizing the academic achievement of students at associate degree-granting colleges and helping them to grow as scholars and leaders. The Society consists of over 3 million members, with chapters across ten countries.
"We are proud to recognize the exceptional colleges and universities that go above and beyond to create accessible pathways to bachelor's degree completion for community college transfer students, says Dr. Lynn Tincher-Ladner, President and CEO of Phi Theta Kappa.
The Transfer Honor Roll is determined by 40 key metrics related to the support and success of transfer students, including college cost and financial aid, campus life for transfer, admission practices, and bachelor's degree completion.
"[The Mount's] goal is to make every transfer student feel at home and supported when they work with us," says Amy Wolf, assistant director for adult and transfer recruitment. "Receiving this Transfer Honor Roll recognition makes me feel proud that we are doing things right for the students, and we will continue to strive to receive this honor again next year."
The university extends their thanks to Phi Theta Kappa for this recognition, as well as a congratulations to the other 207 institutions who put in the same level of academic and professional support to transfer students.