As she pursues her education, Karlee Banfield shines a positive and creative light on her middle school art students.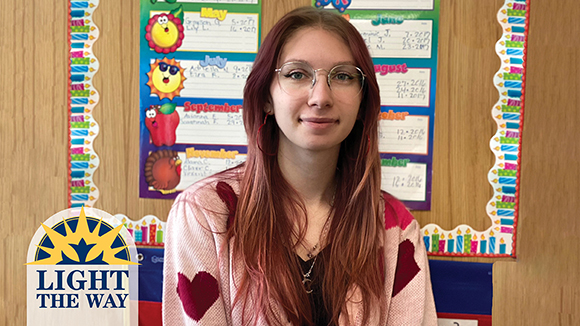 What do we think of when we hear "art class?" Perhaps layering papier-mâché over and over again. Maybe molding clay into an intricate sculpture that you have to get just right. Or waiting in line for it to be your turn to use the only pink crayon in the class. For Art Education major Karlee Banfield, she thinks of her students.
It all started for Karlee in her junior year of high school, when she realized she was not receiving a well-rounded creative experience in her art classes.
She wanted to be able to use all of her creative skills in the classroom—which her teachers at the time denied.
"I decided that I wanted to teach, because I want to give students what I didn't have, and I want students to enjoy their art time in school," Karlee explains. "I want to inspire students to work their hardest and feel confident in who they are and their work," Karlee explained. "Which is all the backbone for why I am becoming a teacher."
Using All the Colors in Her Palette
In order to graduate with her Art Education major, Karlee must complete a practicum—which entails teaching for a given class, once a week for nine weeks. She's been placed at Rapid Run Middle School—a name that may ring familiar to much of the local Mount community. "[I focus on] writing nine lesson plans and getting materials ready for all of them as well as waking up early before their class starts," Karlee said.
This preparation on top of other classwork associated with being a full-time student can be taxing, but Karlee keeps her sight set on the goal. "Getting to see the students actively work hard and happy makes up for any stress from creating and organizing the lesson," she asserts.
In her classes, she's had a wide range of students, several of which are not native English speakers. While a challenge as a new teacher, Karlee tries "to combat disconnection with reading the information aloud, having step-by-step instructions, and using their native language along with English." By being able to accurately meet students where they are, Karlee is already leaps and bounds ahead in her experience as a teacher.
"I try to impact every student I meet in any possible positive way," Karlee reflects. "If that is just making them feel welcomed, then that was a good day."
After spending so much time with her students, Karlee has loved watching them grow. "I was going over some questions with the students and I asked a particularly harder question," said Karlee. "Getting to watch students process and then have things click in their mind is amazing, because when connections like that happens it means that neurons in their brains are connecting and getting stronger, meaning they are growing as a student."  
As an art educator, Karlee will end up assigning and administering countless projects to her students. One of her favorites so far has been self-portrait bobbleheads made from clay. She enjoys getting to see her students "express who they are" through a creative (and moldable) outlet.
Monumental Mentors
"There are two special faculty members that have played a pivotal role in helping who I have become today: Susan Lawrence and Dr. Michealann Kelley," she thankfully credits. "They both have pushed me to my best, helped me learn and advance through my college experience, and grow not only as a student—but as a teacher."
Susan Lawrence is the program director for Art Education at the Mount, whereas Dr. Kelley is the Chair of the Art & Design department. Both faculty members play a critical role in many students' education, especially according to Karlee.
"I have completely opened up from how I was in high school and I thank them so very much for the help, guidance, and support I have been given."
Achieving Greatness in More Ways Than One
Outside of teaching, Karlee has achieved countless milestones during her time at Mount St. Joseph University.
"My freshman year, I was selected to have art permanently installed in the Mosaic Center, which was incredible for freshman year. I have [also] gotten to visit the Ohio Art Education Association conference and the Society for Photographic Education conference," Karlee explained.
Most recently, Karlee was encouraged by multiple professors to come out of her metaphorical shell. As a result, she was a scholarship recipient this past winter.
"I'm very proud of the progress I have made since [freshman year] and I want to continue my growth and help others grow along with me."
---
About our Art Education Program
Art Education majors will discover a wealth of opportunities to explore and develop their artistic abilities through an education lens. We offer an intensive study of the visual arts through studio courses, art history, and art criticism. 
Upon completion of the Education Department's requirements and a semester of student teaching, graduates earn a Bachelor of Arts degree in Art Education and are eligible to apply for the Ohio Teacher Licensure in Visual Arts (PreK-12).
To learn more, please visit our department page here!