On March 7, 2023, Mount St. Joseph University has been designated as a Military-Friendly School for the 2023-2024 Military Friendly® Cycle.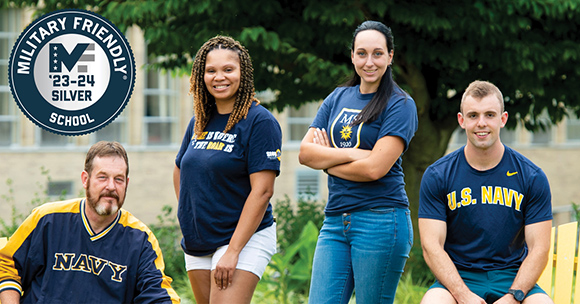 At the Mount, we value veteran students' contributions to the campus community, as well as the classroom experience. This designation is a result of the Mount's hard work and dedication to the military community.
The Office of Admission staff stand ready to help students succeed. They understand first-hand the needs of veteran students looking to transfer to a four-year college, demonstrating care and service to accommodate your unique needs. 
According to their website, the Military Friendly Schools survey is the longest-running most comprehensive review of college and university investments in serving military and veteran students. "The Military Friendly Company survey investigates and identifies the organizations whose commitment to serving the military and veteran community is comprehensive in scope, and meaningful in terms of actual outcomes and impact," it says. 
"It was great receiving the news that Mount St. Joseph University has been designated as a Military-Friendly School for another consecutive year," says Amy Wolf, assistant director for adult and transfer recruitment. "Because the distinction comes with a review of several scoring categories, it gives me confidence in knowing we are doing the right things needed for our military connected students and families."
The Mount continues to be a champion for our veteran students, working together as an institution to ensure these students are connected to the campus and the resources available so they can Climb Higher toward their vision of success.
"I am really proud of our faculty and staff coming together more often for discussion around how to better serve our veterans and military-affiliated students even more," says Wolf.
Veteran Student Services at Mount St. Joseph University
To learn more about the veteran community on campus at Mount St. Joseph University, visit the Veteran Students page for resources and information.