Mount St. Joseph University (the Mount) is now offering a graduate program for a Master of Speech-Language Pathology (MSLP). The Mount is currently accepting applications to enroll students for Fall 2023.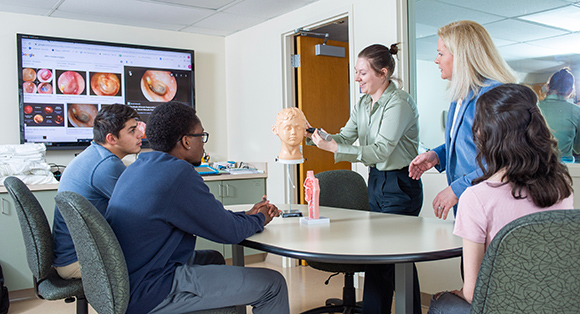 CINCINNATI – "There is a significant need for speech language pathologists (SLPs) in our tri-state region," said Erin Redle Sizemore Ph.D., CCC-SLP, Department Chair of Speech, Language and Hearing Science at the Mount. "There are critical shortages in this area of speech-language pathology. According to the Bureau of Labor Statistics, the demand for SLPs is projected to grow 21% over the next ten years, making the employment outlook very strong."
SLPs work with individuals and families of all ages to prevent, diagnose, treat, and research speech, language, and swallowing disorders. They work in a variety of settings including schools, hospitals, private practices, skilled nursing facilities and early intervention programs.
The MSLP program at the Mount requires five full-time semesters. The first four semesters must be completed at the Mount with clinical placements in the Greater Cincinnati area. The fifth semester can be completed through online/distance education while the student completes a full-time clinical externship in a preferred location.
Applicants are required to have a bachelor's degree from an accredited ungraduated institution or be currently enrolled in an undergraduate program with the degree awarded prior to starting the MSLP program. Applicants must also have a minimum 3.0 GPA overall and have completed the required prerequisite courses.
You can find out more about the SLP Master Program at MSJ and how to attend an info session by visiting our Master of Speech-Language Pathology web page here.
About the Mount
As a Catholic institution rooted in the values of the Sisters of Charity, Mount St. Joseph University excels at serving the common good. Undergraduate, graduate, and doctoral students at the Mount are inspired to think beyond the classroom and redraw the bounds of what's possible for their futures. This is accomplished through individualized educational experiences, a safe, secure campus environment, and an all-in commitment from faculty and staff to inspire students to reach their highest potential. The Mount fosters life-long learners who serve, care, and contribute to the world beyond their front doors. 
###