Met with supportive faculty and staff beyond measure, Julian Jones '24 was eager to begin the PA program at Mount St. Joseph University.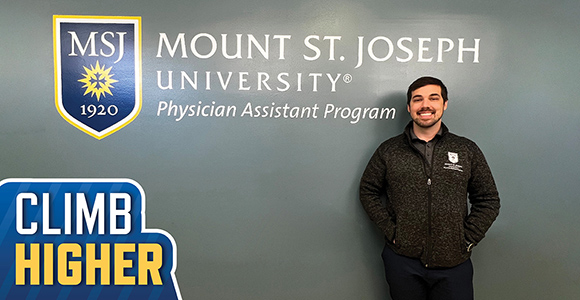 Holding a strong passion for both critical care and emergency medicine, getting accepted into the Mount's PA program meant everything to Julian and his family.
Rewinding back a few years ago, Julian had just received his bachelor's degree in Health Sciences at NKU and was eager to take on a new challenge to advance his career; however, like many others have faced, COVID put things on hold for him for a while, but he stayed determined to apply in the near future.
"I was working full-time at UC as a Respiratory Therapist, and I just knew that I wanted to learn more and expand my medical knowledge," says Julian.
Having worked as a Respiratory Therapist at UC Medical Center for the last few years, Julian was fortunate enough to have worked with many providers to garner insight, witnessing the positive impact they had on their patients.
"Working through COVID with all these sick patients made me realize the need for more medical providers. These last few years have really reaffirmed for me that I want to expand my medical knowledge so that I can help as many patients as I possibly can."
Julian continued his work at UC before deciding to submit his application to the Mount, and he wasn't quite sure what to expect with the outcome. After several weeks, the Mount's Department of Physician Assistant Studies contacted him that he was accepted for an interview.
The pivotal moment that Julian had been anticipating was finally here. While interviews can certainly be nerve-wracking, Julian honestly says it was a blast. He met many amazing people that really reaffirmed his decision to apply here.
"I knew this was the program I wanted to attend once I met the staff and realized how passionate they all were about providing a strong foundation for all of their students," he says. "When I got the call that I got accepted into the program, my wife and kids surprised me with a homemade banner and a party!"
Supportive PA Faculty put Care at the Center of their Work
When it comes to the Department of Physician Assistant Studies, Julian found his PA community at the Mount not only highly-skilled in their specialty areas, but compassionate and encouraging.
The PA program itself provided many resources, but Julian says the most helpful resource for him has been the Mount's PA faculty and staff.
"I can't say enough great things about all the instructors, faculty, and advisors that have been provided for us throughout the program," he credits. "All our professors are active PAs within the community, and each one has a specialty and certain skills that they bring to the table. We have staff that specializes in neurosurgery, cardiology, family medicine, behavioral health, orthopedics, emergency medicine, transplant, and general surgery."
According to Julian, all of the professors bring a unique perspective on medicine. They've been some of the best resources for this program while holding the students' best interests in mind, and a willingness to go above and beyond for students.
"I know that I can contact them at any point, and they would be willing to help me work through any problem that I may have," he says. "I would not be as successful as I am in this program without them."
While the PA program is very demanding, all of the students are always willing to help each other, share notes, host study sessions, and share study techniques. "I think I speak for all my classmates when I say that one of the best parts about this program is the bond that the students have developed with each other."
Julian even recalls one of the best moments he's had to date with his PA classmates at the Mount: The PA Olympics.
"Earlier this year, we competed against other Ohio PA programs, and we won! It was such a blast and a good way for us to get to know each other early on in the program."
Putting PA Passion into Action to Reach New Heights
In the long-term, Julian's goals are to take advantage of every learning opportunity he can here to become the best medical provider he can be, so gaining a strong knowledge base while he attends the Mount is his priority to meet that vision. He feels like he's learning new things every day.
"I hope to continue along this route and learn new procedures, new treatments, and new ways to approach problems every day that I'm here for the next two years. I want to start my career as a PA knowing that I took advantage of every opportunity I possibly could to learn while I was at MSJ."
Julian says his best advice to get through the challenging days is to reflect and remind himself why he's here in the first place: To make a strong impact on the community by providing the best care that he can deliver as a medical provider. It is through the immense support of his family, classmates, and faculty and staff that this is made possible.
"I'm excited to continue obtaining a great education through MSJ," he emphasizes.
He and his wife reside in Northern Kentucky with their two young boys, Grayson and Carter, his biggest motivators.
__________________________________________________________________________________________________
About our PA Program: Interested in Learning More?
Mount St. Joseph University's Physician Assistant program prepares students to become outstanding clinicians fully prepared to deliver quality health care in an ever-changing environment.
Join us for a Virtual Information Session to learn all about Mount St. Joseph University's PA program! You will get the opportunity to hear from PA faculty, current students, and admissions staff and ask them questions. Register for our PA Virtual Information Session here.