After changing her major later in her college career, Alaina's fundamental coursework developed her skillset, confidence, and professional development to achieve her MSJ Milestone.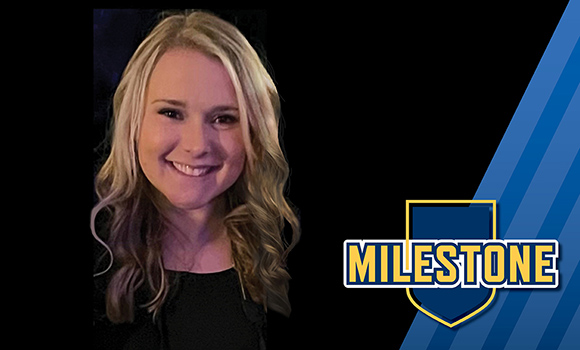 For MSJ senior Alaina Maddy, she found changing her major later in college led her exactly in the direction she wanted to go.
"I knew my interests and what I was passionate about, and my advisor recommended Communications & New Media Studies," she says. "Since changing my major and learning what I am now, it was the best decision I could have ever made!"
Excellence is Going the Extra Mile
Co-op (cooperative education) is a professional work experience designed to complement a student's academic major or desired career path. It helps solidify a choice of major and career path, and enables students to develop a competitive edge and sharpen skills employers value.
After pursuing a new major, Alaina couldn't wait to get started. Shortly after searching for a co-op opportunity, Lisa Crews, department chair of Communication & New Media Studies had a conversation with Alaina about a position opening at the Mount to see if she would be interested.
"I was so excited about this and applied for it immediately. When she told me I had received the position, I was extremely proud of myself and so excited about this new opportunity. This experience is not only going to help me in my future career but will also teach me daily about hard work and being responsible for what my job entails."
Alaina is currently the Communications & New Media Studies Social Media and Recruitment co-op where she manages the department's social media platforms to engage prospects, current students, and alumni.
Alaina found the co-op process easy for her as well as most other MSJ students she knows.
She affirms that the MSJ Career Center is always posting about potential co-ops, and stands ready with resources. All it took was a conversation with a member from the Career Center who gave her a list of options to choose from.
Direction is More Important than Speed
Changing majors later on for Alaina didn't matter as much as the right change of direction to gain experience in a field that aligned with her skillset and interests.
Her fundamental coursework developed her skillset, confidence, and professional development to achieve her MSJ Milestone.
"I would love to credit Dr. Lisa Crews—not only is she my advisor, boss, and professor throughout this all—she truly inspires every student and relates every single class to everyday life, and why it is so important to understand the content we are learning. She is the best!"
Alaina says almost every class she has taken and is currently taking helps her generate new ideas, learn how to create posts, and strengthens her communication and professional correspondence with a variety of different people.
One of Alaina's favorite projects so far involves her work on Alumni Posts on the department's social media accounts. "It is so cool to get into touch with former Communication & New Media Studies' grads and communicate with them about how they are doing and what career they are in today! The Communication field is truly amazing."
Her best advice? Staying organized and writing a to-do list everyday to stay on track---and not forgetting to have some fun in the process.
"Don't stress and have fun throughout this experience. Everyone at MSJ is here to help you and understand what you are going through. This time here will fly by, so make the most of it!"
Students can earn up to nine credit hours during their college career for their co-op experience. Interested in learning more about it? Visit our Cooperative Education page to get started, or contact the Career & Experiential Education Center at mailto:career.center@msj.edu or (513) 244-4888.
__________________________________________________________________________________________________
Communication & New Media Studies: Learn More
Are you interested in understanding people from diverse perspectives? Communication & New Media Studies may be for you.
Our major develops effective, confident and ethical communicators, honing their capacity for critical and creative thinking as well as their understanding of diverse perspectives. Visit our Communication & New Media Studies page to see our program highlights.