The Mount highlights National Transfer Student Week from October 17-21.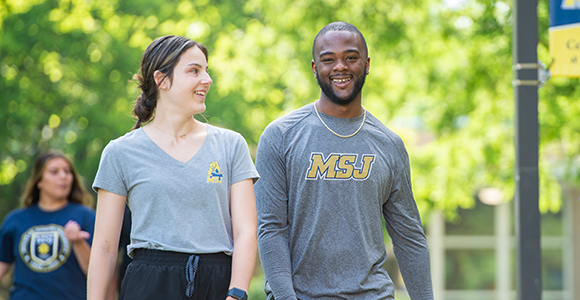 As soon as you enter its doors, the Mount is here to make you feel a part of the community.
The Office of Admission staff stand ready to help you succeed. They understand first-hand the needs of students looking to transfer to a four-year college, demonstrating care and service to accommodate your unique needs.
From October 17-21, Mount St. Joseph University highlights National Transfer Student Week to build awareness of diverse student needs within transfer student populations. According to the National Institute for the Study of Transfer Students, (NISTS), with more transfer students than ever before, it is important to build awareness of common transfer barriers students may face to create pathways for degree completion.
Assistant Director for Adult and Transfer Recruitment, Amy Wolf, and Adult Admission Counselor/Transcript Analyst, Amanda Hudson both provide hands-on, custom admission counseling for adult and transfer students, making transferring as easy as possible.
This includes personalized appointments, and identifying transfer pathways to keep transfers on track with their career goals to exceed personally and professionally.
Adult/Transfer Admission Counselor/Transcript Analyst at the Mount, Amanda Hudson, provides her encouraging experience and advice as a former transfer student.
"Familiarize your resources early on. It can be easy to feel dropped into a new environment, unsure of who to turn to," she asserts. "Get to know your advisors, professors, and MSJ staff. We are here to make you feel a part of the Mount community the second you walk in the door. I was a transfer student in college and felt so relieved to know that there were people that were rooting for me to succeed and were happy to help where they could."
Check Out our Convenient Transfer Offerings
In addition, the Mount offers several generous transfer scholarships, grants, awards, loans, and payment plan options to assist transfer students in paying for college tuition. Our transfer credit policies are accommodating, and we offer free transfer credit evaluations.
Learn more about our partnerships with our local community colleges: Ivy Tech, KCTCS, Cincinnati State and Sinclair Community College. In addition, you can continue your path toward a bachelor's degree through our Connections Scholars program while you complete your associate's degree. Learn more about our partnerships here.
Student Testimonial
Transfer student Lauren Supe `22, reflects on how the MSJ admission staff, faculty, and academic advisors made her transfer process easy to set her up for success in the Dual Licensure program for Early Childhood Education and Special Education.
"Transferring was a breeze thanks to Amy Wolf. I met with and spoke to her and my MSJ advisor several times before even making the big transfer! I was still in classes at Cincy State while planning my first semester at MSJ. I thought I would be nervous but there wasn't even an opportunity to be nervous with how seamlessly Amy made my transition. She ensured that I was comfortable, I knew what to expect, and that I had everything I needed to be successful."
Ready to Learn More? Meet with the Transfer & Adult Admission Team!
Climb Higher Series | Faculty-led, Virtual, Academic Information Sessions
Join us for our virtual Climb Higher Series!  Hear directly from our faculty about our undergraduate course offerings, program-specific details, and professional development opportunities here.
Learn About our Offerings for Transfers: Virtual 30 minute Transfer Preview
Every Tuesday at 2 p.m. and every Thursday at 11 a.m., the transfer team in Admissions reviews MSJ offerings, Admission requirements/process, and scholarship information. Register here to access the portal.
MSJ Transfer Student Panel
Students can watch this student information panel about transfer students
Contact Us
The Mount stands ready to assist students with their college search. Contact our team to learn more about the Mount's programs and financial aid opportunities, to schedule a visit, or to apply. Please contact the Office of Admission at admission@msj.edu, 513-244-4531